News | Insitutions
UCCA Edge Releases Artist List for Opening Shanghai Show
The exhibition is a who's who of the city's artists, with some surprising international inclusions.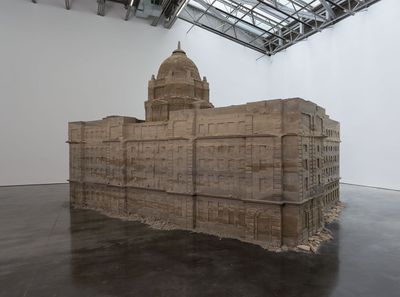 Huang Yong Ping, Bank of Sand, Sand of Bank (2000/2018). Sand and cement. 349.9 x 600.1 x 429.9 cm. Installation view at Gladstone Gallery, New York. Photograph by David Regen. Courtesy the artist and Gladstone Gallery.
UCCA Center for Contemporary Art (UCCA) has shared the names of 26 artists participating in the first show at its new Shanghai location, which opens on 22 May.
In addition to many of Shanghai's leading contemporary artists — such as Xu Zhen, Ding Yi, Birdhead, Yang Fudong, and Zhou Tiehai — the exhibition will feature works by Matthew Barney, Andreas Gursky, Greg Girard, Lee Bul, and William Kentridge.
Entitled City on the Edge: Art and Shanghai at the Turn of the Millennium, the exhibition seeks to locate the new location in its art-historical context. In the year 2000, Shanghai was rapidly opening to the outside world, both economically and culturally.
'The thing that most interests us besides the city itself is how that moment of Shanghai circa 2000 represents a hinge where the Chinese art world comes to be part of a global art world,' said Philip Tinari, UCCA's CEO and Director, who curated the exhibition.
'The Shanghai Biennale in 2000 was a big part of that,' he continued.
Kentridge, Barney, Lee, and Gursky all participated in the Biennale's third edition that year, curated by Hou Hanru. It was the first time foreign artists were invited to participate.
EDGE. Image Courtesy EDGE.
In addition to the works in City on the Edge, site-specific works by artists Cao Fei, Aki Sasamoto, Wong Ping, and Erwin Wurm will appear on the fourth floor terrace in a mini-exhibition entitled Urban Theater: A Comedy in Four Acts.
When it opens, UCCA Edge will occupy over 5,500 square metres on floors 2, 3, and 4 of the 18-storey EDGE building, which is being built by Hong Kong developer K-Wah. The building is located on Suzhou Creek, north of People's Square, not far from OCAT Shanghai and the Rockbund Art Museum.
Designed by New York's SO-IL, the museum will include dining and a gift shop as well as exhibition space.
UCCA Edge is the institution's third location, joining its iconic headquarters in Beijing's 798 Art District, and UCCA Dune, which opened in 2018 in a gated community in Beidaihe, an area Tinari has described as 'Beijing's Jersey Shore'.
Liu Xiaodong working on a painting of Ah Cheng, October 7, 2020. Courtesy Shi Qian.
The opening of the third location marks a significant turnaround from 2017, when UCCA was on 'the brink of death', according to Tinari, following the departure of Guy and Myriam Ullens, who established UCCA in 2007. The UCCA Group, which also includes education, brand partnership and retail offerings, is now owned by shareholders including Focus Media founder Jason Jiang.
UCCA has enlisted Peter Eleey, previously Chief Curator of MoMA Ps1, as Curator at Large to advise on the museum's exhibitions as it expands. Lausanne-based curator Holly Roussell, formerly of the Musée d'Elysée, has also joined the curatorial team.
Future exhibitions at UCCA Edge will include Liu Xiaodong: Your Friends from 7 July to 10 October and Becoming Andy Warhol from 6 November 2021 to 6 March 2022.
The full list of artists participating in City on the Edge: Art and Shanghai at the Turn of the Millennium follows below. —[O]
Participating Artists
Matthew Barney,
Birdhead,
Ding Yi,
Fang Fang,
Greg Girard,
Andreas Gursky,
He Yunchang,
Hu Jieming,
Huang Yong Ping,
William Kentridge,
Lee Bul,
Liang Yue,
Ni Jun,
Shi Yong,
Xu Zhen,
Yan Lei,
Yang Fudong,
Yang Zhenzhong,
Yu Youhan,
Zhang Enli,
Zhang Peili,
Zhang Yonghe,
Zhao Bandi,
Zheng Guogu,
Zhou Tiehai,
Zhou Xiaohu.