Ci Kim. Courtesy Arario Gallery. ⓒArario Gallery.
The elusive South Korean multi-billionaire Ci Kim, who built his fortune by running sweet shops and eateries at Cheonan bus terminal, has been finding and nurturing groundbreaking artists for nearly 30 years. Though Kim is best known for his collection, which features over 3,700 works by internationally renowned artists such as Damien Hirst, Tracey Emin, Nam June Paik and Keith Haring, his influence goes beyond the world of collecting.
In 1989 Kim founded Arario Gallery in Cheonan, followed by its first offshoot branch in Beijing's Jiuchuang district in 2005. Over the next several years, Kim relocated to the Hengshanfang Unit art complex in Shanghai in 2014 where he hosted exhibitions in line with the gallery's ongoing mission to find and support emerging artists. The Arario collection, in the meantime, maintained a broad international scope of contemporary art and introduced photography, sculptures, videos and installations by artists from Japan, Korea and China as well as works by less recognised artists from India and Southeast Asia, including Nalini Malani, Leslie de Chavez and Geraldine Javier. Today, Kim owns the largest collection of Indian and Southeast Asian contemporary art in Korea.
Exhibition view: Voice of Asia, Arario Gallery, Shanghai (1 July–27 August 2017). Courtesy Arario Gallery. ⓒ Arario Gallery.
In his latest endeavours, Kim has launched a new 1000-square-metre space at the burgeoning art hub of Shanghai's West Bund. Its first major group exhibition presents 42 pieces by 22 artists from Korea, Japan, China, India, the Philippines and Indonesia. The title, Voice of Asia, reflects the exhibition's intention to offer a current reflection of contemporary art in Asia today. While presenting internationally acclaimed artists like Subodh Gupta and Kohei Nawa, the show predominantly features young Chinese artists including Miao Xiaochun and Gao Lei, as well as five emerging Korean artists such as Kim Byoungho and Seoung Won Won.
Between his roles as a collector and chairman of Arario Corp., Kim finds time to create his own art at his studio in Cheonan and Jeju Island. His current practice includes large-scale paintings and sculptures made from scraps of found materials such as carpet, concrete, soil, metal shavings and fruits. He uses techniques such as layering to create eccentric forms, while incorporating organic processes such as decomposition and corrosion to produce varying colours and textures. His latest works can be seen at his ninth solo exhibition titled CI KIM, Play the Fool currently on view at Arario Gallery in Cheonan until 15 October 2017.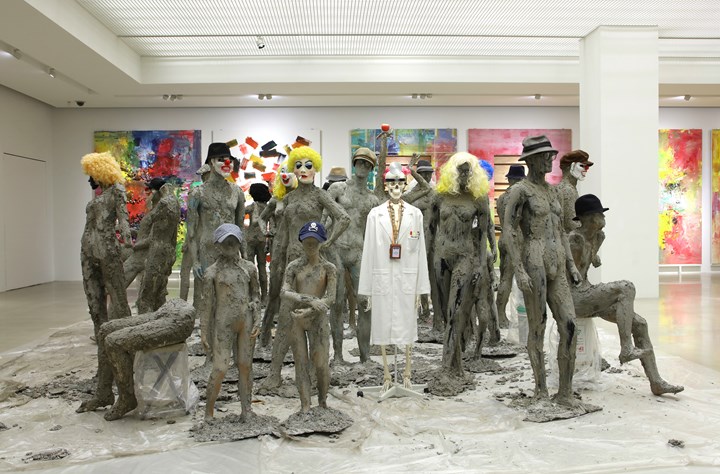 Ci Kim, untitled (2017). Mannequins, cement. Dimensions variable. Exhibition view: Ci Kim: Play the Fool, Arario Gallery Cheonan (23 May–15 October 2017). ⓒ Arario Gallery.
YM

You're an influential art collector, a self-made businessman and the founder of Arario Galleries and Museums. You're also an artist. Could you tell us how this all began for you. How did you discover your passion for art in the late 1970s?

CKThe funny thing is that I didn't follow the conventional route of studying art or art history to become a collector. But I've always had a particular habit of daydreaming all the time, which started from my childhood. As a young boy, I would spend several hours wandering around the neighbourhood, while having imaginary conversations with random things around me, like butterflies, rocks and trees. People who knew me thought I was mentally ill; even my parents were worried for my sanity while friends made fun of me. So I ended up spending time in isolation just to be alone with my thoughts. Those moments were the greatest pleasures of my childhood.

Ever since I was in high school, I loved to visit the antique alleyway in Insa-dong, and I would spend hours browsing the shops and galleries that were full of ink paintings and handcrafted porcelain ceramics by local artisans. Even though I was too young to articulate my feelings at the time, there was something enormously exhilarating about seeing the whole range of images and objects in contrasting shapes and colours. When I grew up, I returned to the same street, and one day, something extraordinary caught my attention. Walking along the familiar road in Insa-dong in 1978, I noticed an ink painting by a Korean artist called Yi Sang-bom (1897–1972), hanging from a gallery window. From a distance, the work seemed like an ordinary traditional landscape painting, but upon closer inspection, I noticed the vigorous brushstrokes in thinly diluted black ink applied on paper, capturing the tranquil scenery of high mountain peaks, rivers and streams. Mesmerised by these simple yet distinct features, I walked inside the gallery and on an impulse, purchased the painting. That was the first work that I bought, and it opened my eyes to the world of collecting.
YM

You started collecting from the late 1970s when the Korean art scene was relatively new to the international art market. You noticed significant emerging trends long before anyone else. Could you talk about how you were introduced to contemporary art and what objectives you set yourself when you started collecting?

CKIn the late 1970s I was oblivious to international art. In those days, only a handful of art specialists, academics and artists had the time and resources to visit museums overseas, or to investigate trends in contemporary art. Even the most established art institutions and galleries in Seoul rarely showcased avant-garde works from overseas. After repeatedly exposing myself to the same local scene for a sustained period of time, I grew a little weary of it and began to travel abroad.

Coincidentally, I first discovered important 21st-century American paintings and sculptures by artists like Robert Rauschenberg, Roy Lichenstein and Claes Oldenburg while visiting the MOCA in Los Angeles in 1981. Although I was unaware of their places in art history, my instincts superseded what I lacked in knowledge at the time. I felt overwhelmed by seeing all the beautiful paintings that surrounded me. The works evoked memories of seeing a beautiful rainbow after the rain. That encounter was truly inspirational.

In the following years, I travelled to New York and visited MoMA and other big institutions and galleries in Chelsea and Fifth Avenue, which impressed me tremendously. The excitement of seeing never-before-seen works of art in New York catapulted my decision to collect art from overseas. During this time, I collected a substantial body of works by iconic American artists like Andy Warhol, Jean-Michel Basquiat and Keith Haring. Later, throughout the 1980s and early 1990s, I also expanded my collection with progressive conceptual artworks by artists like Cindy Sherman and Jeff Koons.

Even back then, I didn't hesitate to explore less conventional artworks. After hearing about British Contemporary Artists for the first time in 1998, I travelled to the UK and met Damien Hirst, Marc Quinn, Gary Hume and others among the Young British Artists (YBAs) generation. Later on in the early 2000s, I bought Tracey Emin's tapestry patchwork piece Remembering 1963 (2002) and Marc Quinn's self-portrait blood sculpture Self (2001) as well as Kiss (2001) from 'The Complete Marble' series, while visiting their studios.

From 1999, I started collecting German Neo-Expressionist paintings by Jörg Imanhorff, Sigmar Polke and Neo Rauch from the New Leipzig School. When I saw their works for the first time, I always asked myself 'Why?', and 'Is it original and unique?' At that time, no one advised or forced me to buy those works. I didn't study the artists either. I preferred looking at art directly while meeting the artists at their studios. I bought what attracted me the most. I was destined to meet these artists.
Arario Gallery Cheonan. ⓒ Arario Gallery.
YM

What inspired you to open Arario Gallery in Cheonan in the late 1980s?

CKI've always had big dreams. I wasn't born with a silver spoon in my mouth, and I built the business entirely on my own. Truthfully speaking, I've dreamed of owning an art museum ever since I had that revelatory experience at the MOCA in 1981, and from then on, I longed to turn my dreams of owning a museum into reality.

One of my earliest decisions—in order to reach my ultimate goal of owning a museum—was to open a gallery. In 1989, I set up a gallery on the fifth floor of the department store in the bustling central district of Cheonan, and moved to a new building just a few metres down from the local bus terminal in 2002. Seoul has always been the epicentre of the Korean art world, but the foundation of my entire business started from Cheonan, and that's where I gained the experience and knowledge by organising exhibitions that were never realised in Korea. For instance, in the gallery's first five years since 2002, I have shown Keith Haring, a comprehensive retrospective of photos by Cindy Sherman and Vanessa Beecroft, and the largest presentation of German and British artists ever staged in Korea that included Jörg Immendorff, Neo Rauch, Thomas Ruff, Sigmar Polke and Anselm Kiefer.

Over the years of running Arario Gallery, I've learned that gallerists could be just as influential, if not more so, than museums. These days, museum curators need to acquire works from galleries to organise exhibitions. Without that support, museums struggle to put on a good show. I have also come to understand that galleries can make history with artists by discovering and nurturing their talents. It's a real privilege for me to work with artists and seeing their careers flourish over time.
YM

Since 2005, the gallery has undergone rapid changes as it branched out from Cheonan to Seoul, New York, Beijing and Shanghai. What were the main reasons for expanding the gallery worldwide? Did you face any setbacks and challenges during this process?

CKI think New York, Beijing and Shanghai are three of the most important and exciting hubs for international contemporary art. Around the mid-2000s, I became privy to, or cognisant of that major factor, and I wanted to develop an international reputation. Moreover, I wanted to excavate young Asian artists, and to introduce not just Korean, but other Asian artists to the world as well.

With this objective in mind, in 2005, I set out to Beijing to find thriving art communities. At first, I considered the option of opening a gallery in the fashionable 798 Art District, which was then the most up-and-coming centre of the Chinese contemporary art world, and where you found rows of galleries and art spaces huddled together. But I noticed there were signs of creeping gentrification, and I felt that the atmosphere was hindering the art community's earnest creative potential. So I changed my mind, and eventually, I set up the gallery in the nascent Jiuchang Art District with the hope of discovering artists with pure talent.

But things didn't go as well as I had expected. The area's peripheral location didn't provide the impetus to guarantee the gallery's survival in the long run. We also faced a variety of infrastructural challenges, and ultimately, the gallery had to close down. There were other economic challenges in New York. I guilelessly set up a new outpost in Chelsea in 2007, without knowing that the rent in that particular location was staggeringly high. Within a few years, the rent kept going up, and unfortunately, I just couldn't sustain the business there anymore.

In hindsight, these are bittersweet experiences that taught me enormous lessons. Having gained the knowledge and insights of the international marketplace, I now understand the vital importance of developing a solid representation of Asian artists, and of producing outstanding exhibitions focusing on quality and innovation. I'd also like to go back to New York and try it out for the second time.
YM

Could you tell us how you've selected artists in the past? What are you looking for at the moment?

CKMy current focus revolves around contemporary Chinese art. Although I have worked closely with the better-established generation of Chinese artists such as Yue Minjun, Zhang Xiaogang and Fang Lijun, I have also been exploring lesser-known younger artists who have shown tremendous potential. I often travel to many places to meet and talk with a variety of young artists working in art residencies and studios across numerous districts in Beijing and Shanghai among other areas that house thriving artistic communities.

In the last several years, I discovered exceptionally talented painters like Liang Manqi, whose works have bridged a broad range of influences, from geometric painting, minimalism and architecture, with a style that is uniquely her own. When I first met her, Liang was virtually unknown in the Chinese art world, but I recognised her talents early on, and immediately, I started to collect her works. She is currently represented by our gallery and she has now achieved success as an internationally acclaimed artist. I'm also proud to be working with Chen Yufan, who is now 44 years old. People overlooked his talents for a long time, but I detected a unique sense of contemporaneity in his works, which express the collective experience of modern Chinese society through the creative use of both traditional and modern media. Chen is showing his new installation at the Arario Museum Tapdong Bikeshop in Jeju Island, and from then on, he'll go on to open his first solo exhibition at Arario Gallery Shanghai.

I also like to empower re-emerging mature artists who have been neglected by the mainstream art market. Although I attach great importance to finding new artists, the term 'new' doesn't mean that emerging artists must be young. For me, artists who are 'new' challenge accepted norms, and in turn create exceptionally unique and imaginative works. In that regard, we also continue to engage with Korean artists. Most recently, we had the great pleasure of shedding new light on Han Man-Young. He has sustained more than 40 years of his career with his object-based installations using eclectic fragments of insignificant yet beautiful found objects such as old photographs, antique paintings and mechanical parts that he juxtaposes to create poetic compositions. For the first time, his works from the 1980s and 1990s will be shown as a large installation in a darkened display room on the basement floor of Arario Museum in Seoul. I hope it will engage and startle our audience in a new way.
Exhibition view: Voice of Asia, Arario Gallery, Shanghai (1 July–27 August 2017). Courtesy Arario Gallery. ⓒ Arario Gallery.
YM

You recently opened Arario Gallery Shanghai in West Bund in July 2017; the inaugural exhibition is called Voice of Asia. What inspired you to focus on this particular theme?

CKAs I mentioned before, I learned a huge lesson in New York. First, our gallery must show important and exciting exhibitions that reflect the current flow of contemporary Asian art. But most importantly, we must build close connections with leading talents in Asia. That is the only way that our gallery can gain a strong international following.

Over the years, I've deepened my understanding and awareness of promising young artists from not only China, but India, the Philippines, Indonesia, Japan and Korea. Through these endeavours, I've developed strong relationships with nearly 50 Asian artists, represented exclusively by Arario worldwide. To that extent, the exhibition, Voice of Asia reflects the outcome of my longstanding vision and the artists who have played pivotal roles in shaping the multicultural scope of the gallery.

It's also significant that the show takes place in West Bund, which is becoming a vital destination for international dealers and curators. More crucially, Shanghai has been an important base for us to discover young local artists.
YM

What do you think about the current Chinese art market?

CKThe fact that many diverse and innovative generations of artists continue to emerge from China amazes me. That's why I think the future potential for the contemporary Chinese art market is equally vast. However, there are certain infrastructural aspects of the market system that need improvement. If the country lowers taxes on arts and customs charges, that would boost international trade, which would certainly accelerate the growth of the Chinese art market.
YM

Could you tell us what motivated you to become an artist?

CKI didn't even begin to consider becoming an artist until much later in my life. I was mostly busy running my business and building my art collection throughout the 1980s and 1990s. But even back then, I've always had an urge to try something new. When my new business at Cheonan bus terminal was making losses in the late 1970s, I came up with a solution of renting four convenience stores that I redesigned and renovated in aluminium. After that, customers started flowing in, and the business began to generate a profit. These were the kinds of creative interventions that occupied my interests before I became an artist. But at the time, I was just a businessman, not an artist.

My career as an artist has evolved slowly. I had been collecting art and managing Arario Gallery for nearly 20 years, so my profession has certainly had a huge impact on me. Seeing a variety of artworks and meeting artists has changed the way I think about contemporary art. At first, I was drawing as a hobby, but soon I moved on to photography, painting and sculpture. As my practice began to develop, I decided to hold my first exhibition at Arario Gallery Cheonan in 2003.

From that moment, I began to produce works consistently. I think about my practice every day, and I ask endless questions to myself: 'Let's try to use words rather than colours this time'; 'Am I happy? If not, what am I feeling right now?' I also think about working with different media such as carpet, metal, spray painting, and coating my sculptures with bronze. These are the kinds of questions that I'm currently asking myself. I rarely put my thoughts into action until I can get a clear answer. It takes a lot of time and patience to create art, and I don't know exactly how and when these ideas will flourish in the future. I'll have to wait and see until then. —[O]