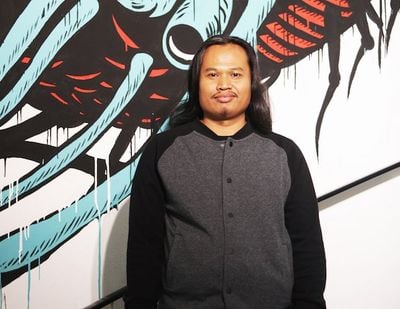 Eko Nugroho. Photo: Andang Iskandar / Humanika Artspace
Indonesian contemporary art has enjoyed the attention of the international arts community in recent years. By tapping into the country's distinct mix of ethnicities, religions, cultural influences, and languages that make for a rich and layered sense of national identity, Indonesian artists are increasingly communicating their unique position to the rest of the world. Spreading across more than 17,000 islands, the archipelago bears the traces of a tumultuous history made up of colonial rule, intense internal socio-cultural upheaval, political instability and struggle for independence.

The Frankfurter Kunstverein's current group exhibition, Roots. Indonesian Contemporary Art
, presents a cross-section of contemporary artistic practice from Indonesia. The exhibition aims to represent a new generation of artists that emerged after the fall of the authoritarian Suharto government in 1998. The subsequent period of transition into democracy and a more liberalised society was labelled Reformasi (Reformation) and heralded a new era of creative expression that transformed Indonesia's cultural scene. Such innovative creativity is visible in this landmark show. The exhibition includes the work of Joko Avianto, Jompet Kuswidananto, artist collective Tromarama (Febie Babyrose, Herbert Hans Maruli and Ruddy Alexander Hatumena), and Eko Nugroho.
Eko Nugroho, a Yogyakarta native, is part of a fresh wave of Southeast Asian artists intent on forging a unique Indonesian visual language and avenue for expression, deeply rooted in themes derived from everyday life. Characterised by plurality and taking many forms, Nugroho's practice investigates universal macro issues such as globalisation, political unrest, human existence, corruption, racial intolerance, and cultural value systems through a critical, yet simultaneously humorous and playful lens. His punchy, vibrant graphic aesthetic and interest in street art is often utilised in public interventions in the form of community murals and large-scale embroideries that explore social culture. The artist views his practice as a form of social activism that communicates between him, and the places and people he encounters.
Nugroho's ability to intertwine popular culture within the vernacular of contemporary art has elevated his practice to broad audience appeal and seen him undertake collaborations with brands such as Louis Vuitton and Ikea while also exhibiting in art museums such as: Musee d'Art Moderne de la Ville de Paris, Kiasma Museum of Contemporary Art Helsinki, The National Gallery of Victoria Melbourne, ZKM Centre for Art and Media Karlsruhe; and at biennales such as the Biennale de Lyon, Busan Biennale Korea, Taipei Biennial Taiwan and the Asia Pacific Triennial. Ocula speaks to Nugroho about his new work for the Frankfurter Kunstverein, his inspirations and his motivations.
Can you tell me about the work you have created for the group exhibition Roots. Indonesian Contemporary Art at the Frankfurter Kunstverein?
The new site-specific installation work I am making for Frankfurter Kunstverein is titled Non political, but destiny. I always find it interesting to observe current issues and events wherever I am. This work contains references and critiques on current issues including immigration, the concept of phobia, and democracy.
Exhibition view: Roots. Indonesian Contemporary Art, at Frankfurter Kunstverein, 2015. Photo: Norbert Miguletz. © Frankfurter Kunstverein
It is not the first time you've exhibited in Europe. You have held a range of solo and group exhibitions in Germany, France, Finland and the Netherlands. What type of feedback have you received from European audiences?
I feel like the European society is already far advanced in their understanding of art and I am very happy to be returning to Europe to present my reflections and my work to European audiences. Different countries and different cultures will always create different perceptions. This is the interesting part about the art world.
Very uniquely you are able to transcend the world of contemporary art and popular culture through your work, thus making it accessible to a very broad audience.
The world is connected: don't forget that.
You work with a variety of media including painting, drawing and embroideries. Do you have a preference for any specific materials to work with?
I work with lots of different media, but particularly media that is easily accessible. I have been working in this way since I studied painting at art school [Institut Seni Indonesia, Yogyakarta]. However I like to expand or grow my work by approaching different media and applications such as animation, embroidery, comics, shadow puppets, batik, sculpture and mural. I am currently using batik techniques to create large-scale lanterns.
Exhibition view: Roots. Indonesian Contemporary Art, at Frankfurter Kunstverein, 2015. Photo: Norbert Miguletz. © Frankfurter Kunstverein
How important are your artwork titles? The play on words is often humorous but also critically driven, with a slight feeling of the message being 'lost in translation'. For example: I was in wrong generation, Collective Hypocrite, Under Pillow Ideology, Ride Your Moral, My Plastic Bag is My Society, Karma Corruption and Colonised by Socialities.
The importance of titles in my works is so-so. It's sporadic. Sometimes the titles come before and sometimes they come after making the work.
Contemporary Indonesian art has been experiencing attention from around the globe in recent years. Why do you think this is?
I think this is because we have a different style; we communicate different topics and themes. Also Indonesian art is visually strong in the art world.
How have you seen the art scene in Indonesia change in the past ten years?
The art scene in Indonesia continues to grow and prosper year to year. The internet provides a lot of information and opportunities to develop the work of young artists. There is always very strong and interesting work appearing from the new generation in Indonesia.
Exhibition view: Roots. Indonesian Contemporary Art, at Frankfurter Kunstverein, 2015. Photo: Norbert Miguletz. © Frankfurter Kunstverein
What are some particular trends or waves happening now within Indonesian contemporary art?
Social critique as well as more social practice, experiments and research.
Can you list some fellow compatriots whose work you admire?
There are so many Indonesian artists whose work I really like but I don't wish to single anyone out in particular.
You have actively worked to cultivate and encourage the development of the arts and cultural scene in Indonesia with a range of self-directed projects.
I cultivate lots of projects that are rooted in working with community and this makes me really happy. I always receive a lot of creative energy from this practice. It's a big source of inspiration for me.
Exhibition view: Roots. Indonesian Contemporary Art, at Frankfurter Kunstverein, 2015. Photo: Norbert Miguletz. © Frankfurter Kunstverein
Yogyakarta—where you are based—has been identified as an art centre in Indonesia. What makes it such a great environment for making art?
Yogyakarta, often referred to as "Jogja", is a city that is creative, easy-going and has a low cost of living. Lots of arts events and initiatives make Jogja a unique city. Residents of Jogja live in a city known for its creative atmosphere, unique geography and distinctive culture and traditions. I get a lot of my inspiration from daily social life, news and information.
How much power do you think art has in conveying important messages to society?
The artist is a member of society with a filter that is often different from others in society. The work of the artist will always be interesting if the artist situates themselves in their immediate context and records and interprets what happens around them. The artist can record life and society in much the same way a writer can, but visually.
What project will you work on next after your show in Germany?
I will continue working on my solo shows in Jakarta (Salihara, October 2015) and Shanghai (2016) and prepare for the Setouchi Triennale early next year. —[O]