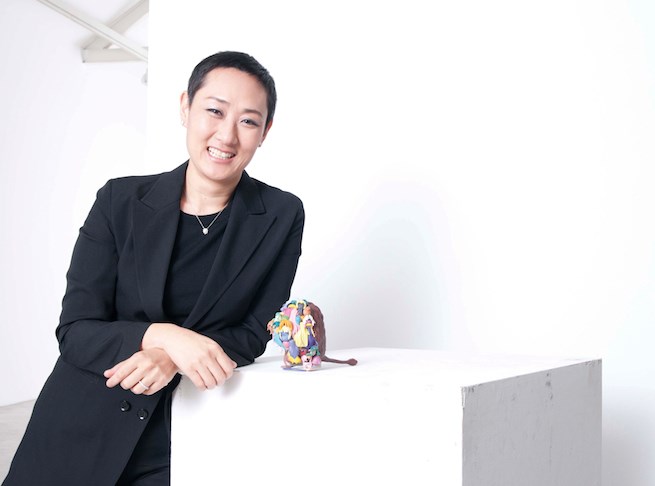 Emi Eu is a member of the Selection Committee for Art Basel in Hong Kong, and has also been the director of STPI since 2009. STPI is both a gallery and a print and paper workshop, and has a highly regarded residency programme. Artists to have participated in the residencies include Do Ho Suh, Ashley Bickerton, Ryan Gander, Rirkrit Tiravanija, and Eko Nugroho
.
In this interview, Eu discusses both her own history and that of STPI, as well as the ethos behind its residency programme. In particular recent residents, Rirkrit Tiravanija, Ryan Gander and Do Ho Suh. We also discuss an upcoming collaboration between Tiravanija, Anri Sala, Carsten Höller and Tobias Rehberger, and she shares some observations drawn from her experience as a member of the Art Basel Selection Committee.
I understand your trajectory in the art world started at the Metropolitan Museum of Art in New York, and then you had four years in Italy, followed by two years in Paris, before joining the MoMA team, and then returning to Singapore?
I did my internship at the Metropolitan Museum of Art in high school, just before going to college. However in truth I did not really like art at all. Although my mom is an artist and works in traditional Asian art, both as an Asian textiles scholar and an embroiderer, I was never really drawn to the visual arts. I liked classical music and it was my mom who thought it would be good if I spent my summer doing something productive. I got this internship, but I was in the development office, right next to the Director's office, so it was more like working in management, than with art.
And after this?
I went to school where I studied business. I was then in Venice for four years followed by Paris where I continued independent work because I also wanted to learn the language. I went to New York after Venice, and by that time I was married, finally moving to Singapore after that. That was the trajectory.
Do you think the approach you take to your role as Director of STPI is impacted by anything specific to any of these earlier experiences?
I think everything just kind of had an influence on me. Things unfold when you are much younger, you do not think about how they might impact you, but they do.
For me though, I think the starting point was very much in my household. My mother had, and still has, a huge collection of textiles and I would see that every day. I was forbidden to touch them, and I remember when I was young not understanding why she was so careful, but now I do. Those things come back to me when I am asking people to handle the artworks very carefully. Just little things like that, every step of the way does have an impact in one way or another.
When I was doing my Master's Degree at NYU in Arts Administration, I went into an internship at MoMA and I applied for the Painting and Sculpture Department. However, the curator who was supposed to supervise me could not take me in, so she asked me to go to the Prints and Illustrated Books Department instead. I did not like it at the time because I thought of prints as a kind of inferior department, but I was lucky to get the internship, so I said: "OK, I will go there and then I will find out whether I would really like to be a curator or not." So this is actually how I first became involved in prints. Little did I know that I would be later working in the print industry. In fact, in 2008 we had an exhibition of Lin Tianmiao, the Chinese artist based in Beijing, at STPI and both the Chief Curator of the Prints and Illustrated Department of MoMA, Deborah Wye and the Curator Sarah Suzuki, came to STPI to buy some work. I did not know that it would happen like that and now we work very closely with them.
Exhibition view, Rirkrit Tiravanija, Time Travelers Chronicle (doubt): 2014-802,701 A.D, at STPI, 2014.
You mentioned your mother and her passion for textiles and embroidery. It is quite unusual and extraordinary to come across people who have this sort of extreme passion. Did it impact you?
Yes, I often think of this now that I am more mature and a mother myself. I didn't quite understand it beforehand, but the more I look at my mom and her dedication and commitment to textiles and heritage, the more I appreciate it. When I was younger, I didn't want to be a part of that and I always thought that what we did was very separate, but actually it is very much intertwined.
My mother was ahead of her time as a woman in Korea right after the war in the 50's and 60's. Because after the war, nobody really cared about preserving heritage, nobody cared about art. They were very busy rebuilding the country, their lives and everything else. But she actually ran a studio where she rescued a lot of girls from the outside of Seoul who came to look for jobs in the city. These girls were often manipulated into doings that they should not have been doing, so she recruited them and started to teach them embroidery and to work in her studio. So it was a kind of social service as well. Then she did a lot of exhibitions. She was invited by the Shah of Iran to do an exhibition and it was the first time a woman had been invited, so she had a show there.
She went to Japan often too. In the 60's to go to Japan as a woman: it was kind of unheard of—from Korea moreover (given the relationship after colonisation). She was really using culture as diplomacy. She was a cultural ambassador in her own way.
As an embroiderer she also came up with new embroidery techniques and she wrote the very first book on Asian embroidery and history in English. It is a staple bible for a lot of people who study textiles. All of these things she did out of passion. She was not planning to build a career up on it, but her heart is really close to that and she is truly an artist.
Your mother's passion for her textiles is very similar to the passion that Kenneth Tyler, who founded STPI, had for the print process?
Yes I see that extreme passion also in Ken Tyler, he cannot sit still, he has to keep building things, he has to innovate, they both do not like to be idle. They always like to try new things, and are continually challenging themselves. Whether it is altering the house: for example, my mom did this whole Japanese wing in her house in New York. She drew it herself, she worked with the contractors and that is exactly what Kenneth is like—he also built houses. When I saw his houses, it really reminded me a lot of my mom—this passion that they both possess.
When I look at my experience—working with my team you can tell the people who have passion that really drives them to go further, drives them to be much more innovative, much more creative, to think outside of the box, whether it be in relation to the workshop or in the office. This passion is very much a key element in the job here.
Can you tell me about how STPI started? I know Ken Tyler founded it, but how did he form this connection with Singapore that led him to founding the print workshop?
It was by chance I think. I was not around at that time and so this is hearing from Ken because I have asked him before about it. Basically, Ken had a very, very good relationship with the National Gallery of Australia (NGA) in Canberra and its founding director James Mollison. And because Ken was very friendly and he had a good relationship with some of the American artists he worked with, he was able to work with the artists for the NGA to secure some of the print works they now have. So he would go down to Australia at least once a year and then on his way to Australia he would stop in Singapore.
The LASALLE College of the Arts, which was founded by the late Brother Joseph McNally who was a brother from the Catholic La Salle Christian Brotherhood and a missionary as well as a sculptor, was a huge proponent of setting up this art school and he did tremendous work for it. The dean there at one point or another was Alan Rubenstein from Australia, so there was this Australian connection again. On one of his trips to Singapore, Ken met Brother Joseph and Alan.
I think that when Ken went to retire, he knew he didn't want to just close-up the shop, but he wanted to transplant the workshop. So he got to know Brother Joseph and then Alan and they started talking about this idea of a workshop, and it evolved into something bigger. Our Founding Chairman Mr. Liu Thai Ker who is an architect, but was actually the Chairman of the National Arts Council at the time, took the project under his wing and it developed from there.
So does Ken Tyler still have an involvement at all?
His involvement was extremely important in the setting up stage. He was the one who asked the government to give us a space in the center of town, not in the suburbs and that is why we have the space we have. He was instrumental in the outfitting of the whole facility, because it was gutted out entirely and he designed everything: the ground floor, and how it should be run, all the offices and everything. He was really very much involved. He did not live here permanently at that stage, but he would do trips out here three weeks at a time overseeing the construction. He really got himself dirty, he was not just in the office, and he really worked very hard to make this happen. Then we opened, and after four months, there were some misunderstandings, I think, between the two parties, and he basically left.
But his ethos is still very much part of what STPI is today: there is an underlying passion and dedication to the art of print. And it isn't just about the artist creating an object as an end result, it is very much a two-way process of learning and inspiring between the artists who do the residencies and your team of print experts who work with them during the residency?
Yes, it is a two-way relationship. Every artist that we work with—artists are very special people, they would be the ultimate example of people driven by passion—inspire us in so many different ways and we learn a lot. These experiences accumulate over time. The team in the workshop are really lucky because they are spending a great amount of time, every moment with the artist and they can really share many ideas with the artists—because for the team to know how to assist the artist, they need to know what the artist is thinking.
Suzann Victor, who had an exhibition at STPI in January this year, is an extremely meticulous person. It was very, very challenging in so many good ways for us to work with her because so far we have worked with a lot of artists and most of them are kind of relaxed and they have a different approach. Suzann was extremely on top of things and she just knew how this exhibition would look. She is just a very hands-on artist in all aspects and so it is not only production and how the art work comes out, but how it is exhibited and presented—so yes, we learn a lot each time.
Exhibition view, Suzann Victor, Imprint, at STPI, 2015.
Tell me about how you select the artists to do the residencies, because actually very few have a strong background in print?
Even though people know us as a print institute, it's a bit misleading. What Ken had in mind was really to do a lot of educational things, which we still do, but after he left we had to figure out our way. We needed to come up with a new business model. It did not come right away, but it did evolve over time.
Ken had created this amazing facility, and we needed to work out how to make it work for what is now STPI. So we said, OK, if the artists are going to come and commit their time it has to result in a very fulfilling experience for both parties. This is what I say to all the artists now—this collaboration, this marriage, this partnership has to be satisfactory for both parties.
When I look at the artists that we would like to work with, I am really interested in artists who are not necessarily print makers or paper makers, I am just not interested in that because we have an amazing team who can assist the artist to work with these mediums. I am really interested to work with artists who are open to new mediums. Sometimes a lot of artists are very fixed in their ways, and I do not blame them, because that is what they do. But when they come here, its a huge challenge because they have to really come out of their comfort zone. They have to work with 12 people who are waiting for them and they see our gallery, 400 square meters of space that they need to fill at the end. Then on top of that, its not like they have a year to complete the work, they have five weeks at most to spend here. It is an amazing challenge for artists, so those who come here have to understand and be really open minded. They have to know it will take a lot of their effort and energy, but then if take the challenge on—well, I just know that from the calibre of the artists that we invite, they will come out with something really good.
Entang Wiharso was an artist who recently did a residency. What was it about his particular practice that resonated with you, and led your team to select him for a residency?
Entang started out with painting, but you know a lot of artists from Indonesia are quite multi-disciplined and that is what I am interested in—artists who embrace it all: he did sculptures, reliefs, paintings. I was really very much drawn at first to Entang by his paintings, his earlier paintings and his vocabulary which is very unique to him. Then I saw that he was doing these cut-out reliefs and sometimes I just have this gut-feeling. I just knew that when he came to us he was going to be able to work with my team and be able to really fully utilise the resources that we have here.
The thing about the residencies is with the print facilities available, there is an expectation that an object of some sort will be produced at the end, and various objects will become subject to an exhibition. So I was very surprised when I heard that Rirkrit Tiravanija was in residency. As a conceptual artist, known best for his performance works, the residency must have been very interesting in pushing him away from his comfort zone?
Yes, that's right and actually I am really very much interested in artists like Rirkrit who do not really produce objects. Whose practice is really about intervention or situations, so they often produce ephemeral art works, because they are not permanent. I was really drawn to him by the concepts and the basis on which he was working. I am just so attracted to artists who use just the resources they have in front of them, and they are really working and challenging different concepts all the time. I particularly liked how he was challenging the concept of time. I guess in a way we wish to work with artists who inspire and whose work I would like to have in my own collection!
Exhibition view, Ryan Gander, Portrait of a blind artist obscured by flowers, at STPI, 2015.
He has a second residency coming up. Did you feel there was something else to be drawn out of him?
If you look at Ken Tyler and his legacy and his career or even people like François Mourlot who spent a lot of time working with Picasso, they often had life-long relationships between the printer and artist. I don't want STPI to be a place where we do just one project and that is it. I mean, yes there are a lot of artists that we would love to work with, but sometimes with some artists we kind of strike a cord and it just never ends and I think it is really a good thing to have this kind of long-lasting relationship.
Another artist that we are working in this kind of manner with is Do-Ho Suh, the Korean artist. It never ends. We are going to have a second exhibition this year, but it is not about how many exhibitions, how many times they come, it is just a two-way relationship, we are feeding off each other and it is kind of reactionary. He says this and we look at it and it is like: "yeah this could be a really good project". So it just continues on, it is an open dialogue. We are never fixed on having an end date or a finish.
Of course our schedule is very rigid, so we have to keep to the schedule, but it is very much an open dialogue.
With Rirkrit something completely different has come up. He suggested, and I was keen, on working with some of the artists that he has a very close relationship with. So he is working together with Anri Sala, Carsten Höller and Tobias Rehberger on a project for STPI.
Can we please talk about how this collaboration is going to work?
They are going to work on the concept of 'exquisite corpse'.
I understand each artist is working on a specific part of the body?
Each one is starting a work, but none of them know what the others are doing and when they will get to their second part they can only see like one inch or two inches of the other person's work so it continues from there.
On a different subject. You are on the Art Basel Selection Committee. In your capacity on that committee, was there anything looking through the applications that you thought; wow, there is really something happening in the art world this year?
Actually, we were talking during our selection meeting, which was in August last year, and one of the dominant comments that we all shared was that the speed in which Asian galleries met the standards of presentation at the fair was phenomenal. They learnt quickly, and they understood that in order to be present in this world-class fair you have got to know how to put a booth together. This year, we have 15 galleries less because we do not have to have such big fairs. The big fairs really tire people out. It is about the quality and we have this 50:50 percentage of Asian galleries versus Western galleries because after all it is an Asian fair. The biggest thing we have noticed is how quickly the Asian galleries are really catching up and this is maybe one of the hardest fairs for Western-based galleries to come into. And this year, because of the change of date, a lot of the real big players from the West are coming because it is not close to Basel, nor is it during the auction season in New York.
What is STPI showing?
In March we will open our Ryan Gander exhibition, which will be so brilliant. I keep just saying that he is just so good in everything that he does and touches. You will see some of Ryan's works in Hong Kong. I think we will bring maybe some previous works by Do-Ho, done last year. His work is getting much more refined with us and we are perfecting the process as well.
In a previous interview I did with Do-Ho, he talked about returning to painting?
Yes, because he was a painting major. It was one of the reasons, which really, really drew me to get him… I started talking to him about a residency in 2005 when Ashley Bickerton was here and he came in finally in 2008. It took me three years to convince him to come because I could see that he was doing these big sculptures and I love his work, but I knew somewhere, somehow … well…I like working with sculptors because they have a completely different perception and you know the space and the view or things.
Then I found out that he actually was a painting major so when he came I said to him: "Please make your 3D sculptures on 2D surface for us," and we did amazing project in 2010 and he was really thrilled. He kept telling me: "Emi this is really amazing because I have not used my hands to create work in such a long time." Of course he uses his hands to draw and sketch and do all the planning, but he has not really used them to make the finished work. He was just enjoying it so much—so yes, he is going back to his roots in a way.
The residency really offers so many things that are not expected for both artists and for us. That is why I think we are able to have such successful collaborations. —[O]