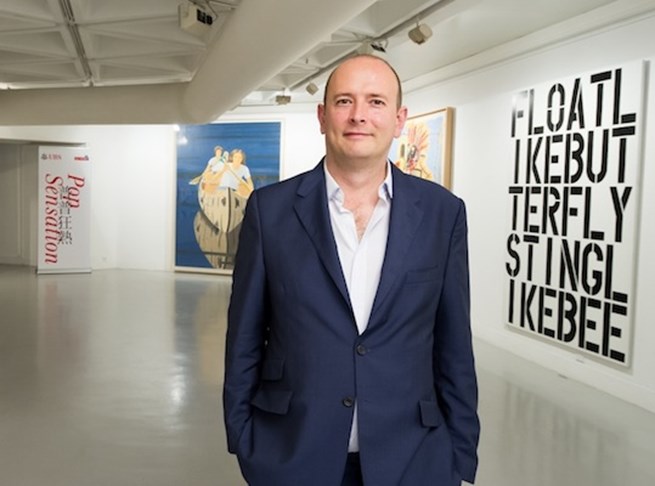 With an extraordinary collection of paintings, photographs, drawings, sculptures and video by some of the world's major artists from 1960 onwards, UBS is recognized as having one of the most important corporate collections of contemporary art in the world. Stephen McCoubrey has been co-curator of that collection since 1999 and is currently responsible for the art collection in Asia Pacific, Europe (ex Switzerland), Middle East and Africa regions. McCoubrey caught up with Anna Dickie to talk over how a graduate of Goldsmiths came to work for one of the biggest banks and what drives and currently motivates the UBS Art Collection.
How did you come to be co-curator of the UBS Art Collection?
Well I came to the collection 14 years ago when I was just coming to the end of being 25. I hadn't done an enormous amount of things before that other than go to college, paint and curate a handful of shows around a very empty London where we could find spaces to do shows very easily; and really I came for two or three months initially just to do inventory and tick through a building that was being emptied (coincidently right opposite where Tate Modern was then being built). It was really meant to be just a 'throw away or keep' exercise in a basement full of art in an empty building. But ideas started to build up and I started working initially for the business in London which previously really hadn't had anybody dedicated to it – despite it being one of the three biggest locations for UBS.
It sounds like you arrived at UBS at the perfect moment when the Tate Modern was being built and corporates, like UBS, were re-evaluating the importance of their collections?
Well yes and in particular because the following year UBS merged with the American bank Paine Webber, which arguably had one of the best contemporary corporate art collections in the world. By good fortune the curator of that collection regularly came to London and happened to visit London as that merger was being agreed. His visit coincided with a huge exhibition I was working on with the British Council. It was actually only on for one evening but it involved most of the important artists in London at that time from Bridget Riley to Damien Hirst. In the main most of them came to the event as did Jay Jopling and other dealers and they spoke and mingled with several hundred UBS clients. So that was his first impression of me which was perhaps a rather grander version given the state of the UBS collection at the time. But as a result I was able to have a greater connection to the Paine Webber Collection, which is really where many of the crown jewels in the current UBS collection came from.
What are some of the examples of the works that came from the Paine Webber collection?
Many of the works you would have seen at many of our exhibitions in various parts of the world, in particular in Beijing and Tokyo and more recently in Hong Kong for Pop Sensation. That ranges from Roy Lichtenstein, Ed Ruscha, to Lucian Freud - a great array of fantastic works that UBS inherited and we have been able to build on. Many of the best things that we have from the seventies, eighties and the early nineties came from that direction. It really was a very important launching pad.
The bank's Hong Kong office is the largest in terms of the number of employees in Asia. Will we see more of an Asia Focus to the UBS Art Collection?
Asia is of course a very, very important part of UBS. From an art perspective this is the area we have the most work to do on. Despite all the wonders from the collections we inherited, we are still very much American and European focused. There were a handful of Japanese works in there, but that was really it. The business in Asia has grown much faster than the art collection. Asia is, for want of a better description, the most fun at the moment – being a growing art world and growing art market. It is an area in which we genuinely don't have enough art. Asia is very important.
How does the decision to buy particular works get made?
Tragically I don't get to spend each day considering acquisitions. The majority of our time is spent managing the collection and dealing with its administrative elements. There are only a handful of days each month when we can really sit down, read, look, or visit galleries, or spend real time on the Internet looking at things.
In order to enable our audience to understand what we are doing, the money we are spending and on what – it is important to understand that the collection is intended to mirror the business. One of the ways we do this is to pair the art collection growth with our real estate requirements. Often the real estate requirements give us an opportunity to add to the collection in respect of areas that we don't have sufficient investment in. So, for example, one of the more successful versions of this would be that a handful of years ago when we did the Jakarta office, we bought work by a group of Indonesian and Singaporean artists - photographers particularly. The Jakarta office gave us the catalyst to buy things and investigate things that we might otherwise have missed. We have also just acquired a handful of works by Taiwanese artists because we have completely revamped the office in Taipei. Again, an opportunity to acquire works from a region we are underweight in.
So the collection develops as artwork is required for office space, and presumably that artwork needs to reflect the business in those spaces?
Absolutely. When we moved the office in Mumbai we sent a lot of Indian art from other offices to Mumbai. However, there was then a gap because there are a lot of Indian clients outside of India and these clients visit our other international offices. So we began looking at and acquiring more Indian art to include in these other offices. It is very important to think about who is coming in and how you engage with them.
You raised photography when talking about the Jakarta office. What percentage of the collection does photography take up?
Well our numbers are a bit eschew on the grounds that we actually have a completely separate photography collection which we are not currently using a great deal of. This sits largely in storage in New York and was put together by one of the great Gods of photography, a guy called John Szarkowski. Szarkowski was Director of Photography at MOMA for many years. That collection has about 500 or 600 photographs in it and is very much about land use in the Americas. While as a whole the UBS Collection has only a small percentage of photography, it is definitely increasing in the scale of the whole collection and we are certainly very interested in showing it.
I do remember seeing that fantastic Andreas Gursky at 'Pop Sensations', 99 cents.
Gursky is a very good story for UBS. There were two fantastic Gursky works that came to UBS via the Paine Webber Collection. But also one of the great things that we have from the Swiss part of the collection is a group of five early works by Gursky. These were bought in the early nineties. In fact we showed one of these in the Hong Kong office after we announced we were going to support Art Basel Hong Kong. So we have a really interesting over view of Gursky's career in the nineties. To be honest we are lucky because right now he is outside of our ability to continue to collect his work. Two completely different parts of the bank bought together a really good group of works by Gursky – this is also true of several other German photographers.
In addition to sponsoring Art Basel, UBS is working with the Guggenheim on a major project. Tell me about this?
We have a fantastic collaboration that we are doing with Guggenheim. This is called the 'Guggenheim UBS Map Global Initiative'. This takes place over five years and will focus successively on South and South East Asia, Latin America, the Middle East and North Africa. The Guggenheim will invite one curator from each region to participate and work with the Guggenheim to identify artworks that reflect a range of each region's most salient cultural practices and intellectual discourses. We are beginning with South and Southeast Asia. June Yap is the curator.
Works selected for the initiative will be presented in traveling exhibitions, each of which will open at the Guggenheim Museum in New York and then travel to its respective focus region and a major city elsewhere in the world. So in the first cycle - South and South East Asia - there is an exhibition in Hong Kong in Q3 this year and it moves to Singapore in Q2 next year. Likewise, cycle number two which focuses on Latin America will tour back to South American venues, and then the final cycle will travel to the Middle East. So it takes up a huge amount of the world and we hope it will really help Guggenheim flesh out large areas of its collection that it really has yet to invest in.
It seems an enormous task for a curator to curate a show focusing on such a large region, for example as South East Asia?
Yes, but a conversation needs to have a number of starting points and hopefully this will act as the catalyst for even more interest, investigation, research and debate in this area. Ultimately this can only be positive.
Who are some of the artists from Asia that are represented in the Collection?
We have work by a number of artists from Asia, including Lee Bul, Hiroshi Sugimoto, Nobuyoshi Araki, Christine Ay Tjoe, Raqs Media Collective, Suling Wang, Zhang Enli, Yasumasa Morimura, Hema Upadhyay, and Xu Zhen.
We recently bought work by Yuan Hu-Li. She is a Taiwanese artist and creates beautiful work using very traditional ink brush in a very contemporary way. The most recent Singaporean artist we bought is a very young artist called Zhao Renhui, who does digital photography and creates a sort of false zoology of South East Asia. We are also just in the process of choosing the right work by Wilson Shieh - which is great news.
We also have a number of video works by artists, including Chen Chieh-Jen, Cao Fei, and Hiraki Sawa, and by Qui Anxiong.
The next challenge is to get more video work into our working environment. We have been working at that and we have some works permanently installed in Melbourne and some installed in Newcastle - all other video works are in Switzerland. For me that is really very exciting – working through the real estate conundrum of getting that type of work into our office spaces. -[O]
Stephen McCoubrey in conversation with Anna Dickie, 8 July 2013