Tyler Russell, executive director and curator, Centre A, Vancouver. Courtesy Centre A | Vancouver International Centre for Contemporary Asian Art.
Perched on the edge of North America, Vancouver, British Columbia has a large Asian diaspora consisting of large groups of ethnic Chinese, Filipinos and Indians, with smaller populations originating from Korea, Lebanon, Pakistan, Vietnam, Singapore, Iran, Afghanistan and elsewhere. Despite this significant citizenry, and although signifiers of Asian cultures are ubiquitous in the city's food, literature, music, community centres and businesses; nicknames like 'Hongcouver', the Chinese-directed blame for the city's affordable housing crisis and reality shows like Ultra Rich Asian Girls of Vancouver breed the kind of othering that contributes to a latent racism embedded within Vancouver's social fabric.
One non-profit art space in Vancouver's Cantonese-speaking Chinatown thus has an important role in overturning such stereotypes. Centre A | Vancouver International Centre for Contemporary Asian Art was founded in 1999 to host exhibitions with Asian and Asian-diasporic perspectives and engage in culture-making, research and public dialogue. Throughout its history, Centre A has worked with artists including Yoko Ono, Ho Tam, Vanessa Kwan, Young-Hae Chang Heavy Industries, Hong Kong Exile, Khan Lee and Subodh Gupta, and has collaborated with organisations such as the National Taiwan Museum of Fine Arts, Taipei, and Long March Space, Beijing. In addition to the exhibition space, Centre A houses a reading room with a large collection of Asian art books. In this first segment of a two-part conversation, Elliat Albrecht spoke with Centre A's executive director and curator Tyler Russell about Vancouver's history and the importance of fostering an appreciation for Asian art.
TRExcuse me as I risk being 'whitemansplainy', but beyond being a multicultural or any other type of city, Vancouver is first and foremost a settler colony. It rests on the lands known as c̓əsnaʔəm, X̱wáýx̱way, Chaythoos, Sen̓áḵw and other names. These lands have been home, mother and site of sustenance to the Squamish, the Tsleil-Waututh and Musqueam peoples since time immemorial; lands which, importantly, have never been sold, gifted, or otherwise transferred by First Nations people to the British Crown or any other colonising entity. So perhaps in a more challenging way, we need to ask, why, in a settler colony like Vancouver, is it important to nurture and build appreciation for Asian art?
The place that has come to be known as Vancouver was colonised in the wake of the heady, disorganised days of the mid-19th-century Fraser Canyon Gold Rush. After 1857, when colonisers found gold in the lands between the Rocky Mountains and the Pacific Ocean, territory upon which Vancouver now lies, a British Crown colony was declared and tens of thousands of people began to flood in. The white supremacist sense of entitlement to the land and resources, which had been a characteristic of the American Gold Rush over the previous couple of decades, persisted in the British Columbian context, but here with license from the Crown of the British Empire. These attitudes led to a rapid dispossession of First Nations peoples: loved ones were lost, access to land and spiritual sites denied, and millennia-deep rhythms of life shattered.
Within this massive gold-seeking migration were a very significant number of Toisan, Hoiping and other Southern Chinese language-speaking entrepreneurs, gold seekers and labourers. Coming up from the US like mostly everyone else, these Cantonese people were such a significant part of this migration that the population of Barkerville, British Columbia's first big town founded in 1862, was—according to some sources—up to or over 50 percent Chinese. Vancouver wasn't formally founded as Vancouver until 1886. And if it wasn't for a terrible couple of days in early 1887—regardless of predominant social attitudes among whites, or a series of laws looking to marginalise and exclude Chinese people in British Columbia, including an 1885 Federal Canadian law that imposed a head tax on all Chinese immigrants—Vancouver would have been majority Asian starting in its second year.
In 1887, the city's population was about 1,000; there was a Chinatown and a couple hundred Chinese people. There was also a growing Japanese population living around Powell Street, adjacent to the city's main employer, the Hastings Mill. The Canadian Pacific Railway had been completed in 1885 with Vancouver as its terminus, and long-time property owners were looking to cash in. Back in 1862, a group of men known as the Three Greenhorns had purchased a vast swath of land at the western tip of the city, an area now known as the West End. They were looking to quit ranching, clear the bush, subdivide, and sell. The guy they hired to do the clearing was John McDougall, a discount contractor who often worked with underpaid Chinese labourers to get jobs done for less, earning him the moniker, 'Chinese McDougall'. In early 1887, his crew of a few hundred men started arriving from surrounding towns with more established Chinese populations. White locals who wanted those land-clearing jobs were indignant and riots ensued. Chinatown was razed and rioters pooled together funds to have Chinese people, both the incoming labourers and existing residents, shipped out to nearby Victoria.
Centre A storefront, East Georgia Street, Vancouver. Courtesy Centre A: Vancouver International Centre for Contemporary Asian Art.
As an aside, it is important to note that the anti-Chinese riots of 1887 likely didn't constitute the first act of racialised expulsion in Vancouver's West End. Coast Salish peoples were present on and using those lands at the time the British Crown sold it to the Three Greenhorns. According to some sources, as early as 1862, the same year the Three Greenhorns purchased the property, First Nations presence on and use of the land was 'halted'. It's unclear how exactly their presence was 'halted', or what relationship it might have had to a smallpox outbreak at the time, but I have read one account that described how very uncomfortable one of the Greenhorns was with the presence of First Nations people on the property.
After 1887, Vancouver's Chinese communities survived through ongoing violence, a federally legislated head tax; the riots of 1907; a time when 'White Canada Forever' was the most popular bar song; and from 1923 to 1947, a near complete ban on immigration. As for Vancouver's Japanese community, they also suffered the Anti-Asian riots of 1907, and saw immigration restricted to 400 people per year. The worst came during World War II, when all people of Japanese origin—men, women, and children who lived within 100 miles of the coast—were rounded up and sent to internment camps in the interior. Their properties were expropriated by the government and sold off, leaving people with nowhere to go back to once the internment finally ended four years after the war.
Regardless, and thanks in part to a large influx of immigration from Asia after the repeal of the Chinese Exclusion Act in 1947 and subsequent immigration reforms, today—insomuch as any North American city could be deemed a Western city implying a majority presence of people of European origin—Vancouver could probably be called an Asian city.
Vancouver and its immediately surrounding municipalities are demographically far more Asian than regional statistics would suggest. For instance, according to a 2014 City of Richmond report, as of 2011 there were more than 76,000 people whose mother tongue was a Chinese language—Cantonese, Mandarin, et cetera—compared to just over 69,000 for whom it was English. And that's not to even mention the community's significant Punjabi, Tagalog, Japanese, Korean, Vietnamese, and other Asian language-speaking populations. It should be noted that temporary workers, exchange students, and other transitory populations who are both predominantly Asian and very numerous in Vancouver and surrounding cities, are not included in census data.
When considering why it is imperative that we nurture Asian art in Vancouver, it is important to acknowledge the interplay between the official affirmation of two European languages as foundational to Canadian identity and the marginalisation of cultures of non-European origin, whether First Nations, Asian or otherwise. The centrality of English and French within the Canadian cultural system relegates people with other linguistic and cultural roots, especially people with non-European origins to a second tier of legitimacy, sometimes referred to in a belittling or fundamentally 'othering' manner with phrases like 'our culturally diverse communities' or 'visible minorities', thus forcing such communities to struggle to carve out and sustain a place where their rich linguistic and cultural DNA can thrive. These structurally racist factors not only necessitate a struggle to sustain a deeply human, vital connectedness that thrives in its connection to the grammars and vocabularies of grandmotherly utterances, but also negate or distort other more polyglot cultural possibilities.
Perpetuated by the centrality of Eurolingual cultures, the sense that white people somehow have first dibs on the colonial spoils of Vancouver persists today. There is a constant conversation about whether 'our' choice to allow 'them' in was wise; maybe there are too many of 'them' coming and 'they' for one reason or another are disturbing 'our' peace. All these conversations are not only silent to colonial facts, but they assume that the white supremacist thinking that played a fundamental role in shaping the city is normal.
For these facts alone, Asian cultural expressions, and particularly contemporary Asian art that exists and is legitimate regardless of the diktats of the western canon—or Vancouver canon for that matter—should, in a manner that is constantly cognisant of colonial facts and seeks a broader conversation about colonisation and cultural transformation in the Asia-Pacific, be nurtured, collected and given very significant space.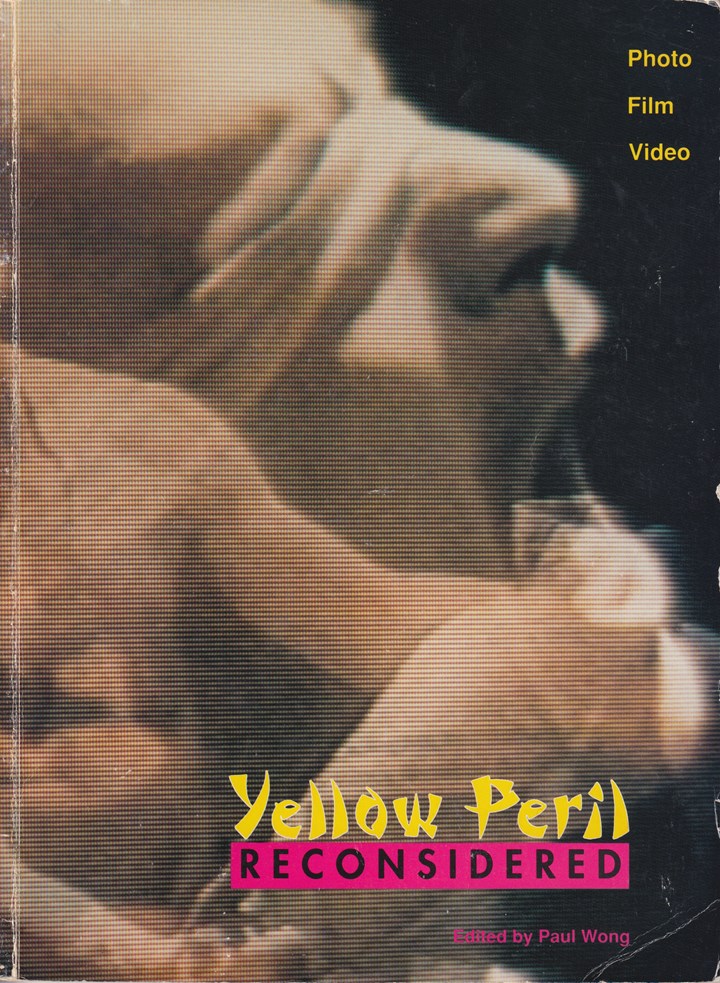 Yellow Peril Reconsidered (1991). Edited by Paul Wong. Courtesy Centre A | Vancouver International Centre for Contemporary Asian Art.
TRThis is really hard for me to speak to since I wasn't in Vancouver at the time, and wasn't even a part of the art scene. I was graduating university and taking up an internship at a Peacekeeping Training Centre on the other side of the country. However, I may be able to speak to the conditions from which Centre A emerged; but even then, only from the perspective of an outsider reviewing the situation from the lens of 2017. Vancouver, as noted in my previous answer, has always been a substantially Asian city. But the city as well as the country and province were built with racist social attitudes and official policies as undeniable building materials. From 1947 onwards, Canada adapted more and more open policies towards immigration and diversity. In 1967, references to race, ethnicity and national origin were removed from the immigration policy and in 1988 Parliament passed the Multiculturalism Act. Funding for arts and cultural initiatives followed. In the art scene, exhibitions like Paul Wong's Yellow Peril: Reconsidered (8 September—24 July 1991), and Racy Sexy (26 November—11 December 1993), put together by Henry Tsang, Karin Lee and many others, challenged audiences to consider historical and present-day experiences of marginalisation and racism.
At national and provincial levels, Asia was increasingly identified as an economic opportunity. Not only were the Asian Tigers coming to the fore after the Japanese bubble popped, but the pre-1997 wave of emigration from Hong Kong seemed to be forcing Vancouver into a renewed conversation with its century-deep connection with that city in particular and Asia more generally. Also, the events of 4 June 1989 had a significant influence on the outflow of artists and cultural workers from the region. In 1997, Henry Tsang organised City at the End of Time (11 February—15 March 1997), a major exhibition of Hong Kong artists held here in Vancouver that included the likes of Kum Chi Keung, Choi Yan-chi and Leung Ping-Kwan. Following that was the series of exhibitions, Jiangnan: Modern and Contemporary Art from South of the Yangzi River, in 1998. This was the first major exhibition of contemporary mainland artists in Vancouver, including then-emerging art-stars like Huang Yong Ping, Xu Bing, Gu Wenda, Zhang Peili and others. Meanwhile at the Contemporary Art Gallery, then-chief curator Keith Wallace took a keen interest in the art emerging from Asia, holding exhibitions by the likes of Navin Rawanchaikul and several others. In his own right, Hank Bull, as an artist and collaborative practitioner, was working with friends and collaborators in the Philippines, Japan, Indonesia and elsewhere on all manner of projects from puppetry to radio and fax art. There had long been communities of Asian, Asian-Canadian and Asia-engaged non-Asian artists active in Vancouver, but Asian and Asian Canadian art practices were underrepresented and there had never been a public institution dedicated to contemporary Asian art in Vancouver, let alone Canada.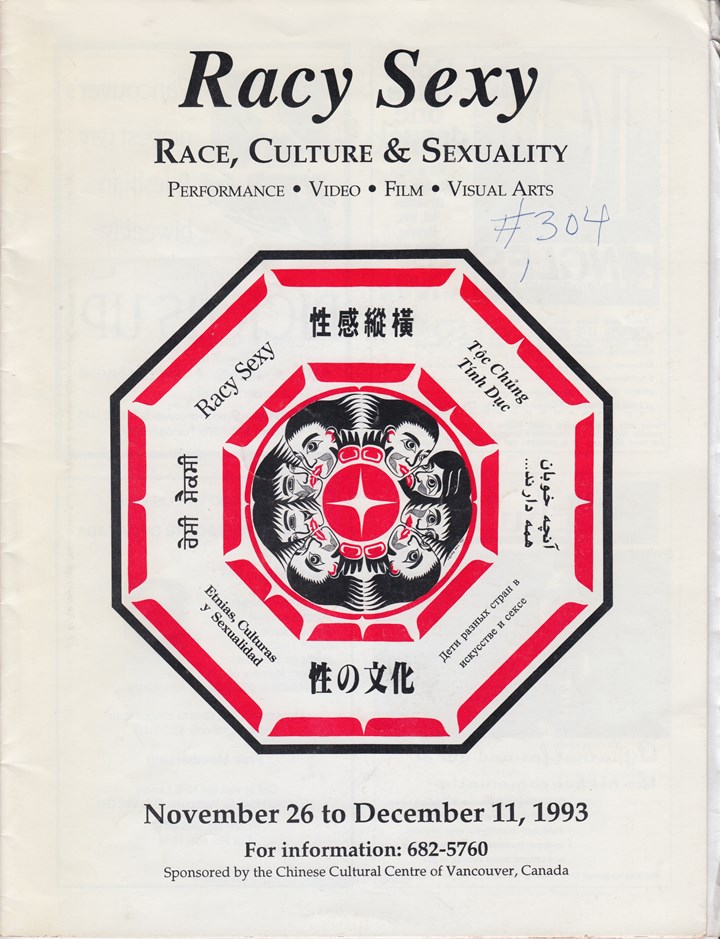 Poster for Racy Sexy: Race, Culture & Sexuality (26 November—11 December 1993). Courtesy Centre A | Vancouver International Centre for Contemporary Asian Art.
One more aspect of the backdrop was that the early board was riddled with Chinatown old guard, a gang of diversity boosters, philanthropists, connection makers and activists like Milton Wong, Joe Wai, Anndraya Luui, Joanne Louie-Mah and others. To illustrate what sorts of aspirations they might have brought to the table, permit me to attempt to describe one story I have some familiarity with.
After over two decades of defending Chinatown from city-planned annihilation, in the late 1980s architect Joe Wai helped lead the establishment Dr. Sun Yat Sen Gardens. Finished in time for Expo 86, it was the largest Chinese traditional scholar's garden built outside of China. Speaking with Joe and others, I have come to appreciate that the garden signified an expression of Chinese high culture meant to counteract the demeaning attitudes Chinese Canadians had faced for over a century. This is indicative of my limited understanding of the sort of aspirations that were brought to Centre A by the early board.
While all of that was going on in the arts and cultural sectors, in broader society, Vancouver hosted a meeting of APEC [Asia-Pacific Economic Cooperation forum] in 1997. Vancouver was being defined as Canada's gateway to Asian economic emergence—significantly, the language was not the other way around 'Asia's Gateway to Canada'—and there was conceivably an appetite among the powers that were to enhance Canada's and particularly Vancouver's importance within Asian contexts. What better way to do this than to build a museum or contemporary art centre dedicated to keeping Vancouver and Canada in tune with contemporary cultural attitudes and trends in Asia? How better for Vancouver to become a part the emergent biennale-boosted Asian cultural circuit? How better to articulate Asian cultural significance and confront Euro-centricity and White chauvinism? That's a glimpse into my limited understanding of the conditions at the time. For more you really should ask the people who lived it.
When Centre A was announced, some heated emails started to fly, and the founders were accused of international opportunism, ghettoisation of 'Asians', and neglecting the 'Asian' that was already resident in Vancouver. While there may have been an ambition to become a bold institution of sorts, the results were far more down to earth.
Centre A's first exhibition was called Bubble Tea Club: Vancouver Identity from a Contemporary Asian Art Perspective (1 July—29 July 2000). Curated by founding gallery technician and intern Rocky Huang, it featured work by students and recent art school graduates of Asian descent. Through this and other shows, Centre A came to play an important role as a springboard for young local Asian-Canadian artists. A particular audience response to our second exhibition, Hapa Big Board with artist Michael Tora Speier, has shaped much of our DNA. Reportedly, an audience member of mixed-race heritage said that this exhibition marked the first time she felt an art exhibition dealt with issues so central to her existence. Founder Hank Bull recalled this story for me when I first started at Centre A, as he emphasised the value of our mandate in that it facilitates programming in manner that speaks to the diversity of our city. There were international shows as well, an ad hoc artist in residence with Santiago Bose, an exciting showcase of Para/Site's practice, and Amy Cheng—now director of Taipei's TheCube Project Space—was in Vancouver during Centre A's early days and helped facilitate significant exchanges with artists from Taiwan and so on. I hope that in our current programming people can hear echoes of these early directions.
While contending with the critique from local Asian-Canadian artists, the founders were also concerned with what it meant to create a museum of sorts at the beginning of the 21st century, and in particular, when taking into account the museum's relationship to colonial histories. Centre A wasn't, like the Asian art galleries of Seattle or San Francisco for instance, the result of collections borne of colonial-era entitlement. Like the Asian arts organisations found in other Asian cities, including Hong Kong's Asia Art Archive, the Fukuoka Asian Art Museum, or even more recently Gwangju's Asian Culture Complex, Centre A was, ideally, to play a part in the late-20th, early-21st century questioning of Asian positionality and identity while functioning as a means for local and trans-national networking.
How does Asia variably define itself? What is Asia's position vis-a-vis other cultural zones and how does Asia interact therewith? How do the localities hosting these organisations identify themselves within Asia? And importantly, how, within Asian contexts, is power crafted, articulated, projected, and negotiated through the hosting and operating of these cultural networking hubs and repositories? In Centre A's case, what are the positions of Asian cultures in the make-up of the officially Euro-lingual settler colony of Canada and how can Asian networking and enhancing the appreciation of contemporary Asian and Asian-Canadian art affect those positions?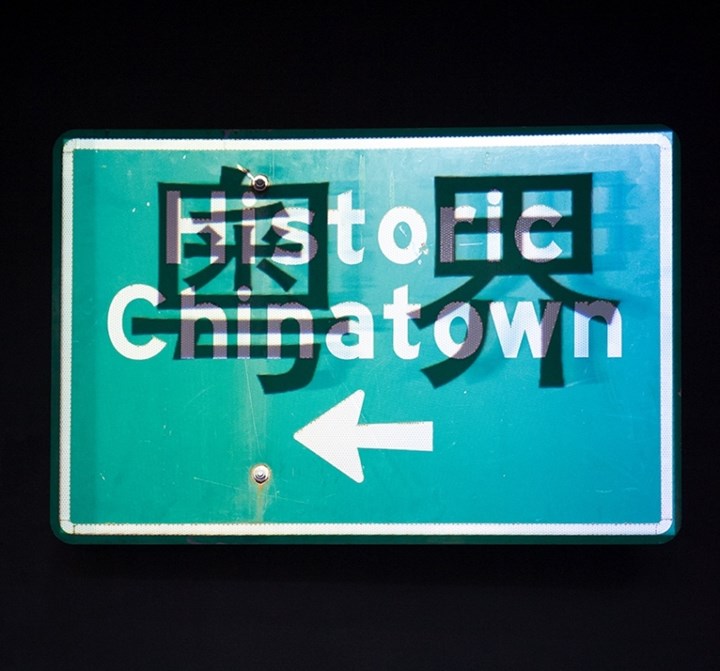 Exhibition view: Hong Kong Exile, 越界/粵界(transgression/cantosphere), Centre A, Vancouver (22 January—28 March 2015). Courtesy Centre A: Vancouver International Centre for Contemporary Asian Art. Photo: Rob Newall.
The dynamics of this tension between the local and the international has long been a significant feature of Centre A's existence. The organisation was originally called Vancouver Centre for Contemporary Asian Art. In later years, hoping to be understood as more 'international', there was a big push internally to change to our current legal name, Vancouver International Centre for Contemporary Asian Art. One difference I, perhaps ignorantly, perceive between then and now is that this local/international divide is far less of a preoccupation. Now, rather than seeing the international and local as separate negotiating parties within our organisational psyche, we operate with a greater sense of synthesis. Perhaps a result of processes of globalisation, we experience a more fluid relationship between local, trans-local and non-local Asian cultural spaces, and leverage Centre A's position in Vancouver, British Columbia and Canada to uniquely facilitate and integrate local, trans-pacific, and global cultural conversations. Engaging with Vancouver's own sordid history and acknowledging the complicated histories, interconnections and identities throughout Asia, we aim to be useful as a site of fluid, poetic, critical, people-to-people relationship-focused conversation and art making. Empowering these percolations, we hope to realise vibrant local and trans-pacific friendships, richer democracy with greater diversity, reflection and depth of thought. The approach is more fluid and water-like, less earth-like and continental. Another aspect of the earlier mandate we have made efforts to sustain is neighbourhood engagement. But I'll get more into that later.
Now, two aspects of Centre A's original mandate, which fell from focus early on but are still a part of our constitution, are our ambitions to build an endowment and become a collecting institution. I would really like to see Centre A, whether on its own or in collaboration with others, come into a position where we are an endowed pillar of Vancouver's long lasting cultural fabric, housing a significant and unique collection of the art that is emblematic of the conversations of our time. I think offering future generations an opportunity to appreciate the art that will have contributed so significantly to our conversations over the years would be a huge gift, and I don't want to miss the chance to give it.