Feature | Exhibition
Hong Kong Art Week 2022: Exhibitions to See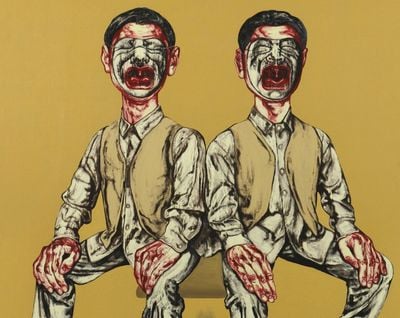 Zeng Fanzhi, Mask Series No. 26 (1995). Oil on canvas. 200 x 180 cm. Courtesy Villepin.
With the return of Art Basel (27–29 May 2022) and Art Central (26–29 May 2022) to Hong Kong, Ocula Magazine presents a selection of exhibitions to see in the city.
Wong Wai Yin, Everyone's sick (2021) (still). Video, colour. 342 min. Courtesy the artist.
Minding the G( r )a( s )p
Para Site, 22/F, Wing Wah Industrial Building, 677 King's Road
14 May–14 August 2022
Seven mid-career artists and collectives are encouraged to step outside the curatorial framework in this group exhibition at Para Site. Curator Celia Ho invites audiences to encounter each work individually, using their agency as viewers to determine the contexts in which they were realised.
Contesting the curator's role as author, the exhibition is meant to unsettle passive spectatorship to question how we look and what we are told to see.
Yeung Hok Tak, To Remove and Delete (動態清除) (2022). Acrylic on canvas. 122 x 152.5 cm. Courtesy the artist and Kiang Malingue.
Yeung Hok Tak: What a big smoke ring
Kiang Malingue, 13/F, Blue Box Factory Building
30 April–30 May 2022
Reflecting an ongoing engagement with Hong Kong's unsettled history, present, and future, two decades of works presented across 20 paintings mark Yeung Hok Tak's first exhibition with Kiang Malingue.
Yeung's new series humorously investigates the rewriting of the past and the fickle nature of memory, taking after the misrecalled title of cantopop singer William Fung Wai Lam's 1981 hit 'What a big web', which the artist remembered as 'What a big smoke ring'.
Between physical restructuring and cultural erasure, the shifting social and economic landscapes of the island can hardly go unnoticed. In the oil on canvas To Remove and Delete (2022), a turquoise mountainscape is marked by 'Xs' in places, alluding to the clearance of land to make more space for residential housing.
Clément Denis, Chercheur de rêve (2020). Acrylic on paper. 140 x 95 cm. Courtesy Whitestone Gallery.
Contrasting Confluences
Whitestone Gallery, 7-8/F, 80 Queen's Road Central
3 May–30 June 2022
This associate project of the French May Arts Festival 2022 gathers works by Clément Denis, Fabien Verschaere, and Karen Shiozawa.
Working across mosaic and painting, Denis shares his anxieties in a new series ('The river song', 2022), which draws from a nightmare in which Noirmoutier Island, where his family home is, became submerged under water.
Another painter, Fabien Verschaere's exploration of the human condition incorporates mythologies of life and death, having been hospitalised for the first 15 years of his life.
Recalling discarded memories along the galaxies in the Milky Way, the surface of Shiozawa's paintings show windmills, classical arches, and church steeples from the artist's childhood in the Netherlands, then scrapped away with technical pens.
En Iwamura, 'Neo Jomon: Beans' series (2022). Ceramics. 44 x 35 x 35 cm. Courtesy WOAW Gallery.
En Iwamura: URLANDSCHAFT
WOAW Gallery, G07, The Galleria, 9 Queen's Road Central
26 May–7 July 2022
En Iwamura's first exhibition in Asia takes a breather from political strife and pandemic chaos to introduce a metaphysical realm of cosy ceramic bean characters.
With round eyes and innocent expressions, the stacked round forms that compose the figures of 'Neo Jomon: Beans' (2022) recall simpler times, while their wool-like textured surfaces point to the kind of material comfort one might require facing the media's bombardment.
The same vision of tranquillity extends into an installation of plants creating an indoor garden space in the gallery, exploring the idea of nostalgia as an emotional landscape.
Exhibition view: Angela Glajcar, Scale Matters, Karin Weber Gallery, Hong Kong (5 May–4 June 2022). Courtesy Karin Weber Gallery.
Angela Glajcar: Scale Matters
Karin Weber Gallery, 20 Aberdeen Street
5 May–4 June 2022
Venturing into new horizons, German sculptor Angela Glajcar, known for massive torn-paper installations suspended mid-air, discarded the large-scale format in 2021 to explore intimate and diminutive forms.
With this new series of paper-stack works in 'Terforations' (2020–2022), Glajcar extends existing inquiries of light and texture, nature and artifice, while reminding viewers that power is not about size.
The present exhibition brings together large-scale wall pieces and boxed, wall-mounted pieces from the 'Paperwall' series (2018–2019).
Georg Baselitz, Schwarzweiß im Bett (Black-and-White in Bed) (2021). Oil on canvas. 99 x 69.2 cm | 200 x 255 cm. © Georg Baselitz. Courtesy White Cube. Photo: Jochen Littkemann.
Georg Baselitz: Sofabilder/Sofa Pictures
White Cube Hong Kong, 50 Connaught Road Central
24 May–3 September 2022
Central to German painter Georg Baselitz's abstracted figurations at White Cube is a nude female figure loosely based on his wife, Elke, whose reclining position takes after the horizontal woman serenaded by a lute player from Pablo Picasso's L'Aubade (The Serenade) (1942).
For the present exhibition, Baselitz's desire to stare death in the face finds common ground with the Piccaso's own contemplations of time and age, with ghostly skeletons made using the monotype printing process manifesting as partial bodies and translucent strokes of white, as if X-ray photographs or cadavres inside a coffin.
Exhibition view: Tsuyoshi Maekawa, Axel Vervoordt Gallery, Hong Kong (21 May–24 September 2022). Courtesy Axel Vervoordt Gallery.
Tsuyoshi Maekawa
Axel Vervoordt Gallery, 21F, Coda Designer Centre
21 May–24 September 2022
As a second-generation member of the Gutai Art Association, Tsuyoshi Maekawa's work has faithfully abided by the dictate of doing 'only what no one has done before'.
Known for their highly textured surfaces, Maekawa's organic unfoldings add fabrics, with burlap being a favourite, to the canvas, sewing and folding the material before pouring paint over the whole surface, which takes after seemingly natural forms while reflecting dichotomies between light and darkness.
Xin Yunpeng, Choice (2018) (still). Duo-channel video projection. 5 min, 44 sec. © Xin Yunpeng. Courtesy de Sarthe, Hong Kong.
Xin Yunpeng: Simultaneous
de Sarthe, 20/F, Global Trade Square, No. 21 Wong Chuk Hang Road
14 May–2 July 2022
Expressing tensions between time and space, Xin Yunpeng brings personal anxieties and observations into new installations and video works resulting from pandemic perceptual distortion.
Starting with Simultaneous (2022), 12 parabolic photography lights arranged in a circle facing one another are programmed to flash in a clockwise sequence every second to create sensory confusion.
Shown alongside the latter, the ten-screen video installation Towards the World (2022) depicts a subway train entering the same station at different times, creating a fragmented timeline of sorts. Echoing its disembodiment, the duo-channel installation Choice (2018) is projected in separate sections of the gallery, each a sequence within a narrative of selecting a coin concealed between two hands.
Exhibition view: William Kentridge, Weigh All Tears, Hauser & Wirth, Hong Kong (17 March–29 May 2022). Courtesy Hauser & Wirth.
William Kentridge: Weigh All Tears
Hauser & Wirth, 15-16/F, H Queen's, 80 Queen's Road Central
17 March–29 May 2022
For his first exhibition in Hong Kong, William Kentridge returns to a recurring phrase throughout his practice—to 'weigh all tears', after which the show is named.
Abstracting difficult conditions within post-apartheid South Africa, Kentridge considers the value of sorrow starting with the new six-metre-wide triptych Weigh All Tears, where dark silhouettes of figures at war or in motion foreground a collage of maps of Africa and archival documents.
Similar shadow figures appear in new tapestry works on show, this time against backdrops of Chinese political roadmaps of the Hebei Province. In Colleoni (2020), Bartolomeo Colleoni, mercenary and Captain General of Venice in the 1400s, is rendered the same way as Emperor Qianlong by the Italian painter Castiglione.
Un Cheng, No Man is an Island (2020–2022). Oil on canvas. 200 x 250 x 3 cm. Courtesy the artist and Blindspot Gallery.
Un Cheng: What's there when you ain't home?
Blindspot Gallery, 15/F, Po Chai Industrial Building
24 May–9 July 2022
Un Cheng combines desolate Nordic landscapes with the crowded subtropics of Kowloon in this visual diary of her time in Sham Shui Po and Iceland, where she was based for a three-month residency in the winter of 2018. Resulting paintings reflect an abstract documentary of sights and sentiments, connections and estrangement.
With isolation as an emerging theme, oils on canvas like the carnivalesque No Man is an Island (2020–2022) shows a bright carousel devoid of riders, where rapid impressionist strokes convey the nature of the scene as a relic of memory as recalled by a bystander.
Lit Wing Hung, untitled. Exhibition view: Poetic Estrangement, Hong Kong Art Center (6 May–29 June 2022). Courtesy Hong Kong Art Center.
Poetic Estrangement
Hong Kong Art Center, Jockey Club Atrium, 2 Harbour Road
6 May–29 June 2022
Recovering the idea of art as a means to 'make strange', a two-part series curated by coordinators and lecturers at Hong Kong Art School explores poetic estrangement as a way to recover 'the sensation of seeing' through the works of three artists working in sculpture.
Starting with Pak Sui Chi, who covers canned goods in wrapping paper made with traditional blue-and-white porcelain, Lit Wing Hung, whose soft-material still-lives mimic stainless-steel objects, and Wong Ka Yi Edith's sculptural collages compiled from collections of urban waste.
Angela Su, Mesure Demesure (2015) (still). Single-channel video, mp4. 5 min, 59 sec. Edition of 5 + 2 artist's proofs. Courtesy 10 Chancery Lane Gallery.
31 Women Artists – Hong Kong II
10 Chancery Lane Gallery, G/F 10 Chancery Lane
6 May–31 July 2022
31 Women Artists – Hong Kong II was not intended as a feminist exhibition, curator Caroline Ha Thuc states, noting there should no longer be the need for this kind of 'all-women' exhibition.
Over 60 years since the original 31 Women Artists exhibition organised by Peggy Guggenheim at her New York gallery—one of the very first shows dedicated to women—it would seem such a presentation is still necessary.
Including artists such as Angela Su, Phoebe Hui, and Sharon Lee, among others, viewers are encouraged to shape individual understandings of the works on display, independent from umbrella categories relating to femininity.
Brian Brake, photograph of Chinese New Year tangerines (undated). © Wai-man Lau. Courtesy the artist and Asia Society Hong Kong.
Recovery, Resilience, Resurgence
Asia Society Hong Kong Center, 9 Justice Drive
14 December 2021–6 June 2022
Capturing shifts in Hong Kong since its post-war recovery in the late 1940s, photographs by Hedda Morrison, Lee Fook Chee, and Brian Brake document the city from distinct photographic perspectives.
Stuttgart-born Hedda Morrison, who also worked in China and Southeast Asia after fleeing Nazi Germany, placed greater emphasis on everyday people, directing her lens to high-contrast street scenes, close-ups of passersby, and wide landscape shots of the island's remote corners.
Likewise, Brian Brake staged highly crafted photo-narratives, working as a correspondent for publications like LIFE magazine, while Singaporean photographer Lee Fook Chee, devoid of the same privileges, made a living from selling landscape shots to visiting tourists.
Daphné Mandel, Chimerical Villages #5 (2022). Acrylic and collage on paper. 75 x 110 cm. Courtesy the artist and Gallery EXIT.
Daphné Mandel: Hong Kong Time Rift
Gallery EXIT, 3/F, Blue Box Factory Building
30 April–28 May 2022
Inspired by recent adventures around Hong Kong's abandoned properties and ruins, Daphné Mandel's reflections on rapid urbanisation and the passage of time span video and mix-media assemblages on paper for this first presentation at Gallery EXIT.
With a background in architecture and urban planning, the Lausanne-born artist who grew up in Paris explores the boundary between the past and present, where one might leap back in time.
Assembling fragments recalling lives of times past, the mix-media series 'Chimerical Villages' (2021–2022) transposes contemporary Hong Kong into visionary landscapes, while 'Cabinet of Memories' (2022) features objects gathered during field research.
Xu Hongxiang, A Good View (2017). Oil on linen. 160 x 200 x 5 cm. Courtesy Ora-Ora and the artist.
Thesis/Antithesis: Part II
Ora-Ora, 105-107, Barrack Block, Tai Kwun, 10 Hollywood Road
28 April–5 June 2022
Should artists learn from the past or find new inspiration? The second part of Thesis/Antithesis poses the question, challenging its own 'academically rigorous tendencies'.
Following presentations by Chen Yingjie and Huang Yulong, who've introduced motifs from Chinese counterculture and the streets to the gallery, the current exhibition gathers works by artists in academia.
Among works on view, Cai Yaling threads familial narratives with human hair, crystal beads, and vintage photography to explore the challenges of memory, while Xu Hongxiang's cropped landscapes invite viewers to imagine the world beyond them.
Francis Bacon, Studies for a Portrait of John Edwards (1984). Oil on canvas. 101.6 × 63.5 cm. Courtesy Villepin.
The Loss of Human Face?
Villepin, 53 Hollywood Road
2 June–30 November 2022
The human face has featured in representations since early cave painting through to ornate figurations by old masters, and late-modern abstractions unsettling figurative representation in times of political strife and religious disillusionment.
Different approaches to portraiture are reflected at Villepin, where 20 major works by Francis Bacon, Adrian Ghenie, Zeng Fanzhi, George Condo, and Yukimasa Ida attempt an articulation of human experience.
Among them, Romanian painter Ghenie, who grew up under the Ceaușescu dictatorship, addresses collective memory with contorted brushstrokes, while Zeng's masked figures express social tensions and collective anxiety in China.
William Mackinnon, Modern family (6) (2021). Acrylic, oil, and automotive enamel on screenprint on copper. 100 x 70 cm. Courtesy Simon Lee Gallery.
William Mackinnon: Modern Family
Simon Lee Gallery, 304, 3/F, Pedder Building, 12 Pedder Street
20 May–25 June 2022
The tree as a motif of growth and discovery is prominent in William Mackinnon's acrylic, oil, and automobile enamels on metal, jute, or canvas, on view for the artist's first solo exhibition in Hong Kong.
Inspired by trees rooted on the grounds of a recently sold family property, Mackinnon's paintings contain wavering shades of sentimental complexity, the weight of age, and renewed paths to self-understanding.
In the mix-media on copper Modern Family (6) (2021), a subdued orange glow bathes a tree branch and nearby foliage, embodying at once the possibility for new beginnings and nostalgic recollection.
Ma Kelu, White (1985). Oil on canvas. 100 x 75 cm. Courtesy Pearl Lam Galleries.
Ma Kelu: Wilderness
Pearl Lam Galleries, 601-605 Pedder Building, 12 Pedder Street
24 May–30 July 2022
Wilderness features eight series of landscapes and abstract works by 1970s Beijing-based avantgarde collective No Name Group member, Ma Kelu.
From the 1970s to the present, Ma's preference for the art-making process over the final art product, which the artist compares to 'a way of existence' or 'spiritual drift', is noted in the painter's distinct approaches, from flat, representational landscapes to textured abstractions, like White (1985).
Exhibition view: Xper. Xr, BAD TIMING, Empty Gallery, Hong Kong (2 April–2 June 2022). Courtesy the artist and Empty Gallery. Photo: Michael Yu.
Xper.Xr: BAD TIMING
Empty Gallery, 18-19F, Grand Marine Center, 3 Yue Fung Street
2 April–4 June 2022
Marking the return of anti-authoritarian experimental musician Xper. Xr to Empty Gallery, the artist's painting practice is on view for the first time since 1991 with a set of controversial portraits of international public figures who've betrayed social trust.
To make the latter, the artist, who became known within Hong Kong's music scene in the 1980s, worked from publicly available photographs on stretched pig skin before disfiguring each character with deposits of synthetic pus and mucus.
Given titles from classic pop songs like Beck's 'MTV Makes Me Want to Smoke Crack' (1993), they represent a timely, if not timeless reaction to political inadequacy and the cathartic gestures required to purge frustration when action proves futile or impossible. —[O]