News | Galleries
Five Fantastic Booths at TEFAF New York 2022
The fair features more than 90 galleries as it finally returns to New York from 6–10 May. We asked Chantal Crousel, Beck & Eggeling, Galeria Mayoral, Gladstone Gallery, and Axel Vervoordt to share what they're showing and why.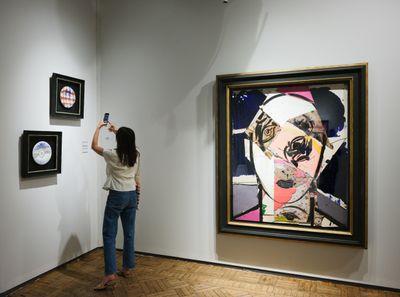 Booth view: Beck & Eggeling, TEFAF New York (6–10 May 2022). Courtesy Ocula. Photo: Charles Roussel.
We are showing a special project, prepared over the last two years, by Manolo Valdés. His concept is to recreate masterpieces of art history inspired by artists such as Velazquez, Rubens, and Henri Matisse.
Manolo Valdés, Picasso como pretexto (2022). Mixed media on canvas. 181.5 x 155 cm. Courtesy Beck & Eggeling, Dusseldorf.
We have five large-scale paintings inspired by Pablo Picasso, which we will exhibit alongside the Picassos in our booth.
Booth view: Axel Vervoordt Gallery, TEFAF New York (6–10 May 2022). Courtesy Ocula. Photo: Charles Roussel.
A significant highlight of our booth this year is Kazuo Shiraga's Chiyusei Seibokukan (1961), part of the 'Shuihuzhuan warrior' series and a highly dynamic work of exceptional expressiveness.
Additionally, a large alabaster head of a woman from ancient South Arabia (3rd–1st century B.C.) possesses a striking contemporary aspect, with its monumental frontality, abstract features, asymmetric lines, and a powerful gaze.
Kazuo Shiraga, Chiyusei Seibokukan (1961). Oil on canvas. 130 x 195cm. Courtesy Axel Vervoordt Gallery, Antwerp. Photo: Jan Liégeois.
We've always looked for works that give us a glimpse of the core of humanity. Works from the past that we can relate to today, works from faraway continents that we can learn from. Art offers lessons of truth and this understanding in our lives brings balance and harmony. We need this sense of interconnectedness more than ever.
As always, our stand is located in one of the historic rooms upstairs at Park Avenue Armory. The building has such a special energy, and we wanted to allow both the room and the artworks to express that unique relationship in a city with an uncommon passion for art.
Booth view: Galeria Mayoral, TEFAF New York (6–10 May 2022). Courtesy Ocula. Photo: Charles Roussel.
Jordi Mayoral, Director of Galeria Mayoral, Barcelona
We are proud to be able to bring to New York a selection of works by the best of the best Spanish artists working in the 20th century: from Salvador Dalí, Picasso, and Joan Miró to Antoni Tàpies, Eduardo Chillida, Manolo Millares, and Aurèlia Muñoz.
We have chosen to mix bold and grand with delicate and diminutive: a dramatic and monumental sackcloth painting by Manolo Millares, which was first exhibited at MoMA in 1960 will be presented alongside a tiny macramé sculpture by the less well known Aurèlia Muñoz.
Manolo Millares, Cuadro 96 (1960). Mixed media on burlap. 149.8 x 200.5cm. Courtesy Galeria Mayoral, Barcelona.
To that I would also add our 1977 Miró, which is astoundingly modern and was executed on the upturned lid of a crate. Miró incorporated the jagged nails that run around the edges to secure the lid shut into his composition so that the eponymous figure and bird appear to be swirling inside a cage.
Miró is remarkable to me for his ability to find inspiration in the humblest of materials, reconnecting life with art and embracing the inherent beauty and perceptual possibilities of the ephemeral.
Booth view: Galerie Chantal Crousel, TEFAF New York (6–10 May 2022). Courtesy Ocula. Photo: Charles Roussel.
Over the past 40 years the gallery has developed and maintained an effervescent relationship with this vibrant city that is New York, where many of our artists, supporters, and collaborators are based, yet the gallery has not participated in its art fairs in a little while. The environment offered by TEFAF New York seems like the right place to come back.
Danh Vo, untitled (2021). 15th century English alabaster relief of 'The adoration of the magi' and Gloria Lait wooden crate 46.5 x 32.5 x 26cm. Courtesy of the artist and Galerie Chantal Crousel, Paris. Photo: Pauline Assathiany — Galerie Chantal Crousel, Paris.
We will show beautiful, meaningful, and poetic works by Mona Hatoum and Pierre Huyghe, Gabriel Orozco and Seth Price, Jean-Luc Moulène and Danh Vo.
Booth view: Gladstone Gallery, TEFAF New York (6–10 May 2022). Courtesy Ocula. Photo Charles Roussel.
Max Falkenstein, Senior Partner at Gladstone Gallery, New York
Salvo is a significant yet surprisingly overlooked figure in Italian Modernism. We wanted to showcase his work alongside modern and contemporary masterpieces, and this felt like the right context to do so.
The artist was originally part of the Arte Povera group, but decided to go solo to devote himself entirely to painting. In his paintings, the delicate and meticulous approach to colour and form results in incredibly imaginative scenes that are remarkable to study and explore.
Salvo, Primavera (1999). Oil on canvas. 80 x 100 x 2.2cm. © Archivio Salvo. Courtesy Gladstone Gallery, New York.
Through this presentation, we were keen to show the breadth of Salvo's creative output and highlight significant paintings alongside sculptural works, photographs, and embroideries.
From an early point in his career, Salvo was employing rigorous and conceptual strategies to meditate on the nature and the role of the artist as both a preternaturally talented individual and a conduit to the past and the history of culture.
We hope to shock and surprise TEFAF's audience with these works. —[O]