News | Galleries
New Works by Over 100 Artists to Show at Independent New York
A curious selection of works will be shown at a renovated ferry terminal in Lower Manhattan this September.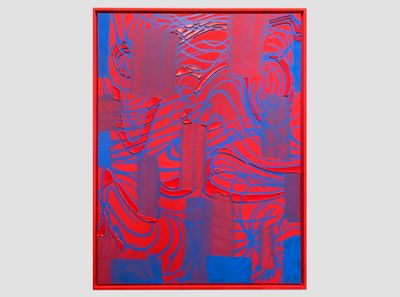 Keltie Ferris, Untitled (2020). Oil and acrylic on canvas in artist's frame. 209.6 x 158.8 cm. Courtesy of Morán Morán, Los Angeles.
New York's Independent art fair has announced presentations planned for its 12th edition, which will take place from 9 to 12 September at Cipriani South Street, a former ferry terminal built in 1906.
The fair's artistic programme was selected by curatorial advisor Matthew Higgs and co-produced by galleries, nonprofits, and museums.
More than 100 artists, including 40 solo and duo presentations, and several 'activations', have been commissioned for this year's fair.
The Independent has released a long list of these presentations, including the abstract by Kentucky-born Keltie Ferris, pictured top.
Rute Merk, Linet (2021). Oil on linen. 73 × 65 inches. Image courtesy of the artist and Downs & Ross, New York.
Downs & Ross, New York, will show paintings by Rute Merk, who combines sharp lines with soft, smooth 'sfumato' brushwork (a term derived from the Italian for 'smoke) to suggest the visuals found in video games.
Sally J. Han, A Call (2021). Acrylic paint on paper mounted on wood panel, 30 x 40 in. Courtesy of Fortnight Institute.
Sally J. Han debuted at New York gallery Fortnight Institute (no relation to the video game) during the city's Covid-19 lockdown.
The gallery will present four paintings made especially for the Independent, including A Call (2021), pictured above.
Maija Peeples-Bright, Ostrich in O-SEE-AN (2017). Acrylic, cotton thread, glitter, wood, plastic diamond, fabric, fur and rubber ring on canvas. 61 x 76.2 cm. Courtesy the artist and Parker Gallery, Los Angeles. Photo: Noam Ra.
Parker Gallery, Los Angeles, will present works by Maija Peeples-Bright, a Latvia-born artist who contributed to the Funk and Nut outsider art movements in Northern California ahead of the release of her first monograph, beautiFOAL, at the fair.
Other galleries participating in Independent New York include: Axel Vervoodt Gallery, Galerie Eva Presenhuber, Maureen Paley, and Lisson Gallery.
In addition to the in-person presentations, Independent's online viewing rooms will run from 9 to 26 September.
Online content will include interviews, performances, artist takeovers, videos, talks and podcasts, roughly half of which was produced exclusively for Independent's viewing rooms. —[O]