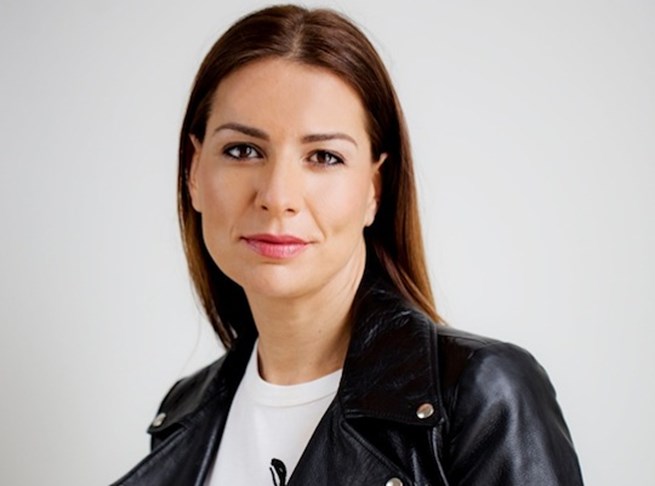 Yana Peel is CEO of Intelligence Squared Group, the world's leading forum for live debate. This year at Art Basel in Hong Kong (ABHK), the motion: "Asia Should House Its Poor Before It Houses Its Art", will be debated by Jessica Morgan and Philip Tinari (against the motion), and Jake van der Kamp and Vishwas Kulkami. Peel also co-founded the Outset Contemporary Art Fund in 2003 and holds board and advisory positions at the Tate Executive Council, V-A-C Foundation Moscow, Para/Site Art Space and Asia Art Archive. This year, for ABHK and their annual 'after party', Yana and her husband, Stephen Peel, have commissioned a new work by Ryan McNamara. Yana Peel spoke to Ocula about her passion for 'talent', and how this has led to the Foundation and her involvement with Intelligence Squared. Yana also talks about the much anticipated Ryan McNamara performance, her for hopes for it, plus the events she is looking forward to this week.
Was there a particular artwork that triggered your interest in art?
For me it wasn't about a particular artwork, so much as the engagement with the creators that I was privileged to have – and appreciate - from an early age. My parents were young Russian emigres to Canada and great literature, music and art had been an important part of their upbringing, which became part of mine.
Earlier this week I was in meetings in Shanghai with Jed Bernstein, the new President of the Lincoln Centre. He said he has a crush on talent – for him it is about that proximity to people who are creating great artworks. I'm about that too, and became involved in art because I was fascinated with 'talent', and institutions fostering that talent. I find it exciting to support the creation of art and enable broad appreciation.
Did Outset Contemporary Art Fund originate from this fascination for "talent"?
In high school I produced fashion shows, at university it was large-scale events anchored in music. In the 1990s, while I was still involved in banking with Goldman Sachs, I lived on the undeveloped South Bank – which would soon become home to Tate Modern. There was this amazing group of artists and personalities who had emerged under the banner of "Young British Artists", who were taught by pioneering teachers such as Michael Craig-Martin and championed by Charles Saatchi and the like. It was thrilling to be around the artists and curators driving so much of Britain's thought-leadership at the time.
I set up Outset Contemporary Art Fund in 2003 with Candida Gertler to share the interactions we were having with these people. We crowd-sourced funding that enabled many of these artists to find homes in the world's leading institutions and public spaces.
We actually launched Outset at the first Frieze art fair, and we used crowd funding to buy artwork from Frieze for the Tate, and over the last twelve years it has mushroomed into hundreds of projects and hundreds of gifts across different museums (including 100+ for Tate).
And from there you became involved with Intelligence Squared?
When I then moved to Hong Kong I brought Intelligence Squared to the second Art Fair (2010), extending a forum of which I was a great fan in London. It was about discussion that touched on art, economics, political issues and social issues of the day. It now hosts quarterly debates in HK and has extended to Singapore and China (along with the six other cities where we hold debates around the world).
Two years ago, Amelie von Wedel, David Legg (Chair) and I bought out the Intelligence Squared company, which now has a team of fifteen based in our London HQ.
This year's Intelligence Squared debate presents the motion: "Asia Should House its Poor Before it Houses its Art". Which side of the motion would you sit?
My job is not to pick sides – especially before the debate. My job is to present the argument. I would prefer to have a debate that does not result in an answer, than an answer that has been arrived at without debate!
I can appreciate the position in Hong Kong where there are social issues that need to be urgently addressed, with the highest disparity between rich and poor as measured by the Gini coefficient.
John D Rockefeller said: "The arts are not for the privileged few but for the many. Their place is not at the periphery of daily life but at its center"; and I believe that culture needs to be supported by thoughtful public and private partnerships –which we are starting to see more of here.
So where would I come out? Probably that Asia should house its poor AND its art.
The topic is very apt having regard to the withdrawal of government funding from Para/Site last year. The Hong Kong Art Development Council's official statement on why funding was withdrawn was a lack of emphasis on local art development. What is your response to this?
I have been co-chair of Para/Site and on the Board since I arrived five years ago. It was my introduction to local arts and local artists. Yes, we lost the funding, but we quickly made it all back with private support and we're now on track to having that public funding reinstated. It was a temporary blip.
As for a lack of emphasis on local art development - Para/Site has been a supporter of local artists for eighteen years. Using its 70 square meter space in Sheung Wan, it has championed local talent and brought international talent to Hong Kong. For me, the decision to withdraw the funding was probably bureaucratic and possibly related to tensions around Ai Weiwei visibility during the Fair (which garnered 300 press clippings).
Right now for Para/Site, one hundred per cent of its funding is private, but ideally we would like a combination of both public and private funding – which is now the established model for most parts of the world.
You are on the World Economic Forum's Global Agenda Council in relation to the Role of Arts in Society. How do you go about effectively lobbying for support at a time when resources risk being cut from activities deemed "non-essential"?
Ultimately we want to present the argument that a truly rich society values and nurtures its "creative class".
I think there are people much better placed than me - economists like Richard Florida, John Carey – who can speak on the connection between economics and art in terms of quantifiable sums. My role, whatever the context is to facilitate a platform for the ideas that will hopefully lead to inquiry and inspiration. For example, at Davos this year I had the privilege of interviewing Olafur Eliasson and Shirin Neshat, in a series called "Inside the Creative Mind".
This year you have commissioned a performance piece by Ryan McNamara. Tell me why this choice for Hong Kong?
This comes on the back of five years of bringing performance to Art Basel: Bishi, Tsang Kin-wah, Frog King Kwok, The Bumbys and Kalup Linzy over the past six years. Ryan's performance will be very much an extension of these works and the idea is that in the context of a commercial fair, it's so important to come together to be implicated in the artistic experience itself.
Ryan is widely recognised as a leading artist of his generation and his Performa contribution, MEEM, deservedly won the Malcolm McLaren Award in 2013. McNamara engages histories of collaborative art, highlighting choreography as spectacle and exploring how we connect in the age of the Internet. Chai Wan Mei will no doubt be a highlight of Art Basel 2014, taking place in a community that houses Hong Kong's greatest cultural collaborators; and Ryan McNamara is the person who can activate the local community, alongside regional and international participants – of which you will hopefully be one – on May 16th.
What do you expect of the performance?
I expect an exciting SCORE, enacted by twenty artists –from Hong and New York – in twenty moves, for twenty minutes. And I expect to dance!
Performance is an interesting choice because it is essentially subversive in that you as the patron (as such) cannot guarantee what will happen that evening? Is that part of what draws you to performance art – that total letting go and lack of control over what will be presented?
So much of what we do is completely controlled. I am thrilled to know that there could be something subversive or unexpected. Isn't that why you will come?
Whether it has been to facilitate the acquisition of works for museums, or to produce Steve McQueen's 'Giardini" at the Venice Biennale in 2009, I have never wanted a role in censoring or driving the creative moment. It has always been about letting that final product surprise and delight and raise important questions. I am not afraid of the questions. I am thrilled by works that raise questions: that don't answer them.
I would be delighted if people came away from Ryan's performance in Chai Wan thrilled to have been part of a moment that will never be re-created. I expect it to raise some very interesting questions: questions relevant in an era of the 'selfie' and of civilian journalism - about the issues of who is the artist, who is the participant, and who is the recorder of the experience. One can get complacent about the roles and how they are defined. I want people to find themselves in something they were not expecting to find themselves in. Which is certainly how I expect to find myself. I am always interested in the spaces in between.
Is there anything else in particular you are looking forward to over Art Basel in Hong Kong?
I am interested in anything and everything happening at Spring Workshop, Para Site, Duddell's and Asia Art Archive. I am looking forward to Diana d'Arenberg singing on Wednesday evening in the Absolut Bar that Nadim Abbas has designed, for the last "Bearded Lady Event", as hosted by the legendary Alex Daye and Ellis Kreuger. I think in Hong Kong we have the most wonderful creative people who, when they come together, create these magical moments – that can only be enjoyed if you are well and truly present. -[O]