Feature | Exhibition
Art Fair India 2022: Exhibitions to See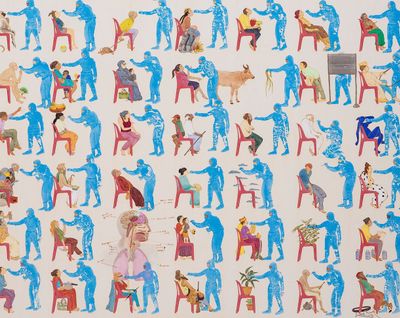 N.S. Harsha, Emission Test (2021). Acrylic on canvas. 190.5 x 149.86 cm. Courtesy Vadehra Art Gallery.
India Art Fair returns to New Delhi (28 April–1 May 2022) for its 13th edition this spring. Ocula Magazine selects exhibition highlights around the city, as well as those in Mumbai and Kolkata.
Aji V.N., Untitled (2021). Oil on canvas. 65 x 56 cm. Courtesy Galerie Mirchandani + Steinruecke.
Aji V.N.
India Art Fair, Galerie Mirchandani + Steinruecke
28 April–1 May 2022
In Aji V.N.'s subdued landscapes, something is always brewing along the horizon. At times evoking lost Edens, as with one untitled oil on canvas from 2015, depicting a near-perfect tree below dark orange skies, others have an apocalyptic feel.
At India Art Fair, one atmospheric oil on canvas from 2021 includes a human figure elevated on rocky cliffs looking out to unobstructed skies, reminiscent of Caspar David Friedrich's Wanderer above the Sea of Fog (1818).
Born in Kerala and based in Rotterdam in the Netherlands, Aji V.N.'s paintings are unique in their treatment of colour, combining vibrant hues with a slight haze to create a mysterious feel. In 2013, the Stedelijk Museum Schiedam presented a survey exhibition of the artist's drawings.
Saad Qureshi, Cherry Blossom (2022) (detail). Woven paper. 116 x 120 cm. Courtesy the artist and Nature Morte.
Saad Qureshi: Tanabana
Nature Morte, Vasant Vihar
20 April–21 May 2022
Saad Qureshi's woven-paper tapestries combine strips of hand-cut photographs of family rugs taken by the artist during the pandemic, which prompted Qureshi to bring his home studio-converted practice in dialogue with that of his grandfather, a British army tailor, and mother, an accomplished needleworker.
Nine paper tapestries will be shown at Nature Morte, for which images of Islamic textiles are first softened through printing before they are abstracted as they are sliced. Finally, vertical and horizontal strips are woven into a grid, with each work often containing more than a single image.
Calling into question the dismissal of craft with the onset of digitalisation, paper tapestries like Cherry Blossom (2022), which appear no different from traditional narrative carpets from afar, reveal heavily pixelated grids that structure the autumn riverscape where two riders mounted on horses are found at the edge of the riverbank.
Seher Shah, Notes from a City Unknown (2021). Courtesy Nature Morte.
Seher Shah: Notes from a City Unknown
Nature Morte, The Dhan Mill
17 April–29 May 2022
With a background in architecture, Pakistani artist Seher Shah's contemplations of land and fragmentation recall the fragility of seemingly sturdy structures across drawing, print, and sculpture evoking collapsed bodies and historical ruin.
For this occasion, Shah turns her attention inward, as suggested by the title promising reflections from a City Unknown, expressed across 32 screenprints on paper showing fissured city surfaces besides poetic notations.
Accordingly, the three bodies of work on display, including graphite phantom structures, abstracted formal landscapes, and isolated fragments of Gandharan Buddhist sculpture, do not depict any one object. Instead, they are an ongoing negotiation between time and space.
Pandit Khairnar, Untitled (2020). Oil on canvas. 121.92 x 91.44 cm. Courtesy Gallery Threshold.
Pandit Khairnar: Between Light and Shadow: Travels Through an Indian Landscape
Gallery Threshold, C-221 Sarvodaya Enclave
23 February–7 May 2022
Pandit Khairnar's gradated colour fields threaten to disperse into space, enveloping viewers in a memory-imbued haze as if resting between layers of the atmosphere.
Fleeting blurs of the Indian landscape collates land, horizon, and sky into a single continuum recalling Khairnar's home in rural Nashik, the ancient holy city in Maharashtra—offering nostalgic impressions of traversing winter fog or meeting sunlight at dusk.
In one untitled oil on canvas from 2020, time is suspended between bright yellow and burnt orange, establishing a horizon of stillness, where silence prompts revelation.
N.S. Harsha, Stomach Studio (2022). Acrylic on canvas. 137.16 x 106.68 cm. Courtesy Vadehra Art Gallery.
N.S. Harsha: Stomach Studio
Vadehra Art Gallery, D-53 Defence Colony
2 March–2 May 2022
For Stomach Studio, N.S. Harsha's vivid impressions of shifting cultural paradigms in a globalised world contend with the Anthropocene and the dissolution of the human race, positing the incoming extinction of all forms, expressed through the act of digestion.
Accordingly, the acid-wash hallucination Stomach Studio (2022) features a mass of suspended purple organs surrounded by yellow haze, around which a scatter of small tableaux show people engaged in daily life alongside animal and plant mutants.
A cosmonaut stands beneath the toxic waste, tied to an umbilical cord connecting to an infant on the ground, hinting at the new life to come.
Manjit Bawa, Untitled (2004). Oil on canvas. 167.64 x 198.12 cm. Courtesy Vadehra Art Gallery.
Manjit Bawa
Vadehra Art Gallery, D-53 Defence Colony
23 April–18 June 2022
'I couldn't just be another derivative of European style of painting,' Manjit Bawa once said, choosing rather to opt for traditional Indian ('ice cream') colours over the ochres, browns, and greys taught in British academies where he studied, which generated a torrent of criticism at the time.
Incorporating pinks, reds, and violets, perhaps acquired from his former training as a silk printmaker in London, Bawa became known for his distinct use of colour and space, rendering mythological figures and sacred creatures to fill luminous backdrops.
Besides nature, Bawa found inspiration in Hindu mythology and Sufi poetry, which teach the coexistence between lifeforms. In one untitled oil on canvas from 2004, a man rests on his back unbothered by a prowling feline nearby.
Ganesh Pyne, Doors and windows (1967). Tempera and mixed media on board. 33.02 x 39.57 cm. Courtesy Akar Prakar.
Ganesh Pyne: From the Shadows
Akar Prakar, D-43 Defence Colony
27 April–4 June 2022
With a reputation as India's most proficient painter from the late 1970s, Ganesh Pyne's dark surrealist paintings draw from Bengali folklore and mythology to revive the spectres of times past.
Whether in ritual scenes like the tempera on canvas Savitri (1999), in which a woman looms over a semi-wrapped skeleton, the actual animal skeleton in The Animal (1972), or the small shrine in the serene but ominous Untitled (The Shrine) (1989).
From early watercolours to Pyne's subsequent turn to tempera, which became his favoured medium for its capacity to imbue otherwise sombre compositions with luminosity, the exhibition traces the painter's evolution across drawing, painting, and diary images expressing personal and political frustrations during his later years.
Sohan Qadri, Untitled (1984). Watercolour and natural dye on paper. 53.59 x 37.59 cm. Courtesy Dhoomimal Gallery.
Lines (By)Lines
Dhoomimal Gallery, G-42, Connaught Circus
2 April–15 May 2022
Lines (By)Lines maps the development of linear abstraction in Delhi from the 20th century to the present, best expressed in a line by abstract expressionist Francis Newton Souza, who wrote of the timeless quality of natural geometries, 'The two lines cross-hatched on either side is a spinous vertebra that became life.'
Featuring works by 29 artists across painting, sculpture, and mix-media practices, an intergenerational exchange takes place, from Zarina Hashmi's 1996 'Santa Cruz' serial etchings contending with India's 1947 partition, to wavering dreamscapes by Meghana Gavireddygari, who graduated from the Maryland Institute College of Art in 2020.
Evoking the timeless resonance of abstraction, an untitled watercolour and natural dye clock by painter and poet Sohan Qadri from 1984 shows the time-keeping device with a light halo and slight distortion.
K. Ramanujam, My Dream World (1973) (detail). Ink and watercolour on paper. Courtesy Kiran Nadar Museum of Art.
K. Ramanujam: Into the Moonlight Parade
Kiran Nadar Museum of Art, 145 DLF South Court Mall Saket
22 March–30 June 2022
K. Ramanujam was known to have embodied the trope of the troubled artist, rendering nocturnal realms guided by 'an army of muses' in 1960s and 70s India within a short lifetime marked by disability and schizophrenia ending with suicide at age 33.
These surreal and imaginative scenes draw from a range of sources, from Tamil film posters plastered along the streets where he slept as a penniless art student, to elaborate film sets for mythological dramas, Vaishnavite symbolism, and Alvar Bhakti poetry.
Works on show include detailed ink-on-paper drawings, paintings, and the 13-foot panorama My Dream World (1973), in which a procession of rowers in long boats drift along the shores of a colosseum guarded by soldiers, land sirens, and elephants.
Atul Dodiya, Untitled (2020). Watercolour on paper. Courtesy Kiran Nadar Museum of Art.
Atul Dodiya: Walking with the Wave
Kiran Nadar Museum of Art, 145 DLF South Court Mall
22 March–10 June 2022
Known for having pioneered Indian contemporary art through reflections on India's middle class and globalisation, Atul Doyita is showing a selection of small-format watercolour paintings this time prompted by pandemic quiet.
Faceless bodies are set in earth-toned landscapes, interlaced from time to time with streams of water, which here appear to point to a fluid resonance with inner thoughts.
More often, Dodiya's figures are engaged in meditative poses—sitting, reading, crouching—if not tangled in the landscape, as with one untitled work from 2020 in which a woman figure kneels semi-immersed in a translucent body of water, fish in hand.
Shobha Broota, Untitled 53-SB (2012). Oil on canvas. 121.92 x 121.92 cm. Courtesy Gallery Espace.
Spontaneous Balance
Korean Cultural Centre India, 25-A Lajpat Nagar 4
23 March–20 May 2022
This dual exhibition of Indian modernist Shobha Broota and Korean painter Jang Hee Mun juxtaposes distinct approaches to representation, with one focused on depicting order in the natural world, while the other highlights its raw edges.
Reverberations and shared concerns for spontaneity and balance emerge across the blend of cultural and geographical influences, as with Jang's mix-media paintings, which incorporate hanji paper and experiences from 20 years of residency in India.
Ranjani Shettar, Midmorning blooms (2020) (detail). Teak wood and steel. Courtesy Talwar Gallery.
Ranjani Shettar: Summer garden and rain clouds
Talwar Gallery, C-84 Neeti Bagh
27 April–24 September 2022
Ranjani Shettar creates immersive environments modelled after rural India's natural surroundings, with sculptures combining natural and industrial materials, including beeswax, natural dyes, and steel to allude to environmental destruction.
Large organic forms are freestanding, suspended, or covered in muslin cloth and gold lacquer—materials that draw out their liveliness, as with the curving teak wood carving Midmorning blooms (2020), in which symmetrical petals adjoined and connected by steel wire recall the lightness of spring.
Jake Grewal, Shifting Waters (2021). Oil on canvas. 135.5 x 190.5 cm. Courtesy Jhaveri Contemporary.
Jake Grewal and Lionel Wendt: Shifting Waters
Jhaveri Contemporary, 3F Devidas Mansion
7 April–21 May 2022
This dual exhibition of figurative painter Jake Grewal and polymath Lionel Wendt in Mumbai finds common ground in queer representation, with nude bodies lounging in luminous forestscapes in the former, and sharp musculatures drawn out by negative exposure in Wendt's photographs.
Light is cast upon or retracted from anonymous figures urging to be seen, just as permission is revoked through abstraction. In the green-toned dreamscape Shifting Waters (2021), a faceless reclining figure points a foot towards viewers, as if taunting them to contemplate the plausibility of his existence.
Kolkata
Bhasha Chakrabarti, Blue Notes IX (2021). Paper made from old blue jeans, indigofera tinctoria powder, adhesive. 68.58 x 55.88 cm. Courtesy Experimenter.
Drawn from Practice II
Experimenter, 2/1 Hindustan Road
14 April–30 June 2022
Drawn from Practice II looks at the exploratory nature of drawing and the different practices that result from the foundational medium, shown across Experimenter's twin spaces in Kolkata.
At Experimenter Ballygunge Place, the idea of drawing as a process of mark-marking, or a notational image, is explored in the works of Ayesha Sultana, Bhasha Chakrabarti, Prabhavathi Meppayil, and Sanchayan Ghosh, among others, reflecting the different outcomes that can emerge from a seemingly simple process.
For Blue Notes IX (2021), discarded indigo and denim were recovered to form the distinct paper surfaces of Bhasha Chakrabarti's calligraphic notations, which show bold letters depicting diary notes besides their handwritten English translations, offering insight into the artist's making process. —[O]