Feature | Exhibition
Gallery Weekend Berlin: Shows to See in 2021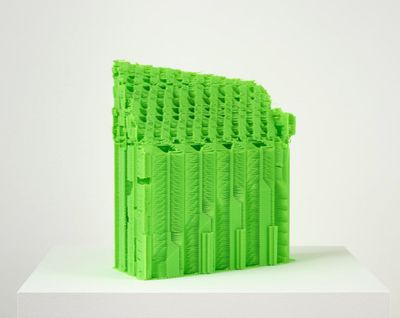 Samson Young, Support Structure # 7 (2019). © the artist. Courtesy Galerie Gisela Capitain, Cologne and Capitain Petzel, Berlin.
Samson Young: Studio Exhibition
Capitain Petzel, Karl-Marx-Alee 45, 10178
28 April–5 June 2021
Among Capitain Petzel's exhibitions of printed matter, archival material, and film by Christopher Williams, Matt Mullican's exploration of non-verbal language systems, and Monika Sosnowska's sculptural distortions of Polish post-war architectural elements, a collection of 3D-printing remnants by Samson Young are on view.
Created during the production process, these remnants constitute the support structures necessary to achieve certain 3D-printed forms. With his practice typically oriented around vast sonic installations, this show makes for a unique entry point into Young's practice.
Geumhyung Jeon, Under Maintenance (2020). Courtesy the artist and Klemm's, Berlin. Photo: Maja Renn.
Geumhyung Jeong: Under Maintenance
Klemm's, Prinzessinnenstraße 29, 10969
28 April–19 June 2021
Under Maintenance, Geumhyung Jeong's second solo exhibition at Klemm's continues the artist's engagement with mechanical robots, exploring the continuing erosion of boundaries between humans and machines.
The exhibition looks at a new phase in Jeong's practice, where said robots now necessitate care and attention through processes of repair, assembly, and testing. Videos in the exhibition capture these processes, showing Jeong tending to their 'aliveness'.
Cordula Ditz, Early training (2020). Spray paint, oil stick and acrylic on printed flag fabric. 200 x 150 cm. Courtesy the artist and Galerie Conradi, Hamburg. © Cordula DitzPhoto © Andrea Rossett.
L'Invitation au voyage
Esther Schipper, Potsdamer Strasse 81e, 10785
28 April–27 June 2021
Thirteen artists—including Paula Rego, Cui Jie, Leiko Ikemura, Tsai Yi-Ting, and Shazia Sikander—are presented in this exhibition by Esther Schipper, offering opportunities for momentary escape via painting.
The exhibition's title is drawn from a poem in Charles Baudelaire's Les Fleurs du Mal, imagining a dreamy, faraway land. Tying into the current moment of ongoing ennuis, L'Invitation au voyage offers new worlds in which to travel.
Elisabeth Neudörfl, Out in the Streets (No. 46) (2020). Digital c-print. 50 x 75 cm. Courtesy Barbara Wien.
Elisabeth Neudörfl: Out in the Streets
Barbara Wien, Schöneberger Ufer 65 (3rd Floor), 10785
28 April–3 July 2021
Elisabeth Neudörfl travelled to Hong Kong in February 2020, following the pro-democracy movement's gradual decline alongside the trajectory of the pandemic. The series culminated in spring 2020, around the time when the biggest crackdown on the movement since the escalation of protests in 2019 occurred with the arrest of 15 activists by police on 18 April 2020.
Through captures of scrubbed-out graffiti, closed shops, and empty streets, Neudörfl portrays 'an eerie state of emergency between protest and pandemic.'
Robert Elfgen, Teraelektronenvolt (2021). © Robert Elfgen. Courtesy Sprüth Magers. Photo: Ingo Kniest.
Robert Elfgen: Higgs-Boson
Sprüth Magers, Oranienburger Strasse 18, 10178
30 April–25 August 2021
This exhibition of new paintings by Elfgen marks the first instance of Sprüth Magers' use of their new Window space, offering street-facing display. Elfgen transforms this zone into a Wunderkammer-type format, showing paintings of landscapes and mystical creatures alongside studio objects.
In his paintings, Elfgen combines spray paint and ink to create ethereal colour gradients, accentuating horizon lines that evoke mist lifting from the ground.
Les Archives du Coeur – Teshima © Christian Boltanski / ADAGP, Paris, 2021 / © Naoshima Fukutake Art Museum Foundation, photo by Yasuhide Kuge.
Christian Boltanski: Danach
KEWENIG, Brüderstraße 10, 10178
28 April–23 June 2021
A selection of key works by Christian Boltanski are on view for the artist's exhibition Danach, which translates to 'afterwards'. Including his ongoing explorations of memory and the fleetingness of time, the show is formed as a Gesamtkunstwerk.
The immersive heart of the exhibition is Coeur (2005), where the flickering of light bulbs is accompanied by a recording of Boltanski's heartbeat, which fills all the gallery's rooms.
Navid Nuur, Hope (2012–2021). Serpentinite, gold leaf. Dimensions variable. Courtesy Galeria Plan B.
Navid Nuur: When meanings get marbled
Galeria Plan B, Potsdamer Strasse E 77-87 (2nd backyard, building G), 10785
30 April–30 June 2021
Navid Nuur considers the relationship between time and physical matter in his latest solo exhibition at Galeria Plan B. From minerals and paint to a recording of his own voice, the show moves between between transience and solidity, asking, 'what is fixed?'
The exhibition opens with a work composed of layered mirrors, their surfaces reflecting shifting light as part of an 'expansive sensorium'.
Alvin Baltrop, The Piers (man sitting on windowsill) (n.d., 1975–1986). Courtesy Galerie Buchholz, Berlin/Cologne/New York.
Alvin Baltrop
Galerie Buchholz, Fasanenstrasse 30, 10719
30 April–19 June 2021
Alvin Baltrop captured New York City's previously disused piers in the 1970s and 80s, a 'lost era' of the city's 'industrial landscape and gay culture's pre-AIDS history', writes Douglas Crimp in the exhibition's press release.
Mostly printed at about 13 by 18 centimetres, Baltrop's photographs require viewers to lean in to look at their details. Having remained largely unseen during his lifetime, the photographs have received belated recognition with shows at the Bronx Museum of the Arts, MoMA/PS1, and the Reina Sofia in Madrid, among others, over the past decade.
Tim Eitel, La Séance (2021). Courtesy Galerie EIGEN + ART Leipzig/Berlin.
Tim Eitel: Vie imaginaire, chapiter II: Ensemble
Galerie EIGEN + ART, Auguststraße 26, 10117
29 April–5 June 2021
Solitude and silence characterise the paintings of Tim Eitel, which portray moments of tension and unease. Either alone or depicted in small groups, his protagonists form part of an imaginary world drawn from photographs that he takes of urban settings, forming a reflection on human relationships.
During a time when interrelationships have been defined by absence, Eitel's paintings hold particular significance.
Courtesy Galerie Thomas Schulte.
Rebecca Horn: Bee's Planetary Map
Galerie Thomas Schulte, Charlottenstrasse 24, 10117
28 April–26 June 2021
Legendary German artist Rebecca Horn stages a series of installations at Galerie Thomas Schulte, including Bee's Planetary Map—a series of hanging straw baskets that resemble bees' nests, that come together as an exploration of themes such as rootlessness and dislocation.
Thomas Schulte, the gallery's founder, first worked with Horn 30 years ago, when Galerie Thomas Schulte opened as Galerie Franck + Schulte. He discusses this long-standing relationship with Laurie Barron in a recent interview for Ocula Advisory.
Exhibition view: Tony Cragg, Sculptures, Buchmann Galerie, Berlin (20 March–22 May 2021). Courtesy Buchmann Galerie.
Tony Cragg: Sculptures
Buchmann Galerie, Charlottenstraße 13, 10969
20 March–22 May 2021
Layering and repetition have been integral parts of Tony Cragg's sculptures since the 1970s, reflecting the complex patterns in natural life in large-scale organic compositions.
Manipulations (2017), for instance, resembles a stem of coral, yet upon closer inspection, reveals a multitude of tiny hands extending out from the fingers of one large set of hands. The work explores the flow of life between artistic creation and being.
Albert Oehlen, u.b.B. 13 (2021). Oil on canvas. 190 x 160 cm. Courtesy the artist and Galerie Max Hetzler, Berlin | Paris | London © Albert Oehlen. Photo: def image.
Albert Oehlen: unverständliche braune Bilder
Galerie Max Hetzler, Goethestraße 2/3 & Bleibtreustraße 15/16, 10623 Berlin
April–August 2021
Twenty new works by Albert Oehlen feature in this exhibition at Galerie Max Hetzler, the title of which translates to 'incomprehensible brown pictures'. Simultaneously controlled and free, thin veils of colour layer into abstract fields that express the essence of painting. Oehlen has worked on these abstract compositions since the late 1980s. —[O]