News | Galleries
Frieze New York 2022: Six Superb Booths
Frieze New York opened to VIPs on Wednesday. We asked Sadie Coles HQ, Perrotin, Mendes Wood DM, Fortes D'Aloia & Gabriel, Andrew Kreps Gallery, and Capsule Shanghai to share what they're showing and why.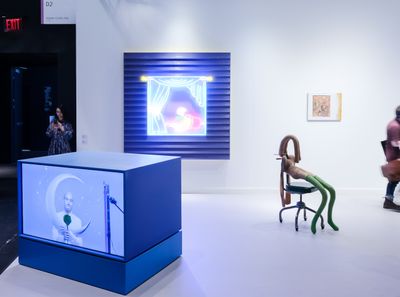 Booth view: Sadie Coles HQ, Frieze New York (18–22 May 2022). Courtesy Ocula. Photo: Charles Roussel.
Sadie Coles, Founder and Director, Sadie Coles HQ, London
Since we haven't participated in Frieze New York for a number of years we are excited to present new and recent works by gallery artists that reflect the gallery's broader programme.
We will be exhibiting Blue Moon (2017), a theatrical video portrait by Alex Da Corte, newly presented as a video sculpture encased within a custom-made electric blue steel structure designed by the artist. Blue Moon was originally commissioned for the digital art exhibition Midnight Moment presented by Times Square Arts in partnership with the Whitney Museum of American Art.
The short video features an actor dressed in exaggerated stage make up, slowly crooning along to the popular 1934 Richard Rodgers and Lorenz Hart ballad. Through the video Da Corte reflects upon the enduring cultural fascination with finding love, as depicted in popular and commercial entertainment, conjuring a simultaneously wry and romantic vision of this search.
Sarah Lucas, Bunny Gets Snookered #13 (2019). Tights, plastic, wood, chrome chair, clamp, kapok and wire. 117 x 50 x 80 cm. © The Artist, courtesy Sadie Coles HQ, London. Photo: Katie Morrison
This year we are also excited to bring three new paintings by the Polish painter Wilhelm Sasnal, who will have a solo exhibition at the Longlati Foundation, Shanghai in November.
We'll also show a recent piece from Sarah Lucas' seminal 'Bunny Gets Snookered' series, Bunny Gets Snookered #13 (2019). Sarah recently had solo exhibitions at The New Museum, New York and the National Gallery of Australia, Canberra.
Booth view: Perrotin, Frieze New York (18–22 May 2022). Courtesy Ocula. Photo: Charles Roussel.
Peggy Leboeuf, Partner at Perrotin, New York
Our booth with present entirely new work, and in particular, artists who have significant new projects coming up this year. In the centre are three sculptures by artists who have major concurrent projects in The United States—Paola Pivi on The High Line in New York, Bharti Kher with Public Art Fund in New York, and Takashi Murakami at The Broad museum in Los Angeles—as well as a new sculpture by New York-based Daniel Arsham, who has a plethora of shows this year.
Paola Pivi's sculpture is a smaller iteration of her concurrent public installation on The High Line in New York, which is a scale replica of the Statue of Liberty. Her High Line installation features a set of rotating masks that portray various people whose personal experiences of freedom are directly connected to the United States, and, at Frieze, her sculpture will wear a similar mask. I have long admired Paola's vision and ability to inspire new perspectives.
Paola Pivi, It's me (2022). Bronze, patina, fibreglass. 162.3 x 55 x 55 cm | 63 7/8 x 21 5/8 x 21 5/8 in. Photographer: Guillaume Ziccarelli. Courtesy of the artist and Perrotin.
Bharti Kher's 18-foot tall painted bronze sculpture will be installed at the entrance to Central Park, marking the most ambitious work in her career. At Frieze, her work will consist of multi-layered and multi-coloured bindis. A signature motif in her practice, the bindi has many meanings, particularly for the role of women in society, from a social identifier to the spiritual third eye to a commoditised fashion accessory.
Nearby is a large-scale painting by Barcelona-born, Brooklyn-based Cristina BanBan, a new artist to our roster who debuted an exhibition with us in Shanghai last fall. Continually exploring new methods of painting, she has a beautiful ability to express the intricacies of relationships and I look forward to how she will continue to develop her artistic language.
Finally, I am pleased to present a suite of fantastic new paintings by Nikki Maloof, marking the first time we will show work by the artist ahead of her solo show at Perrotin New York in March 2023.
Booth view: Mendes Wood DM, Frieze New York (18–22 May 2022). Courtesy Ocula. Photo: Charles Roussel.
Matthew Wood, Founding Partner at Mendes Wood DM
The gallery will present a selection of highlights from the programme, emphasising a re-contextualisation of the global South through the exhibition of international and Brazilian artists in a context conducive to critical dialogue and cross-pollination.
On the heels of her major presentation at the Venice Biennial, Solange Pessoa will feature with a significant new diptych work in the same series. Paulo Nazareth will feature with photographic and sculptural works, complimenting his concurrent exhibition at the gallery's new exhibition space at 47 Walker Street in Tribeca.

Sonia Gomes, Lágrima (2020). Stitching and bindings in different fabrics, laces and bamboo. 230 x 160 x 22 cm. Courtesy the artist and Mendes Wood DM.
New works by Paulo Monteiro, including oil on linen paintings and bronze wall-mounted sculptures, reveal a comprehensive look at his practice across media, while a new series of Camboatã leaf and silver-leaf foil works by Daniel Steegmann Mangrané is juxtaposed with sculptures by Mariana Castillo Deball.
Significant historical work by Kishio Suga and Anna Bella Geiger are presented alongside new works by emerging artists within the programme such as Guglielmo Castelli, Alvaro Barrington, Paula Siebra, and Mimi Lauter. One highlight is the work Lágrima (2020) by Brazilian artist Sonia Gomes.
Booth view: Fortes D'Aloia & Gabriel, Frieze New York (18–22 May 2022). Courtesy Ocula. Photo: Charles Roussel.
Maria Ana Pimenta, International Director at Fortes D'Aloia & Gabriel, São Paulo
It is great to be back in New York after this general hiatus so we wanted to showcase a group of works that reflected a wide scope from our programme.
Our selection ranges from an installation by Bárbara Wagner, an important 1978 Wanda Pimentel from her door series, a commanding diptych by Luiz Zerbini, a historical Leda Catunda, a group of drawings by Sheroanawe Hakihiiwe, works by Valeska Soares, Robert Mapplethorpe, Lucia Laguna and Erika Verzutti, a 98' Todos os Cem piece by Jac Leirner and new works by Janaína Tschape, Anderson Borba, Rodrigo Cass, Yuli Yamagata, and Sarah Morris.
I would highlight Bárbara Wagner. We will be presenting a large installation — À Procura do 5º Elemento' (2017) — consisting of 20 photographs taken by the artist during her stint behind the scenes at production companies of funk music videos in São Paulo and brega funk in Recife.

Erika Verzutti, Parque Mexico (2015). Bronze. 65 x 85 x 15 cm. Photo: Eduardo Ortega. Courtesy Fortes D'Aloia & Gabriel, São Paulo.
This has become a massive industry sustained by the desire for fame and social ascension. The portraits are taken by the artist during the selection process of an MC's contest and displayed as a sort of gallery of fame, allowing comparisons between faces and styles.
Wagner investigates how the portrait, through pose, gesture, look, figure and background, highlights the tension between the way people see themselves and how they would like to be seen. A video accompanies the installation showing a scenario decorated with images of slums and money, curtains that simulate piano keys and piles of gold bars.
We wanted to highlight this work in anticipation of Bárbara Wagner & Benjamin de Burca's first major institutional show in the US at the New Museum that will focus on five films produced in Brazil, including a new work with a theatre group made up of members of the Landless Rural Workers Movement.
Booth view: Andrew Kreps Gallery, Frieze New York (18–22 May 2022). Courtesy Ocula. Photo: Charles Roussel.
As a New York gallery, we really wanted to highlight the gallery's current and upcoming programming at Frieze New York. This includes Bendt Eyckermans, whose exhibition just opened at the gallery as well as Cheyney Thompson and Erika Verzutti who will have exhibitions in the fall. We're also lucky to include two previously un-exhibited works by Raymond Saunders from his former Paris studio as part of our presentation.
Clare Rojas,
Shadow man and shadow friend in the spirit realm
(2021). Oil on Linen 70 x 56 inches (177.8 x 142.2 cm.)
One of the highlights of our booth is a recent painting by Clare Rojas, who we just announced representation of a few weeks ago. It's our first time showing Rojas' work, and we will present her first solo show in New York in almost 10 years in 2023.
Booth view: Capsule Shanghai, Frieze New York (18–22 May 2022). Courtesy Ocula. Photo: Charles Roussel.
Enrico Polato, Director of Capsule Shanghai, Shanghai
Inspired largely by tales of city life, Yan Xinyue's paintings depict an array of scenes filtered through her imagination. The works build a witty and dreamy narrative centred on individuals shifting through different metropolises, and New York seemed to be the ideal location to introduce them to the audience.
The work The Witch Girl was conceived in Shanghai as one of the first works of this series, while Dancing in the Clouds was entirely painted in Los Angeles. The city dwellers depicted here are reminiscent of the white-collar workers or selfie-obsessed women in suits—a signature feature in some of Yan's earlier works.
Yan Xinyue, Dancing in the Clouds (2022). Oil on canvas. 230 x 80 cm. Courtesy: the artist and Capsule Shanghai.
In Dancing in the Clouds, a winged woman revels in her fate with a lighthearted spirit. The wings of imagination are ultimately what can save us from falling.
In The Witch Girl, the main character interrogates a crystal ball about her future. Her anxiety is humorously emphasised by a teardrop rolling over her face while her alter-ego embraces a life-size question mark symbolising an unknown future. —[O]