News | Exhibitions
Gallery Weekend Beijing Introduces 'Visiting Sector'

Gallery Weekend Beijing | Sponsored Content
International galleries Balice Hertling, Gladstone Gallery, and Pilar Corrias will all take part in the event for the first time.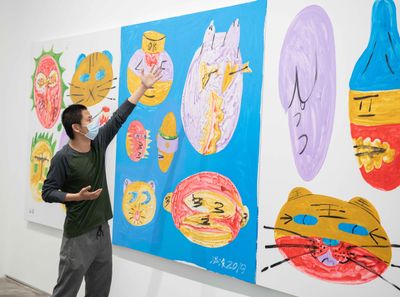 Art installed at a previous edition of Gallery Weekend Beijing. Courtesy Gallery Weekend Beijing.
Galleries from outside Beijing will take part in the fifth edition of Gallery Weekend Beijing when it opens to VIPs on 23 April.
'While celebrating some of the best art, artists and institutions that Beijing has to offer, this year also sees exciting new participants outside Beijing, from spaces across China as well as around the world – as far as Paris, London, and New York,' said Amber Yifei Wang, Director of Gallery Weekend Beijing.
Altogether, 37 commercial galleries, non-profit art spaces, and institutions will exhibit works at seven sites around the Chinese capital and online.
International galleries Balice Hertling, Paris, Gladstone Gallery, Brussels / New York, and Pilar Corrias, London, will stage exhibitions at three locations inside the Chinese capital's 798 Art Zone. Other galleries from outside Beijing taking part include: A Thousand Plateaus Art Space, Chengdu; Bank, Shanghai; Canton Gallery, Guangzhou; and Edouard Malingue, Hong Kong / Shanghai.
798 Art Zone. Courtesy Gallery Weekend Beijing. Courtesy Gallery Weekend Beijing.
With the exception of Galerie Urs Meile, which will host its first group exhibition in 15 years, local galleries have mostly elected to show individual artists this year. Prominent solo shows include: Wang Jianwei at Long March Space, Yuan Yunsheng at Platform China Contemporary Art Institute, Liu Huanzhang at Star Gallery, Wang Guangle at Beijing Commune, Eva Zhang at Tabula Rasa Gallery, Guo Hongwei at Magician Space, Zhao Zhao and Xu Qu at Tang Contemporary Art Space, and Sun Xun at ShanghART.
Among the exhibitions being staged by art institutions are Alberto Giacometti at Espace Louis Vuitton Beijing, Cao Fei at UCCA, and Zachary Armstrong at Faurschou Foundation. The event's Public Sector, which showcases large art installations, has been conceived by talented curator Bao Dong.
Gallery Weekend Beijing will open to the public from 27 April to 2 May. —[O]