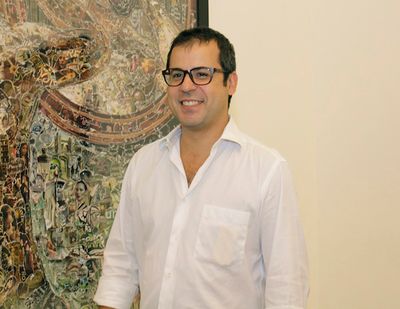 Daniel Roesler. Courtesy Galeria Nara Roesler.
Founded in São Paulo in 1989, Galeria Nara Roesler is one of the most established contemporary art galleries in Brazil. The gallery has played an important role in establishing a dialogue between Brazil and Latin America's historical artists and a generation of contemporary artists as well as introducing Brazilian artists to a wider international audience.
Exhibition view: Carlito Carvalhosa, Precaucao De Contato, Galeria Nara Roesler, São Paulo (30 August–5 October 2014). Courtesy Galeria Nara Roesler.
OE

Your mother first opened the gallery in 1989 so you grew up around contemporary art. However, you didn't start your career in the art world. Can you tell us about your transition from the world of finance into contemporary art and what influenced you to make this transition?

DRIn a sense I have always been in the art world, because my mother had been dealing art since the early 1970s; first with her gallery Artespaço (1971–1986) in Recife and later when she founded Galeria Nara Roesler in 1989 in São Paulo. So for me, contact with artists, curators and critics, was a very natural part of my life.

It did, however, take some time for me to be professionally involved in this business. My degree is in engineering and after college I worked in the financial market. In the 1990s, when I graduated, galleries in São Paulo were struggling. So at that time, I was always helping out administratively at the gallery. About years ago, I sold my business, and was once again doing some consulting for Galeria Nara Roesler. More and more I found myself interested and, after returning to São Paulo from an MBA at Columbia in New York, I was hooked into the art world for good.

Many factors contributed to this, being surrounded by artists and art professionals from an early age instilled an interest in the business early on and later, the opportunity to invest in local artists, create bridges between their work and curators and institutions abroad was important. It has been very interesting to witness the growth of the art market in Brazil since 1990. And, the opportunity to be involved in this growth firsthand has been very rewarding.
OE

So you became actively involved with the gallery in the late 1990s. What changes have you witnessed in the contemporary art market in Brazil and what do you see for the future?

DRThe changes I have seen from 1990 onwards are monumental and for the best. What started out as a shy market is now booming. Before we had to go abroad to take Brazilian contemporary art to international audiences; now, happily, there is increasingly interest from both international and local audiences. With the creation of successful art fairs such as SP Arte (now in its ninth edition and gearing up for its tenth) and ArtRio, more and more people are coming to Brazil to see what is happening here and I believe the demand for Brazilian art will continue to grow.

Exhibition view: Xavier Veilhan, Horizonte Verde, Galeria Nara Roesler, São Paulo (22 August–31 October 2015). Courtesy Galeria Nara Roesler.
OE

The rise of the art fair has had a profound effect on the art market in the last 15 years. You regularly attend art fairs around the world including Art Basel Miami, Art Basel Hong Kong, SP-Arte, The Armory Show and Frieze. What role do you see the art fair playing in the future of your gallery?

DRArt fairs are undeniably important in the art market nowadays. To participate in an art fair, an event that brings together hundreds of galleries and twofold the artists and art professionals, is invaluable. Through fairs, we get to present the works of our artists to a new public, establish collaborations and partnerships with different galleries, touch base with curators and discuss projects, and all this while being in contact with what is happening in the art world. It's very exciting to be a participant at the art fairs. Until last year, I was part of the selection committee of Zona Maco in Mexico City and it's always rewarding to see the proliferation of new galleries inserting themselves within the circuit and more established galleries increasingly pushing the bar and setting the standard.
OE

In 2006 you launched the Roesler Hotel Project as a means of fostering a dialogue between international and contemporary Brazilian art. Please tell us about how this project evolved, how it operates today and how it compliments your main exhibition programme at the gallery?

DRRoesler Hotel was first conceived in 2006: a parallel exchange program where the gallery would provide a space for an international artist to be able to come to Brazil and showcase his works. The focus of Roesler Hotel was to really be a bridge of sorts; have the artist come to São Paulo, engage with the city, and, in turn, showcase works, unfamiliar to a Brazilian audience, within the gallery space. Over the years, we have presented solo shows by Paul Ramirez Jonas, now represented by the gallery, Rosário Lopez Parra, Sutapa Biswas, as well as curated shows by José Roca and Victoria Noorthoorn. In 2012, (viewing the need for art spaces that embrace different practices and engage with new ideas and emerging debates in visual culture), the gallery doubled its exhibition space and strengthened its commitment to Roesler Hotel, becoming now a programme of curatorial projects, in which curators from the contemporary art scene, Brazilian and abroad, are invited to collaborate and develop site specific projects.

Exhibition view: Julio Le Parc, Galeria Nara Roesler, São Paulo (27 February——13 May 2013). Courtesy Galeria Nara Roesler.

The gallery expansion was inaugurated on September 2012 with Roesler Hotel 20: Lo bueno y lo malo, a group show curated by Patrick Charpenel on the cultural practice and financial policies of neoliberalism and the need to overcome old dogmas through sensitive and aesthetic gestures. Artists in the exhibition included Alejandro Cesarco, the collective claire fontaine, Danh Vo, Fernando Ortega, Moyra Davey, among others.

Subsequent editions of Roesler Hotel that occupied the new space include, Roesler Hotel 21: Buzz, a group show on the ramifications and convergences of Op Art curated by Vik Muniz with over 60 artists showcasing over 80 works. Artists in Buzz include: Abraham Palatnik, Bridget Riley, Fred Tomaselli, Gyula Kosice, Iván Navarro, Josef Albers, Marcel Duchamp, Markus Linnenbrink, Michelle Grabner, Olafur Eliasson, Rodolpho Parigi, Tauba Auerbach, Xylor Jane, among many others. We are currently on our 22nd edition of Roesler Hotel with a solo show by UK walking artist Hamish Fulton curated by Alexia Tala, director of Plataforma Atacama.
OE

2012 was a big year for the gallery, you welcomed Vik Muniz and Isaac Julien to your growing stable of artists, doubled your exhibition space to over 1600 square metres, and re-launched the curatorial project Roesler Hotel. What are you excited about in 2013?

DR2012 was a year for big changes but 2013 equally came on strong for the gallery! We kicked off the year with a solo show by Paul Ramirez Jonas and Tomie Ohtake (on the occasion of her 100th birthday), presented Hamish Fulton's first individual exhibition in South America, and also showcased Paper Mirrors, Vik Muniz's first solo show at the gallery. In the matter of fairs, we have also been fortunate. SP Arte was a great success as well as Zona Maco with our solo booth of Paulo Bruscky curated by Juan Andrés Gaitán. We are currently gearing up for Art Basel Hong Kong as well as ArtRio and Frieze Masters. At home we are looking forward to producing great shows with Alberto Baraya, Antonio Dias and Julio Le Parc as well as collaborating with curators Juan Gaitán and Moacir dos Anjos, who will both develop projects for Roesler Hotel for 2013. —[O]