Feature
Singapore Lowdown: Shows to See in 2020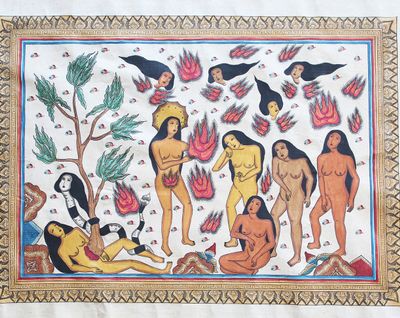 Citra Sasmita, Song of Fire Blossom (2019). Acrylic on Traditional Kamasan canvas. 70 x 50 cm. Courtesy the artist and Yeo Workshop.
Singapore Art Week returns from 11 to 19 January 2020 with a host of island-wide events, at the centre of which is the second edition of S.E.A. Focus (16–19 January 2020), which returns to Gillman Barracks arts precinct with the best of contemporary art in Southeast Asia.
Citra Sasmita: Ode to the Sun
Yeo Workshop, 47 Malan Road, #01–25, Gillman Barracks
10 January–29 February 2020
The smell of turmeric accompanies visitors to Balinese artist Citra Sasmita's latest solo show at Yeo Workshop, Ode to the Sun, where the spice is used to write text from Old Javanese Kakawin poems on the floor, while brightly painted canvases hang from the ceiling in a circular structure. In her work, Sasmita challenges patriarchal structures in Indonesian society, incorporating female characters into her canvases alongside symbols from Balinese mysticism. This is the third iteration of a project that was first conceived for the Biennale Jogja XV in 2019.
Melati Suryodarmo, PHOSPHENES 2 (2018). Screenprint with charcoal powder on paper. 77.5 x 112 cm. Courtesy STPI – Creative Workshop & Gallery.
Melati Suryodarmo: Memento Mori
STPI – Creative Workshop & Gallery, 41 Robertson Quay
24 November 2019–27 January 2020
Indonesian performance artist Melati Suryodarmo diverts from her core medium at STPI – Creative Workshop & Gallery to exhibit unique works in print and paper, using charcoal, collographs, paper pulp, and paper casts to further her handling of memory. With mediums such as charcoal recalling past performance pieces such as I'm a Ghost in My Own House (2012), the exhibition offers an opportunity to understand Suryodarmo's practice from new material perspectives.
Courtesy Jemima Stehli.
AUGUST and Jemima Stehli, new works
1961 Projects, #06–17, Oxley Bizhub 2, 62 Ubi Road
17 January–13 March 2020
The complexity and unpredictability of motherhood is expressed in British artist Jemima Stehli's latest series of photographs, created in collaboration with her five-year-old son, August. Large-scale images taken with a Hasselblad capture magically detailed beds of crisp, dead grass in some images, with her son interrupting the frame, or 'obliterating' it as she has described; while others capture the artist in various poses during her pregnancy, with August's presence most clearly manifested through his unmediated gestures in unmixed paint and oil pastel across their surfaces. Love, chance, and control are major themes here.
Robert Zhao Renhui, The Lines We Draw I (From New Zealand) (2019). Photograph, UV-printed lightbox or Diasec. 100 x 150 x 12 cm. Edition of 3. Courtesy the artist and ShanghART Singapore.
Robert Zhao Renhui: The Lines We Draw
ShanghART Singapore, 9 Lock Road, #02–22, Gillman Barracks
15 January–15 April 2020
Photography, video, and installation by Singaporean contemporary artist Robert Zhao Renhui at ShanghART Singapore explore the 'threshold states' of migration and extinction in the natural world. Case studies include the eradication of invasive spotted tree frogs in Taiwan to the migrations of godwits and great knots over the Yalu River estuary—a 'checkpoint' in their annual journey from Alaska to New Zealand, which was documented by the artist alongside a local researcher and is shown in a series of light boxes at the gallery. Conservation efforts from around the world are revealed through objects and narratives that show the extreme measures taken to avoid the eradication of species across the planet.
Nicholas Mangan, Termite Economies (Phase 1) (2018) Dimensions variable. Exhibition view: The Posthuman City. Climates. Habitats. Environments., NTU Centre for Contemporary Art Singapore (23 November 2019–8 March 2020). Courtesy NTU CCA Singapore.
The Posthuman City. Climates. Habitats. Environments.
NTU Centre for Contemporary Art Singapore, Malan Road, Gillman Barracks, Block 43
23 November 2019–8 March 2020
Since 2017, NTU Centre for Contemporary Singapore's research, academic programmes, exhibitions, and residencies have been informed by the research cluster Climates. Habitats, Environment. The latest exhibition poses an inquiry into planetary coexistence, addressing resource scarcity and its effects on humans and other species. Artists such as Hito Steyerl, Pierre Huyghe, Ines Doujak, and Jae Rhim Lee consider the potentials of a conscious distribution of resources within the rapidly growing urban environment.
David LaChapelle, A new world (2017). Hand-painted, Dibond negative-pigment print. 100 x 152 cm. Edition 3/3. Courtesy the artist.
David LaChapelle
Mucciaccia Gallery, Block 6, Lock Road, #02–10, Gillman Barracks
26 September 2019–2 February 2020
From his career in fashion magazines to contemporary art, this exhibition traces David LaChapelle's practice since the 1980s through 27 artworks. The exhibition includes his monumental C-print of the Kardashian family, Showtime at the Apocalypse (2013), which pictures members in various dramatic poses within a defunct yet luminescent, neon theatre. Elsewhere, the artist's 2017 photographs A new world, Found, and Behold are stagings in technicolour captured in the dense Hawaiian rainforest, radiating mysticism and spirituality.
Khairulddin Wahab, Mantle (2019). Acrylic on canvas. 145 x 173 cm. Courtesy Gajah Gallery.
GENSET
Gajah Gallery, 39 Keppel Road, Tanjong Pagar Distripark, 03-04
17 January–9 February 2020
Twenty-one artists from across Southeast Asia will take up Gajah Gallery's industrial warehouse space for GENSET. An abbreviation for 'generator set', the exhibition alludes to the process of creating energy from power to frame the impulse of creation, and how it can carry through into the future. The exhibition's intergenerational group includes names such as Ashley Bickerton, Choong Kam Kow, Jason Lim, Suzann Victor, Yunizar, and Fadilah Karim.
Ruben Pang, Anodyne of Solitude (2019). Oil, alkyd, and synthetic varnish on aluminium composite panel. 200 x 150 cm. Courtesy the artist and Chan + Hori Contemporary.
Ruben Pang: Pre-Heaven
Chan + Hori Contemporary, 6 Lock Road, #02–09, Gillman Barracks
16 January–16 February 2020
From folklore and paganism to Taoism, Ruben Pang's effervescent paintings are alive with references, while asserting unique formulations of colour and line. Pang works on aluminium with oil paint and alkyd resin, painting, scratching, and erasing until the image reveals itself through its layers. Pre-Heaven, the exhibition's title, references the 'sweet spot before each oscillation of alleviation and dissatisfaction of each encounter with oneself', a personal experience that translates to the many discomforts that come with conjuring an image.
Made Wianta, Jade Mosaic (2005). Oil and acrylic on canvas. 90 x 120 cm. © Made Wianta, courtesy the artist and Mizuma Gallery.
Rooted in Bali
Mizuma Gallery, 22 Lock Road #01–34, Gillman Barracks
10 January–16 February 2020
This exhibition presents work by Budi Agung Kuswara, I Made Djirna, and Made Wianta—three artists born, raised, and now working in Bali. Each artist left Bali at one stage of their career to shift their outlook, eventually returning to embrace the unique characteristics of Balinese art, which has been threatened by its position in relation to Indonesian modernism, which developed on a separate trajectory, along with the focus on tourism on the island, placing arts at a lower rank of interest. This exhibition at Mizuma Gallery seeks to highlight Balinese art and its distinct qualities through the three artists' work.
Exhibition view: Chun Kwang Young, Collisions: Information, Harmony and Conflict, Sundaram Tagore Gallery, Singapore (22 November 2019–1 February 2020). Courtesy Sundaram Tagore Gallery.
Chun Kwang Young—Collisions: Information, Harmony and Conflict
Sundaram Tagore Gallery, 5 Lock Road, #01–05, Gillman Barracks
22 November 2019–1 February 2020
A collection of Korean artist Chun Kwang Young's acclaimed series of wall sculptures, 'Aggregations' are now on view at Sundaram Tagore Gallery. The sculptures are made up of forms wrapped in mulberry paper, known in Korean as hanji, which is ubiquitous in the country's material culture, used for packaging, writing, and creating objects such as screen doors, lanterns, and fans. Chun Kwang Young embraced the material in the mid-1990s, elevating its sculptural possibilities in his art.
Ian Woo, The good, the bad and the ugly (2019). Acrylic on linen. 160 x 155 x 3 cm. Courtesy the artist and FOST Gallery.
Ian Woo: Joy of a preverbal dispenser
FOST Gallery, 1 Lock Road, #01-02, Gillman Barracks
11 January–23 February 2020
Singaporean artist and musician Ian Woo presents his latest series of paintings at FOST Gallery, celebrating states of in-betweenness, 'where forms modulate between crevices and haptic spaces'. Woo works with formal structures such as invisible grids and axis to meditate on the complexity of image-making—a process of inherent anxiety and ambiguity, as expressed by the exhibition's title, which describes the moment before an image's description is made possible.
Chua Soo Bin, Wu Guanzhong (1994). Photograph, inkjet print on paper. 40 x 50 cm. Courtesy Chua Soo Bin.
Chua Soo Bin: Truths & Legends
National Gallery Singapore, 1 St Andrew's Road
6 December 2019–28 June 2020
Truth & Legends spotlights the work of Singaporean photographer and Cultural Medallion recipient, Chua Soo Bin, offering an insight into an underrresearched field in Singapore's art history. Chua Soo Bin set up his photography studio after a successful career in advertising, parting in 1984 to travel across China and document Chinese ink masters such as Chen Wen Hsi, Lu Yanshao, and Ye Qianyu. The resulting series, titled 'Legends', is on view at National Gallery Singapore along with his two-decade-long oeuvre capturing the life and work of modern Chinese ink artist, Wu Guanzhong.
Ronson Culibrana, Recess (2020). Oil on canvas and bamboo. 122 x 152 cm. Courtesy the artist, the Working Animals Art Projects, and Yavuz Gallery.
Ronson Culibrina: Rainbow Spill
Yavuz Gallery, 9 Lock Road, #02-23
15 January–13 February 2020
Riotous layers of colour and form capture waterside communities in the paintings of Filipino artist Ronson Culibrina, inspired by the iridescent hues of an oil spill. The toxic conditions that these paintings emanate is furthered by net structures that hint towards the trap that humanity has fallen into in its quest for progress, at the expense of the environment. Culibrina is an advertising graduate from the Technological University of the Philippines (TUP), and currently lives and works in Cavite in the Philippines.
Aaron Tan residency at Grey Projects, Singapore. Courtesy Grey Projects.
Aaron Tan: Open Studio
Grey Projects, 6B Kim Tian Road, Kai Fook Mansion
15 January 2020, 17:30–20:30
At the independent arts organisation, Grey Projects, Aaron Tan builds on his research into the LYC Museum & Art Gallery, active between 1972 and 1983 in Banks, Cumbria, where Chinese artist Li Yuan-chia spent the last 28 years of his life. There, he built and operated the museum, showcasing his and other artists' work and hosting workshops for children, generating an important cultural node within an otherwise remote location. For this open studio at Grey Projects, Aaron Tan looks at how an arts space can be built and sustained, the result of which will be on view for his open studio on 15 January, between 17:30 and 20:30.
Tromarama, Ting* (2008). Stop motion animation with porcelain tableware. 2 min 47 sec. Collection of Wiyu Wahono.
IMPART Collectors' Show 2020
School of the Arts Singapore, Level 2, SOTA Gallery, 1 Zubir Said Drive
10–19 January 2020
At Singapore's School of the Arts, works by 19 artists have been drawn from exclusive and private global collections in response to the theme Material Agendas. Artists including El Anatsui, Christine Ay Tjoe, Manjit Bawa, Idris Khan, and Bharti Kher share an approach to 'transforming materials into strange, odd and exhilarating forms.' Curated this year by Tan Boon Hui, the IMPART Collectors' Show was first organised in 2017 to showcase 'the market, the makers and the masses' and provide an insight into collecting practices. —[O]