News | Market
In Frieze Seoul's Shadow, Kiaf Features Memorable Works
With over 330 galleries exhibiting across the two fairs, it's unclear how much Kiaf galleries benefitted from the added attention—and competition—Frieze Seoul brought to the city.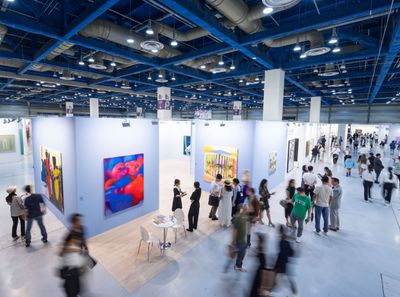 Kiaf SEOUL (6–10 September 2023). Courtesy Kiaf SEOUL. Photo: Kiaf SEOUL Operating Committee.
Over 80,000 people attended Kiaf (Korean International Art Fair) SEOUL at the COEX Convention & Exhibition Centre from 6 to 10 September.
That's more than the 70,000 that joined Frieze Seoul upstairs at the same venue, but Kiaf felt significantly less crowded, with visitors spread across 210 galleries, compared to 121 at Frieze.
The sentiment among many was that the calibre of works and presentations at Kiaf were overshadowed by those at Frieze, which featured many of the world's leading galleries.
Kiaf was founded in 2002 by the Galleries Association of Korea, whose gallery members now number over 160.
'Our somewhat unique purpose is ... we exist to support our galleries,' said Jung Lee, the vice chairman of Kiaf's Operating Committee, at a panel discussion with other fair directors on 7 September.
Over 60% of the galleries at the fair's 22nd edition this year were from South Korea, including established heavyweights Arario, Wooson, G Gallery, and PKM, as well as younger locals such as GALLERY2.
Among the international galleries from 18 countries were first time participants Galerie Thomas from Munich and Tokyo's emerging Biscuit Gallery.
While presentations at Frieze were, on the whole, stronger, there were memorable booths from both local and international galleries at Kiaf.
A solo presentation by Korean abstract artist Casper Kang stood out at Seoul-based Gallery Kuzo, where traditional Korean hanji paper dominated as a medium for exploring geometry, layering, and texture.
Seogallery, another Seoul gallery, spotlighted the 40-year practice of Kyoungyeon Chung in a solo booth, fronted with a large textile wall sculpture made of dyed cotton gloves (Untitled 86, 1983) inviting a closer inspection with its tubular protrusions and tentacle-like fringes.
Amor Muñoz, Colector, Kiaf SEOUL (6–10 September 2023). Photo: Misong Kim.
Another notable booth belonged to first-time Kiaf exhibitor Colector from San Pedro Garza García, Mexico. Their solo presentation by Amor Muñoz included multiple kinetic multimedia sculptures that unfailingly drew out the cameras of passersby. Muñoz's interactive textile work, White Oracle (2023), sold for USD 15,000 to a private collection in Asia.
Kukje topped Kiaf's sales figures, selling 12 works by Ugo Rondinone for U.S. $50,000–288,000 each. (Kukje also had a booth at Frieze Seoul, where they sold works by Park Seo-Bo for $490,000–590,000 and Ha Chong-Hyun for $223,000–268,000.)
Gallery Hyundai, whose Kiaf booth featured a baby blue Porsche from British artist Ryan Gander, sold eight works by the artist for GBP 25,000–90,000 ($31,000–113,000).
Choi Byung-So, Untitled 012 (2012). Ballpoint pen and pencil on newspaper (The Times). Exhibition view: Kiaf SEOUL (6–10 September 2023). Courtesy Wooson Gallery, Daegu. Photo: Misong Kim.
Kiaf and Frieze Seoul committed to partnering for five years from 2022. It's unclear how much smaller Korean galleries are benefiting from the arrangement, a tension evoked at Wooson Gallery's booth in the form of a large-scale newspaper installation by Choi Byung-So, Untitled 012 (2012).
It features open spreads of British newspaper The Times from August 2012. Pinned side-by-side and crossed diagonally with ballpoint pen/pencil, the paper has many small nicks stabbed into sections at seemingly arbitrary points.
The broadsheet reveals a nation consumed by the London Olympics, with headlines that, seen in the context of Kiaf Seoul, seem uncannily resonant: '[Great Britain] level at top of the table after fightback in eight-goal Korean thriller'; 'Britain look to continue spree after regaining Midas touch'.
With Frieze Seoul now well established, it's easy to read these headlines as a different kind of British triumph in Korea.
Not everyone was pessimistic about the prospects for local galleries showing at Kiaf.
'This year's Kiaf has increased in quality and number of visitors compared to last year and the year before,' said Chungwoo Woo, managing director of Hakgojae Gallery.
'Visitors have also told us that they like the fact that we continue to highlight domestic artists.' —[O]