Insight | Art Fair
Art Basel Hong Kong 2021: Artist Highlights
Ocula Magazine previews a selection of highlights showing with galleries at Art Basel Hong Kong, running between 19 and 23 May 2021.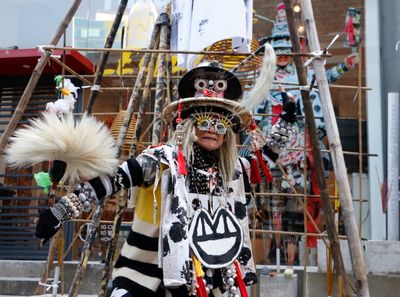 Frog King. Courtesy 10 Chancery Lane Gallery.
Frog King at 10 Chancery Lane Gallery
It's easy to forget that Frog King, teacher of Wong Kar Wai, student of New Ink pioneer Lui Shou-kwan, and veteran of 1980s New York (where Keith Haring and Carolee Schneemann became influences), once performed without costume.
Composed of bespoke glasses, hats, and robes, the artist's persona as an amphibian monarch—expressed with an eccentricity that recalls the radical calligraphic proclamations of the King of Kowloon—has defined this self-proclaimed 'live body installation' for decades.
Kwok in Beijing, the artist's April 1979 action in Beijing that involved tying up plastic bags filled with air at Tiananmen Square, is one of the earliest known performance artworks in China—as noted in the catalogue for Frogtopia Hongkornucopia, the artist's Hong Kong pavilion at the 2011 Venice Biennale. That outing presented '9 million works' in a staging evocative of a street market, with invitations to become a one-minute work by wearing the artist's spectacles.
10 Chancery Lane Gallery are devoting a section of their ABHK booth to a 'frogtopia' of ink on paper and canvas works, mixed media assemblages, and a new wall installation composed of painted wooden blocks. With the artist scheduled to be on site, come and meet a Hong Kong legend.
Lulu Ngie, Sea level rise (2017). Courtesy Gallery EXIT.
Lulu Ngie at Gallery EXIT
Undoubtedly, there is a visual relationship between the figurative paintings of Lulu Ngie and fellow Hong Kong Art School graduate Firenze Lai, but their connection goes beyond the canvas. In 2007, the pair founded Hulahoop Gallery, which closed in 2009 with the group show Lustfully Yours.
Ngie's human subjects are defined by an economy of colour and line tempered with evocative washes, in which the treatment of oil is infused with the techniques of ink.
There is also a pronounced graphic sensibility to these compositions, both echoing the artist's design background and the modernist planes of 20th-century masters across East and West. The classic lines of Sanyu, for example, come to mind in Sea level rise (2017), an interlocking row of bodies sit in the sea, like giants in a minimalist landscape.
Just as the natural world takes on philosophical and psychological form in the ink paintings of yore, so do Ngie's characters. Here, homage must be paid to the brilliant octogenarian Hong Kong artist Chu Hing-Wah, a former psychiatric nurse whose paintings converse with those of the much younger Lai and Ngie—as much studies of people in cities as they are expressions of a city's psychology.
Rirkrit Tiravanija, untitled 2020 (Rug 3, 1976) (2020). Oil and newspaper on linen. 30 x 30 cm. © Rirkrit Tiravanija. Courtesy the artist and Gladstone Gallery, New York and Brussels.
Rirkrit Tiravanija at Gladstone Gallery
In a bold move, a suite of newspaper paintings by Rirkrit Tiravanija, normally characterised by bold proclamations like 'SAME BUT NOT EQUAL' printed over wheat-pasted surfaces, appear to directly copy works by Philip Guston.
With relational aesthetics in mind, a concept with which Tiravanija has long been associated, there is no doubt that these works are intended to create conversation. Perhaps to extend, or even weigh in, on the debate that erupted when Guston's travelling retrospective was postponed in September 2020 in response to a charged political climate surrounding racial and social justice.
The reason for the cancellation, as outlined in a joint statement from the directors of the four institutions involved in the show's production, was effectively temporal incompatibility. The world, the directors noted, had changed since they first embarked on the endeavour five years prior, and they wanted to wait for a time when Guston's work would 'be more clearly interpreted'.
Tiravanija appears to have taken this statement to task, by recreating Guston's imagery over sheets of current affairs reportage, with headlines like 'Trump Triumphs'.
Gary-Ross Pastrana, Tromarama, and Davy Linggar, Companion (2021). Courtesy of the artists and ROH Projects.
Gary-Ross Pastrana, Tromarama, and Davy Linggar at ROH Projects
Companion is a three-channel video work that was made collaboratively amid pandemic border closures and lockdowns by Gary-Ross Pastrana in the Philippine capital of Manila, and Tromarama and Davy Linggar in Jakarta, Indonesia.
The collaboration involved Pastrana providing a set of instructions for the creation of an anthropomorphic sculpture created from a block of ice filled with objects, like a toy car, with the video documenting the sculpture's inevitable demise as it melted down.
Companion is framed within the context of RHE, an online and offline exhibition project launched in the framework Galleries Curate, a collaboration developed in the early days of the Covid-19 pandemic between galleries across the world, from Sadie Coles HQ to STPI.
Themed around water, RHE is the first chapter of this collaboration; it launched in January 2021 with an online presentation of works by Francis Alÿs, Giovanni Anselmo, and Latifa Echakhch, which extended the exhibition A buoy if not a beacon at Jan Mot in Brussels.
Awol Erizku, Oh, What a Feeling, Fuck it, I Want a Billion (Purple) (2018). Mixed media with seven regulation size basketball rims and Spalding NBA basketball. Edition of 1 + 1 AP. 376 x 48 x 62 cm. Courtsy the artist and Ben Brown Fine Arts.
Awol Erizku at Ben Brown Fine Arts
Among works by Tony Bevan, Yoan Capote, Candida Höfer, and others, is Awol Erizku's sculpture of seven basketball hoops stacked along a wall, titled Oh, What a Feeling, Fuck it, I want a Billion (Purple) (2018).
Last year, Erizku was the subject of a solo exhibition at The FLAG Art Foundation in New York, Mystic Parallax (26 September–14 November 2020), which communicated what Erizku calls 'a global Afropolitan perspective'. This was expressed in a maximalist approach to visual references, whether trap music—per the neon light sign Fuck Twelve (2018) (meaning: fuck the police)—and Islam, to Aethiopean artifacts, contemporary African American iconography, and fire.
Digital chromatic prints depicting still-life compositions encapsulate Erizku's expansive cartographies. Black Fire (Mouzone Brothas) (2019) brings together objects like Everlast boxing gloves, an x-rite ColorChecker Classic chart and a copy of Black Fire: An Anthology of Afro-American Writing (1968), while Quotidian Drip (2018–2020) includes, among other things, a Chinese fortune cat, African figurine, and black Gucci loafers.
Carrie Yamaoka, 24 by 20 (clear/black) #2 (2020). Flexible urethane resin, reflective black vinyl, wood panel. 61 x 51 x 4 cm. Courtesy the artist and Commonwealth and Council, Los Angeles. Photo: Paul Salveson.
Kang Seung Lee and Carrie Yamaoka at Commonwealth and Council
The legacy of AIDs is brought into the present in this pairing of works by Carrie Yamaoka, a founding member of fierce pussy, a queer art collective formed in 1991 through an immersion in AIDS activism, and Kang Seung Lee, whose practice intimately engages with the legacies of gay rights activists.
In the case of Lee, photographs by artists such as Tseng Kwong Chi—most notably, Tseng's famous 'Expeditionary Self-Portrait Series' (1979–1989), in which he appears in a Mao suit at tourist sites across the world—are recreated as graphite drawings with smoke replacing bodies and faces.
Other artists that appear in Lee's interventions are Peter Hujar and David Wojnarowicz, who died, as did Tseng, from AIDS-related complications; a fact that connects with works from Lee's Garden (2018) project, presented at One and J. Gallery in 2018, which threads the lives of Derek Jarman and Joon-Soo Oh, both gay rights activists who died of AIDS-related complications in the 1990s.
A sense of absence and the question of what remains is amplified in Yamaoka's mixed media paintings created using reflective materials, from polyester film to black vinyl and urethane resin. 24 by 20 (clear/black) (2020), for instance, looks like a reflection in a black pool—both a void and threshold.
Greg Ito, The Ascending Flame (2021). Acrylic on canvas over panel. 129.5 x 129.5 cm. Courtesy Anat Ebgi.
For Greg Ito's latest body of work, home is the place from which impending doom can be seen on the horizon; where isolation can only bring so much relief before the storm.
Paintings like The Doorway (2020), rendered on an arched canvas, shows a doorway on fire—a precarious portal from one natural scene to another. A horizontal blue stripe below contains a white rabbit that seems to allude to Alice in Wonderland and the parallel universe that lies beyond a choice of direction.
For Hong Kong, Ito has created a new series that extends from earlier paintings and installations that focus on a home setting located on an isolated island: depictions of interiors, landscapes, and window views executed in pop-tastic colours that invoke at once a pyschedelic trip and the hues of an oxygen-sucking, gas-fuelled apocalypse.
But in these new works are messages of hope. Among the paintings is a five-panel piece titled Paradise (2021), showing a burning landscape foregrounded by a neighbourhood superimposed with a germinating seed, butterflies, and a chrysalis.
Youjin Yi, Tesselierung (2019). Acrylic, oil, and oil pastel on canvas. 200 x 250 cm. Courtesy Wooson Gallery.
Youjin Yi at Wooson Gallery
Youjin Yi's paintings are at once electrified and subdued, engaged and remote; with fluid lines and sumptuous strokes confidently teetering between figurative and abstract.
You can just make out a Ghibli-esque forest creature at the centre of the large acrylic, oil, and pastel on canvas Tesselierung (2019), behind which an opening for the sky runs from turquoise to teal over a path marked by five silver birch trunks topped with dark, oily clouds.
Yi studied at Sejong University in Seoul before studying for a Masters with Günther Förg at the Akademie der Bildenden Künste in Munich, graduating in 2011, with a 2008 stint as a guest student of Leiko Ikemura at Berlin's Universität der Künste.
What formed was a masterful blending of Asian and Western approaches that create a tantalising balance—if not tension—between ground and imagination, process and becoming. Take Two Gray Circles (2020), where confident brushwork builds suggestive fields that just about visualise a tree-laden watery path.
Saori Akutagawa, Women XIII (1955). Dyed linen. 130 x 89 cm. Courtesy Nukaga Gallery.
Saori Akutagawa and Yuki Katsura at Nukaga Gallery
In this pairing of two female pioneers of Japan's avantgarde postwar scene, the more senior is Yuki Katsura, a founding member of Kyushitsu-kai (Ninth Room Association), established in 1938 by modern master Jiro Yoshihara.
Katsura's practice was defined by collages composed of printed matter, fabric, cork, and hand-drawn interventions, often depicting witty caricatures with elegantly defined shapes, which later extended into abstract paintings on collaged washi paper that Katsura developed in the 1950s and early 1960s while living in the U.S. and Europe, becoming acquainted with the likes of Yves Klein and Sam Francis.
A contemporary of Yayoi Kusama and On Kawara, Saori Akutagawa, who met an untimely end at age 42 in 1966, was a self-taught artist who became known for working with hand-dyed batik to create paintings that spoke to the experience of gender-based repression.
Akutagawa's 'Myths and Folktales' series, started in 1955 and on view in Hong Kong alongside other abstract drawings, are dynamic, geometric explosions of line, colour, and symbolic shape that invoke a charged—perhaps even rageful—celestial war between male and female idols.
Haneyl Choi, Mini Han (2021). 195 x 70 x 25 cm. stainless, folding hand fan, skirt. Courtesy P21.
Haneyl Choi at P21
Works by young sculptor Haneyl Choi are showing with P21 in a fun and eclectic presentation of new totemic mixed-media sculptures that act as points of refracted meaning, with humour wielded as a potent force to resist definitions and divisions.
Four columns are adorned with accessories: a baseball cap, a handbag hanging from the core of a curved form, a belt and beanie, and fan with skirt. These adornments imbue these minimalist shapes with character.
Choi was included in Young Korean Artists 2019: Liquid Glass Sea at The National Museum of Modern and Contemporary Art, Korea: the 19th edition of what was launched as The Korean Young Artists Biennale in 1981. The exhibition title fits well with the kind of liquid modernity that Choi's sculptures exist within, in which states, conditions, and identities collapse into a fluid plane.
Huma Bhabha, Untitled (2021). Ink, acrylic, pastel, and collage on paper. 76.2 x 55.9 cm, unframed; 88.9 x 68.6 x 5.1 cm, framed. Courtesy David Kordansky Gallery.
Huma Bhabha at David Kordansky Gallery
For NIRIN, the 22nd Biennale of Sydney (14 March–6 September 2020), Huma Bhabha presented sculptures located along the anthropoid spectrum, including the majestic, patinated bronze God of Some Things (2011), one of a pair that opened Bhabha's first solo museum exhibition at MoMA PS1 in 2012.
Another sculpture was Waiting for Another Game (2018), a fierce deity composed of cork and industrial Styrofoam with details rendered in pastel and fluorescent pinks and blues. The dramatic strokes composing the figure's face are echoed in new works at ABHK; among them, otherworldly portraits built from layers of ink, acrylic, gouache, pastel, and graphite on paper.
The unfamiliar and its associations with being alien or monstrous is a core concern in Bhabha's practice. The artist even named her 2019 ICA Boston show after They Live, John Carpenter's cult 1988 dystopian satire in which alien overlords are exposed by activists wearing sunglasses that reveal subliminal messages embedded into public advertisements, which Shepard Fairey would distil into the iconic 'Obey' label.
In many ways, Bhabha's figurative representations are both celebrations of otherness and propositions for the condition's future, where the body might transcend space, time, and geography. —[O]