Feature | Exhibition Lowdown
Shanghai Art Week: Exhibitions to See in 2020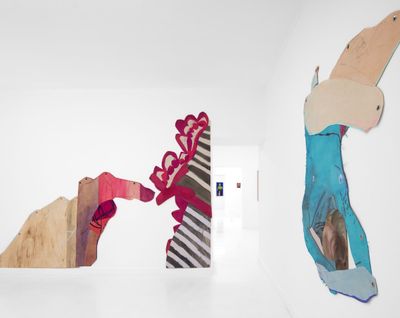 Exhibition view: Sarah Faux, Perfect for Her, Capsule Shanghai (20 October–25 December 2020). Courtesy Capsule Shanghai.
With Art021 Shanghai Contemporary Art Fair (11–15 November 2020) and West Bund Art & Design (12–15 November 2020) taking place this November, Ocula recommends 17 exhibitions happening in Shanghai this winter.
Sarah Faux: Perfect for Her
Antony Iacono: Body Double
Capsule Shanghai, 1st Floor, Building 16, Anfu Lu 275 Nong, Xuhui
20 October–25 December 2020
For her second solo exhibition at Capsule Shanghai, American artist Sarah Faux brings a selection of exquisite monotype prints alongside large-scale cut-out canvas collages, capturing resting figures and isolated body parts through a feminine gaze.
The vibrant colour of Sarah Faux's works continues into Antony Iacono's first exhibition in China, where bodies are framed in nocturnal interiors, flesh rendered in blazing oranges and green in contrast to the more sombre tones of their surrounding environments, resulting in sharp, psychologically charged scenes. The artist is also being featured with Capsule Shanghai as part of Artissima's online platform, XYZ.
Judy Chicago, Guided by the Goddess (1985). Courtesy the artist and Salon 94, New York. © Judy Chicago.
Call and Response
Longlati Foundation, West Bund Art & Design, Hall B
11–15 November 2020
On view at West Bund Art & Design, this exhibition brings together the work of Judy Chicago and Stanley Whitney. Presented by the non-profit, Longlati Foundation, Call and Response highlights works from the 1960s and 80s by Chicago, with new works by Whitney, including Untitled (No to Prison Life) (2020), which was premiered in an online presentation in July 2020 to coincide with World Day for International Justice.
The exhibition precedes the opening of the Foundation's permanent Shanghai space in spring 2021, which will include a gallery dedicated to international women artists.
Exhibition view: Josh Sperling, Paradise, Perrotin, Shanghai (10 November 2020–16 January 2021). Courtesy the artist and Perrotin. Photo: Mengqi Bao.
Josh Sperling: Paradise
Laurent Grasso: Future Herbarium
Perrotin, 3/F, 27 Hu Qiu Road, Huangpu
10 November 2020–16 January 2021
At Perrotin Shanghai, Laurent Grasso presents paintings and sculptures that extend from the artist's long-term research into the irreversible mutations taking place in the natural world as a result of human activity.
Extending from the same theme, a large-scale work by Grasso is being presented at the Musée d'Orsay in Paris on the occasion of The Origins of the World: The Invention of Nature in the 19th Century (10 November 2020–14 February 2021).
Also on view at the gallery in Shanghai is Paradise—a collection of Josh Sperling's bright combinations of pulled canvas on plywood, assembled into Squiggles, Composites, and Double Bubbles, as he categorises his different compositions.
Vaughn Spann, Untitled (2020). Oil paint, canvas on stretcher bars. 121.9 x 91.4 cm. © Vaughn Spann. Courtesy the artist and Almine Rech.
Painting Someone
Almine Rech, 27 Huqiu Road, Huangpu
6 November–26 December 2020
Painting Someone brings together 16 artists, including Genieve Figgis, Chloe Wise, Phyllis Stephens, and Brian Calvin, working between abstraction and figuration. In blurring the distinction between these two genres, the artists in this exhibition have each come up with their own unique approaches to portraiture.
From Instagram to Zoom, new forms of communication have provided new means of representation, with the artists in this exhibition sidestepping direct replication to demonstrate the emergence of new forms and styles.
Zhang Enli, Eating (3) (2001). Oil on canvas. 220 x 200 cm. Courtesy the artist.
Zhang Enli: A Room That Can Move
Power Station of Art, 200 Hua Yuan Gang Lu, Huangpu Qu
7 November 2020–7 March 2021
Curated by Hou Hanru, this is the largest exhibition to date of works by Chinese artist Zhang Enli. Spanning his 30-year career, the exhibition is divided into three parts, tracing his trajectory from figurative painting in the 1990s, still-life painting in the early 2000s, and more recently abstract paintings.
Born in Zhilin province in 1965, the artist studied calligraphy and traditional ink painting throughout his childhood. Qualities of this early practice are visible in his adult career as a painter, with strong lines inherited from Chinese brush painting visible in his energetic depictions of contemporary life.
Yang Zhenzhong, Pink Clouds Stone (2020). Courtesy Rén Space.
Yang Zhenzhong: Exposure
Rén Space, No.10, Lane 133 Shang Wen Road, Huangpu
2 November 2020–21 February 2021
Exposure, Yang Zhenzhong's first solo exhibition at Rén Space brings together a series of sculptures created with robotic carving technologies. Yang Zhenzhong references the stone barriers found in natural tourist sites across China as physical delineations between humans and nature.
Also included in the exhibition is Refreshing (2020), a film that captures local craftsmen in the Chongwu area of Fujian province, where the stone carvings were made. Rather than co-existing with nature, the artist imagines a future where humans co-exist with machines, as explained by the exhibition's curator, Sun Qidong.
Exhibition view: Candice Lin and Patrick Staff, STRESSED HERMS, SWEAT, & PERIOD GAS., Institute of Contemporary Arts at NYU Shanghai (24 September–19 December 2020). Courtesy Institute of Contemporary Arts at NYU Shanghai. Photo: Hong Xiaole.
Candice Lin & Patrick Staff: STRESSED HERMS, SWEAT, & PERIOD GAS.
ICA at NYU Shanghai, 1555 Century Av., Pudong
24 September–19 December 2020
Los Angeles-based artists Candice Lin and Patrick Staff come together for their first dual exhibition in China at the Institute of Contemporary Arts at NYU Shanghai. Their installation Hormonal Fog (2020) takes centre stage, extending their mutual interest in queer readings of counter narratives and botanical texts.
The machines and plants that make up Hormonal Fog have been 'hacked' to emit a fog with a herbal elixir that changes visitors' hormones. Due to Covid-19, this exhibition is currently closed to the public. The Institute of Contemporary Arts at NYU is re-evaluating their plan regularly—be sure to check the Institute's visitation policyprior to planning your visit.
Courtesy Rockbund Art Museum.
Jasphy Zheng: Stories from the Room
Rockbund Art Museum, 20 Huqiu Road, Huangpu
7 November 2020–3 January 2021
Curated by Biljiana Ciric, Larys Frogier, and Billy Tang, Stories from the Room is a collective 'sculptural moment' initiated by Jasphy Zheng, consisting of writing submissions submitted by participants around the world, reflecting on their day-to-day experiences of the pandemic.
Initially presented at CCA Kitakyushu in Japan earlier this year, the work will be installed as a temporary installation during Rockbund Art Museum's closure, from 7 November to 3 January, accompanied by a series of delicate bronze sculptures. Visitation is open to contributors to the project, with submission details available on Rockbund Art Museums website.
Julian Opie, Old Street June 1. (2020). Aluminium, nylon and lights. 186.5 x 206 x 9 cm. Courtesy Lisson Gallery. © Julian Opie. Photo: Alex Delfanne.
Julian Opie
Lisson Gallery, 2/F, 27 Huqiu Road, Huangpu
7 November 2020–27 February 2021
With influences spanning Egyptian sculpture, billboard signs, dance, and Japanese woodblocks, British artist Julian Opie distils contemporary life into bold visual depictions. For his first solo exhibition at Lisson Gallery's Shanghai space, Opie brings together animation with sculpture and paintings in auto paint and nylon, with some frames incorporating light, bringing their surfaces to life.
Opening alongside the Jing'an International Sculpture Project (25 September–31 December 2020), Opie's installation of three LED figures, Amelia 1, Julian, Yasmin (2019) is newly commissioned by Huarun Group and showing at Embankment Square in Pudpong.
Courtesy APSMUSEUM.
Ensemble Urbain
APSMUSEUM, No. 301, Floor 3, L+Mall, Pudong
11 November 2020–28 February 2021
At the newly opened APSMUSEUM, a non-profit art space dedicated to the fields of contemporary art, architecture design, and fashion, Ensemble Urbain brings together works by 15 artists such as Lu Xingua, Michelangelo Pistoletto, Anish Kapoor, He An, Mona Hatoum, and James Turrell.
Curated by artist Xu Zhen, the exhibition reflects on contemporary art's role in urban practice, offering new ways to imagine the 'compound structure' of the city as a place where 'time, space, bodies, and desires' come together.
Courtesy Yuz Museum.
André Butzer: Light, Colour and Hope
Yuz Museum, 35 Fenggu Road, Xuhui
126 September 2020–10 January 2021
Yuz Museum presents the first institutional solo exhibition in mainland China of André Butzer. Graduating from Akademie Isotrop in Hamburg in 2000, Butzer's abstraction contains figurative elements that are brought alive by colour and energetic strokes.
Though seemingly lighthearted, with some paintings referencing Disney cartoons and swathes of bright colour throughout, Butzer emphasises that his concern with light and rhythm is to 'annihilate what is untrue, virtual, statistic and godless'.
Exhibition view: Yu Ji, Forager, Edouard Malingue, Shanghai (12 November–5 December 2020). Courtesy Edouard Malingue Gallery.
Yu Ji: Forager
Edouard Malingue Gallery, Avenue Apartments, Room 314, No.7, Lane 314, Tongren Road, Jing'an
12 November–5 December 2020
Yu Ji's works are responsive to their contexts. Weaving historical narratives into each site, she brings these environments alive through field research, with a material focus on sculpture.
Forager was created in response to an abandoned space on Tongren Road in Jing'an District, where her exhibition highlights the previous occupant's hasty departure. Opening 30 January 2021, Chisenhale Gallery will host the artist's first U.K. solo exhibition. There, she will focus on London's canals and rivers, creating an intervention that traverses the body, liquid, and concrete.
Tomokazu Matsuyama, We Met Thru Match.com (2016). Acrylic and mixed media on canvas. 254 x 610 cm. Courtesy the artist.
Tomokazu Matsuyama: Accountable Nature
Long Museum, 3398 Longteng Avenue, Xuhui
12 November 2020–24 January 2021
Having grown up between the U.S. and Japan, Tomokazu Matsuyama's images contain a flurry of references, punctuated by fluorescent colours. Mining sources that range from internet adverts to magazine pin-ups, Matsuyama works in a fashion similar to a video editor, cutting and splicing his sources into eclectic scenes.
Yet despite their eclecticism, Matsuyama achieves a sense of balance throughout his meticulous compositions. Their details are a joy to behold, and their titles playful, such as this one from 2016, We Met Thru Match.com.
Yang Fudong, Endless Peaks (2020). Courtesy the artist and ShanghART Gallery.
Yang Fudong: Endless Peaks
ShanghART Gallery, West Bund, Bldg. 10, 2555 Longteng Avenue, Xuhui
8 November 2020–24 January 2021
On view at ShanghART Gallery, this stunning body of work by Yang Fudong continues the artist's exploration of 'painting as film'. Drawing from traditional paintings spanning various dynasties, the artist's exhibition presents a contemporary view of spirituality, with works challenging the boundaries of various media.
Endless Peaks contains painting, photography, and a video installation, presented as an immersive experience in the two-storey gallery.
Pamela Rosenkranz, Infection (2017). Courtesy the artist.
More, More, More
TANK Shanghai, 2380 Longteng Avenue, Xuhui
16 July 2020–31 January 2021
Drawing from the 1970s disco tune, 'More, More, More' by Andrea True Connection, this exhibition brings together works by 28 domestic and international artists draws on sensations of excess and sensuality.
Using materials such as bacteria, perfume, and music, artists in this exhibition employ multisensory forms that defy artistic tradition, including Victoria Sin, Pamela Rosenkranz, Art Labor, Claudia Comte, Jesse Darling, and more.
Lee Ufan, From Line 80046 (1980). Oil on canvas. 116.8 x 91 cm. Courtesy Arario Gallery.
Symbol
Arario Gallery, No. 2555-9, Longteng Avenue
11 November–31 January 2021
Open to private view only, Arario Gallery are presenting a group exhibition of works by Lee Ufan, Kohei Nawa, Kim Taeho, Zhu Jingshi, Byoungho Kim, and Huang Yuanqing, among others.
Highlights include Lee Ufan's signature line paintings, which embody the Korean artist's breath and movement in meditative strokes of blue across the canvas, along with a series of gold mirror stainless steel sculptures by Byoungho Kim, standing above a reflective body of water (The Nineteen Gods, 2018).
Andrea Branzi, Foglia Lamp (1988). Acrylic glass, electro-luminescent leaf. 25 x 45 cm. Collection Centre Pompidou, Musée national d'art moderne, Paris. © Adagp, Paris. Photo: © Jean-Claude Planchet, Centre Pompidou.
Design & the Wondrous: On the Nature of Ornament
Centre Pompidou x West Bund Shanghai, 2600 Longteng Avenue, Xuhui
12 November 2020–28 February 2021
An array of striking design items is being presented at Centre Pompidou x West Bund Museum Project, demonstrating how digital technology is influencing design today.
Some of these works are being presented for the first time, created by Chinese contemporary designers commissioned by the Centre Pompidou. As this exhibition demonstrates, innovation techniques have a 'metamorphic dimension' that mirrors nature as adaptable and ever-changing.—[O]