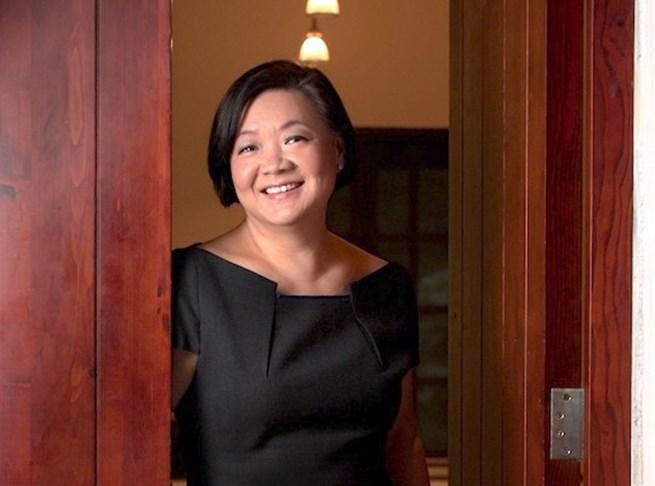 S. Alice Mong became the Executive Director of Asia Society Hong Kong Center in 2012. Prior to joining the Asia Society, Ms Mong worked for almost a decade in New York, where as Director of the Museum of Chinese in America (MOCA) she was responsible for transforming MOCA from a New York Chinatown institution to a leading national museum. Ms Mong also served as the Executive Director for the Committee of 100 in the United States, a non-profit membership organisation formed by a group of distinguished Chinese-American professionals.

As Executive Director of Asia Society in Hong Kong, Ms Mong has overseen Asia Society's presentation of No Country: Contemporary Art for South and Southeast Asia
, the inaugural exhibition of the Guggenheim UBS MAP Global Art Initiative. The exhibition opened officially on 30 October 2013 and will run until 16 February 2014. Featuring recent works by 13 artists, the exhibition presents a snapshot of creativity emanating from South and Southeast Asia, but equally interrogates the impact of that region's spiritual and moral tenets on the shaping of its communities. Alice Mong spoke to Anna Dickie about the role of Asia Society in informing its audience about contemporary art from the region.
I'm interested in this exhibition as part of Asia Society's overall exhibition programme. Will we be seeing more exhibitions focused on contemporary art in Asia?
This is the fifth exhibition we've held and we will be continuing to partner on more. We are not a museum, we do not have a collection like the Guggenheim, so partnership is how we will always work, whether in contemporary art or going back to more of the traditional approach such as with our first exhibition
Transforming Minds: Buddhism in Art
. I think the beauty of an organisation such as ours is that we can sometimes do contemporary art and sometimes the historical, or we can mine both.
Transforming Minds
had the traditional Buddhism sculptures and artwork and we also had contemporary masterpieces from artists such as Zhang Huan,
Mariko Mori
, Michael Joo and Montien Boonma.
We will always try to do something unique. This particular partnership is unique in that it is a three-way partnership with the Guggenheim and UBS. It was a no-brainer for us to work on this exhibition because of the theme being focused on South and Southeast Asia. I don't believe Hong Kong in recent years has had a show like this. So in the future if there are unique exhibitions like this and if it fits with our schedule – we can do only about three exhibitions per year – then we will do them. It depends on our organisation also and if it fits with our mission.
The mission of Asia Society is to extend education in Asia. This iteration of No Country in Hong Kong not only proposes an exploration of art emanating from a particular region – South and Southeast Asia – but also provides an insight into history and a consideration of religion or spirituality. So in terms of Asia Society's stated goal, this exhibition works very nicely in covering a number of aspects?
Yes absolutely. Our mission is not just about art, but also to teach Asians about each other through art, through public programming and other mediums. Art is really important, especially now with such a vibrant scene here. This exhibition talks about the culture, politics and history of the region, which is something Asia Society traditionally has always done.
You have surrounded this exhibition with an extensive education and talk programme. What are some of the highlights?
Two things I'm most excited about: first, and this is something that was not done at the prior show in New York and that has not been done extensively in Hong Kong, is that for this show we will be doing programming tours for the sight-impaired using audio guides to talk about the art so they can enjoy this exhibition. A wonderful thing about our site at Asia Society is that for anyone who is sight-impaired, the nature and the sounds and the smells add to the experience and that will also be part of the tour. The Guggenheim has also encouraged us to explore this. Hopefully with success, we will include it for future exhibitions too, building in an audience that may not traditionally go to exhibitions.
The other part of the programme that I'm excited about is the artist-led workshops. We're going to have three of the exhibiting artists coming in over the next couple of months – Khadim Ali from Australia, Tayeba Begum Lipi from Bangladesh and Tang Da Wu from Singapore. All three will do a residency and workshop as part of an in-depth programme with us.

Are artist residencies a new concept for Asia Society?
Yes, this is new for us. We've always had artists come in and speak and we've had artists attend the opening events, but this is really the first time that we've done programming with contemporary artists from around the region.
It seems to me it is important that an institution like Asia Society show an exhibition like this because until M+ is built there is a real need for institutions to step up and exhibit shows that would usually be shown in an institution such as what M+ will be. What is your comment on that?
I agree with you. When I lived here from 1992 – 2002 (I left and then came back), Hong Kong was always a city with a lot of spirit but when it came to arts and culture, I thought before that it didn't have any soul. I think coming back this time – I've been back in Hong Kong for two years now – first as a consultant and now as the Executive Director here, I really do feel Hong Kong has a soul. In terms of arts and culture, there are more artists, they're being brought together, and they're being exhibited. There is this dynamic energy, with or without Art Basel and M+ contributing to that discussion. And then the galleries of course have come in. I think these are really exciting developments. Hong Kong needs it, Hong Kong people want it and even after M+ is built, an organisation like Asia Society will continue to be relevant because our scale is different.
Not only M+, but the Central Police Station (this historic building is awaiting transformation as a centre for the arts - [O]) is also something that we're looking forward to. In fact, we are so looking forward to both these organisations being online and running. The energy is already there, but now we can connect the dots, so I feel like we're in some ways paving the way. Even when these organisations are complete, Asia Society will not go away. Our space is 365 square feet, we still have this beautiful outdoor space, so I do see us continuing to be a very vibrant part of the arts and cultural community and in fact even more so when M+ is done, we will still have really wonderful and relevant shows. We will still have a venue for many of the artists or the organisations to speak.
I look at having been in New York for nine years. In New York where you have a Met or MOMA or Guggenheim or if you work for a little museum downtown - it was just as vibrant in Chinatown. So I really do think it will be something that Hong Kong will be ready for when M+ is done in 2016.
There'll be a complementary network of institutions?
Yes, exactly. M+ is over in West Kowloon, Asia Society is here in Admiralty and what's really exciting too is what's happening in Wong Chuk Hang with all the other galleries going in. The new MTR will create a hub and we're going to be part of that art network I think.
It's an exciting period in Hong Kong. There's a little turn that's happening.
Yes, yes, very much so. — [O]

No Country: Contemporary Art for South and Southeast Asia, Asia Society Hong Kong Center, 30 October - 16 February 2014