News | Galleries
Sydney Contemporary 2022: 9 Directors Introduce Their Booths
Sydney Contemporary returns from 8 to 11 September. Giving an early glimpse of their booths are 1301SW, The Commercial, Gallery 9, Martin Browne Contemporary, Neon Parc, Roslyn Oxley9 Gallery, STATION, THIS IS NO FANTASY, and Yavuz Gallery.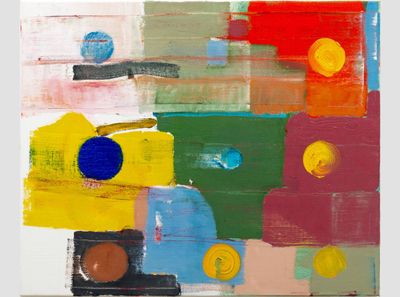 Jake Walker, untitled (2020). Oil on linen. 46 x 56 cm. Courtesy the artist and Gallery 9.
This year we have selected a number of abstract artists who make work with unrelenting process. It is difficult to select highlights from such an interesting group.
Jake Walker has just completed a number of new paintings with ceramic frames as well as a selection of ceramic keys, Grace Wright's new paintings exude more vibrant colour, and Helen Smith's new works in the 'Blue Highway' series have intense colour as well as ever so subtle under painting which very few artists can achieve.
Elaine Campaner, Christmas Island (2005). Ink on cotton. 55 x 83 cm (framed). Courtesy Elaine Campaner Estate and Gallery 9.
We are presenting photographic works of dioramas created by Elaine Campaner, and I urge all collectors to view the works on the website we created to archive works she exhibited throughout her life.
We are also presenting new exciting works by Louise Tuckwell, Paul Snell, Kāryn Taylor and Adrian Hobbs.
Bill Henson, Untitled #19/5 (1990-91) from the series 'Paris Opera Project' (1990-91). Archival inkjet pigment print. 150 x 150 cm. Courtesy the artist and STARKWHITE, Auckland and Queenstown.
Jack Willet, Director of 1301SW, Melbourne
Sharing our booth with Starkwhite, Auckland, we had access to Bill Henson's unseen image from his famed 'Paris Opera' series, along with a pair of Billy Apple's AC / DC (Artist's Cut / Dealer's Cut) works from 1986, and significant works from the estate of Gordon Walters. These will function as the grounding for a larger presentation exploring a couple of key artistic conversations for the fair.
The Bill Henson picture, with its familiar feelings of the painterly and cinematic, offers a new view of the beloved young girl, enamoured by the performance as her mother sits by her side. Alongside it is a work by one of New Zealand's most acclaimed photographers, Fiona Pardington. We saw this pairing as a rich discussion of atmosphere, allegory, and attraction.
Petra Cortright, Rockefeller +Speed +Up +Start +Menu (2019). Digital painting on Belgian linen. 119 x 233 cm. Courtesy the artist and 1301SW, Melbourne.
Meanwhile, the Pop Conceptualism of Apple's works—including a rainbow triptych from 1965—sits in an interesting dialogue with Petra Cortright's digital paintings, which fuse the layering and rapid brush strokes of the Abstract Expressionists with the soft blurring of the Impressionists.
These works lead into the Modernist aesthetics of Gordon Walters, which sits meaningfully beside the contemporary hard-edge abstraction of Gerold Miller and Jonny Niesche.
teamLab, The World of Irreversible Change (2022). Interactive Digital Work. Endless, six channels. Sound: teamLab. Courtesy the artists and Martin Browne Contemporary.
With the fair being postponed for the past two years, we decided that the best approach this year is to curate a group exhibition of our gallery artists. This will bring collectors up to date with the exciting work MBC artists are doing now as well giving our artists the opportunity to show what has been happening in their studios over the past couple of years.
The standout highlight of our booth this year is the Asia-Pacific premier of an incredible new artwork by the international digital art collective, teamLab. Titled The World of Irreversible Change (2022), this interactive, durational algorithmic work is going to blow viewers away.
Teelah George, A Manuscript (2022). Thread, linen, bronze. 191 x 135 cm. Courtesy the artist and Neon Parc.
Geoff Newton, Founder of Neon Parc, Melbourne
For Sydney Contemporary I wanted to present various media by a selection of gallery artists, working in pencil, bronze, resins, oils, thread and silkscreen.
There is a shared sense of pushing against art history and the boundaries of materials, from Dale Frank's sumptuous pigment and Epoxy glass paintings to Teelah George's painstaking and intricate psychedelic tapestries.
Rob McLeish, Blood Visions 4 (2022). Pencil on paper. 59.4 x 42 cm. Courtesy the artist and Neon Parc.
The two biggest highlights are the presentation of Janet Burchill and Jennifer McCamley's Throw Field 2, a cast bronze work which fuses the curves of hand knotted rope with large blossoming mushrooms planted along the woven form, merging two organic shapes each relating to connectivity and decomposition.
Also the suite of highly detailed drawings by Rob McLeish, collectively titled 'Blood Visions', rendered in a syrupy red hue they utilise images of orchids, classical sculpture and a frenzied figurative ambiguity.
Jim Lambie, Metal Box (Love Orchid) (2022). Aluminium and polished steel sheets, gloss paint. 125 x 125 x 19.5 cm. Courtesy the artist and Roslyn Oxley9 Gallery, Sydney.
Victoria Scott, Director of Sales at Roslyn Oxley9 Gallery, Sydney
Our exhibition will showcase sensational work by highly regarded Australian artists including James Angus, Sarah Contos, Mikala Dwyer, Dale Frank, Tom Polo and Caroline Rothwell and acclaimed International artists Jim Lambie and Sir Isaac Julien.
We are commissioning a spectacular wall sculpture from Lambie which forms part of his iconic 'Metal Box' series influenced by colour theory and music. It will be a four-part work which entails metallic petals that unfurl to reveal undulating sheets of brightly hued colours.
Isaac Julien, Encruzilhadas / Crossroads (Lina Bo Bardi - A Marvellous Entanglement) (2019). Photograph. 134 x 174 cm. Courtesy the artist and Roslyn Oxley9 Gallery, Sydney.
We will also present a stunning newly conceived photographic work from Julien's spectacular series Lina Bo Bardi – A Marvellous Entanglement. This breathtaking photograph creates an open-ended reflection on the work and legacy of visionary architect and designer Lina Bo Bardi (1914–1992).
A central figure of Brazilian modernism, Bo Bardi devoted her working life to promoting the social and cultural potential of art, architecture and design.
Consuelo Cavaniglia, Untitled (grey, green) (2021). Two-way mirror, grey float glass, green float glass, timber, steel. 170 x 42 x 68 cm. Courtesy the artist and STATION.
Samantha Barrow, Gallery Director at STATION, Sydney
We will be exhibiting a duo presentation by Consuelo Cavaniglia and Julia Trybala.
Trybala's epic-scaled oil paintings of reclined and intertwined figures, repurpose visual tropes used by classic master painters of the past. They subvert the historically dominant male gaze by depicting scenes of familial care, both tender and claustrophobic, from the female perspective.
Julia Trybala, Chin Chuck (2022). Oil on canvas. 183 x 213 cm. Courtesy the artist and STATION.
Cavaniglia's sculptures made of glass, mirror, steel and timber, elegantly present as a set of deconstructed and abstracted viewing devices intended to shift and destabilise the visitor's perceptions—alerting them that things look different depending on where we stand and how we view them.
Works by Micheal Staniak and Nadia Hernández will also appear in the fair's AMPLIFY section, curated by Annika Kristensen.
Johnathon World Peace Bush, Mother and Child (2022). Locally sourced earth pigments on linen. 120 x 120 cm. Courtesy the artist and THIS IS NO FANTASY.
Dianne Tanzer and Nicola Stein, Directors at THIS IS NO FANTASY, Sydney
Firsts are always exciting. Sydney Contemporary is Johnathon World Peace Bush's first exhibition with the gallery, and we are also excited to present Vincent Namatjira's biggest work on canvas to date. Both artists engage with contemporary and Indigenous culture through wry humour and political statement.
Bush combines traditional Jilamara Tiwi body paint design with imagery relating to Catholicism and the Tiwi colonial experience, while Namatjira's observational works reveal an interest in contemporary political and social discourse.
Namatjira's work will also be featured in the fair's curated AMPLIFY program.
Abdul Abdullah, A Return (2022). Oil on linen. 198.12 x 162.56 cm. Courtesy the artist and Yavuz Gallery.
Our two biggest highlights at the fair are Abdul Abdullah and Mehwish Iqbal.
Abdullah will be presenting three large-scale paintings from a new oeuvre that bears his signature visual language of white lines currently reformed into anthropomorphised rocks. Initially being influenced by pandemic-induced separation from family in Perth, they developed into portraits of the anxieties and emotions we experience as individuals.
Mehwish Iqbal, Interior Body (wolf embroidery) (2022). Silk screen, collagraph, etching and embroidery. 84 x 124 cm. Courtesy the artist and Yavuz Gallery.
Iqbal will be presenting two intricate wall works that explore the intertwined relationship between humans and the natural world.
The delicate substrate of the works are fashioned out of dressmaker's paper, which Iqbal has encrusted and embellished with an array of media, including etching, hand embroidery, eclectic printmaking techniques. Its densely layered surface has a three-dimensional presence and an unconventional, fragile materiality.
Diena Georgetti, Discovery CAMPAIGN (2022). Acrylic on canvas, custom frame, 73 x 58.5 x 2.5 cm. Courtesy of the artist and The Commercial, Sydney. Photo: The Commercial.
Amanda Rowell, Director at The Commercial, Sydney
We will present the solo exhibition CAMPAIGN by Diena Georgetti. It comprises a significant group of new construction paintings that bring together past and distant communities of artists in an offering for here and now and for the future. This is painting as collage and as community, innately connected to a deep sense of architecture and lived space driven by the artist's sense of aesthetic need and nurture.
Since the beginning of her career in the early 1990s, Georgetti (b. 1966) has had a dedicated following particularly amongst fellow artists and leading curators, winning critical support at a high level from a young age. In 2021, the National Gallery of Australia acquired Georgetti's monumental SUPERSTUDIO, her major work to date, and featured it prominently in the landmark Know My Name exhibition. —[O]
---