Feature | Exhibition
Hong Kong Lowdown: Shows to See in 2021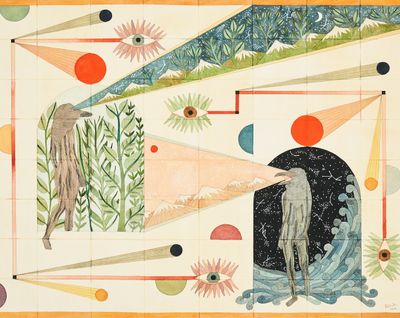 Rithika Merchant, Saudade (2021). Courtesy the artist and The Sovereign Art Foundation.
Between 19 and 23 May 2021, 104 galleries from 23 countries and territories will occupy the Hong Kong Convention and Exhibition Centre for Art Basel Hong Kong, with the digital platform Art Basel Live: Hong Kong taking place in parallel. Ocula Magazine presents a selection of highlights taking place across the city.
2021 Sovereign Asian Art Prize
5–16 May 2021, Shop G08-G09, Ground Floor, 9 Queen's Road Central
20–23 May 2021, Art Central
The Sovereign Art Foundation presents work by the 30 finalists of the Sovereign Asian Art Prize, now in its 17th edition. Created by artists from across the Asia Pacific, works were shortlisted by a panel including museum director David Elliot, journalist and author Georgina Adam, artist Zhang Enli, and art critic John McDonald.
The exhibition will take place in two locations through May, first in a ground-floor space in central Hong Kong, followed by a presentation at Art Central.
Kensuke Koike, Shhh (2018). Courtesy the artist.
Only A Joke Can Save Us
Present Projects, 3F, Tak On House, 13 Wong Chuk Street, Sham Shui Po
14 May–27 June 2021
At the recently opened independent project space Present Projects, co-curators Eunice Tsang and Tiffany Leung look to satire and humour as modes of radical resistance. Tsang explains that the idea originated over the course of last year, following the cancellation of a satirical TV programme on RTHK for its mocking of political figures and the police, leading her to question: how can you talk about something serious when you lack words?
The exhibition brings together nine international artists: Bo Choy, Hu Rui, Cyrus Hung, Kensuke Koike, Kieran Leach, Mak Ying Tung 2, Yan Xinyue, Pow Martinez and Yu Cheng-ta.
Jiang Pengyi, Sun! Sun! No.7 (2018). Archival inkjet print mounted on aluminium, toughed acrylic. 181 x 145 cm. Edition 3+2AP. Courtesy Blindspot Gallery.
Jiang Pengyi: Sun! Sun!
Blindspot Gallery, 15/F, Po Chai Industrial Building, 28 Wong Chuk Hang
218 May–3 July 2021
After graduating from the China Academy of Art, Hangzhou, in 2014, Jiang Pengyi worked as an architectural photographer, contemplating the city's urbanisation through his lens. He then shifted to the darkroom, experimenting with the fixing process to create unpredictable shapes that expanded the artist's exploration of the urban landscape and its decay. These analogue experiments are the subject of the artist's latest solo exhibition with Blindspot Gallery.
Courtesy Empty Gallery, Hong Kong.
Xper.Xr.: Tailwhip
Empty Gallery, 19/F, Grand Marine Center, 3 Yue Fung St, Tin Wan
17 April–26 June 2021
Xper.Xr. is a Cantonese industrial noise musician whose work began in 1980s Hong Kong, where he opened the underground venue CIA in 2013 after a brief period spent in London. This exhibition at Empty Gallery documents the activities of a pivotal figure in Hong Kong's experimental music scene, presenting performance documentation, archival photography, and scores, among other objects, interwoven with 'pop-cultural detritus, dadaist spectacle, and self-lacerating humour.'
Lalan, At Full Moon (1984). Mixed media on paper. 130 x 195 cm. Courtesy Lalan Estate.
Extended Figure: The Art and Inspiration of Lalan
Asia Society Museum, 9 Justice Drive, Admiralty
27 April–19 September 2021
Xie Jing-lan, nicknamed Lalan, features in this exhibition that is part of Asia Society Hong Kong's 30th-anniversary programming. Born into a scholarly family in Guizhou, China, in 1921 and later pursuing an artistic career in Paris, Lalan pioneered an 'integrated' approach to painting, fusing her studies in composition and modern dance to break the boundaries of the medium.
The exhibition contains 30 paintings, along with archival materials tracing her trajectory as a multidisciplinary artist.
Lai Chih-Sheng, Breath (2019). Brass, ceramics, cotton thread, acrylic paint. Dimensions variable. Courtesy the artist and Edouard Malingue Gallery.
Shape of Water
Nabuqi
Edouard Malingue Gallery, Blue Box Factory Building, 25 Hing Wo Street, Aberdeen
15 May–30 June 2021
In anticipation of their new space opening on Sik On Street in Wan Chai, Edouard Malingue Gallery are temporarily based in Aberdeen, where they will show two exhibitions. These include a group show presented in collaboration with the international gallery platform, Galleries Curate: RHE, for which works by Ko Sin Tung, Kwan Sheung Chi, Lai Chih-Sheng, and Wang Wei are on view.
Also showing is an exhibition of sculptures and installations by Nabuqi that hover between the artificial and the real, engaging with spatial politics by incorporating found objects and questioning viewers' engagement with these.
Christine Ay Tjoe working in her Indonesia studio (2021). Courtesy White Cube. Photo: © Wowo Wahono.
Christine Ay Tjoe
White Cube, 50 Connaught Road Central
18 May–28 August 2021
Through a new series of paintings, Indonesian artist Christine Ay Tjoe questions what it is to be human at a time when growth seems impossible.
This exploration has been long-standing for the artist, who expressed on the occasion of her 2018 exhibition with the gallery that 'the ability to know and anticipate a state that is evolving within the self is more crucial than ever'. Layered with abstract elements, the paintings alternate between thick and thin washes of colour and impasto.
Still from Chu Teh Chun (2020), directed by Christophe Fonseca in collaboration with Fondation Chu Teh Chun.
Chu Teh Chun's Symphony
Alisan Fine Arts, 2305, Hing Wai Industrial Centre, 7 Tin Wan Praya Road
13 May–31 July 2021
Franco-Chinese artist Chu Teh Chun is being featured by Alisan Fine Arts on the occasion of Le French May—a city-wide festival that celebrates French culture through over 100 events.
Seventeen works at Alisan Fine Arts demonstrate the artist's approach to landscape painting that fused Chinese calligraphy and Western painting techniques, developed during his time in Paris, where he moved from Taipei in 1955. A new documentary film on the artist will also debut on 22 May at Art Basel Hong Kong, followed by showings across the city between 25 May and 2 June as part of Le French May.
Leelee Chan in her studio, 2020. Courtesy the artist.
Leelee Chan: Tokens from Time
BMW Luxury Class Wan Chai Showroom, G/F, Everbright Centre108 Gloucester Rd, Wan Chai
19–23 May 2021
Leelee Chan presents the outcome of her BMW Art Journey, throughout which she met with traditional artisan families dealing with materials such as copper, silver, and marble.
Inviting scientists and engineers to consider how these materials may be replaced by synthetic substitutes in the future, the project probes themes of ecological and cultural sustainability. Chan's sculptures reflect the dynamics of the built environment, incorporating found and industrial objects and materials in elegant compositions.
Jack Whitten, Untitled (1988). Ink and ink wash on rice paper. 52.7 x 73.7 cm. ©️ Jack Whitten Estate. Courtesy Jack Whitten Estate and Hauser & Wirth.
Jack Whitten
Hauser & Wirth, 15-16/F, H Queen's, 80 Queen's Road Central
30 March–31 July 2021
For his first solo exhibition in Asia, John Whitten brings a series of paintings, sculpture, and works on paper, some rarely seen before. Created between the 1960s and 2010s, the works reflect Whitten's deftness at shifting between materials, summoning their metaphysical properties in the process.
Spirituality fuses with modern abstraction here, where the materiality of paint attains a sculptural quality in large-scale compositions such as Natural Selection (1995), made up of paint hardened in and then removed from found vessels including corrugated cardboard and bottle caps.
Courtesy Pace Gallery.
David Adjaye | Adam Pendleton
Pace Gallery, H Queen's, 80, 12/F Queen's Road Central
18 May–30 June 2021
Ghanaian-British artist and architect David Adjaye and American artist Adam Pendleton offer a layered visual lexicon that explores themes of identity and representation.
The show includes a body of co-created paintings entitled 'Untitled (We Are Not)', departing from Pendleton's 2008 Black Dada text, shifting the phrase 'We Are Not' into alterations such as 'Not Not We' and 'Not Are We' to question collective definitions of identity—a modularity that is furthered in marble pyramid sculptures by Adjaye that can be taken apart to combine in new forms.
Zhou Tao, Blue and Red (2014). Single channel HD video. Courtesy the artist, Vitamin Creative Space & Para Site.
Curtain
Para Site, 22/F, Wing Wah Industrial Building, 677 King's Road, Quarry Bay & 33 Des Voeux Rd W, Sheung Wan
15 May–25 July 2021
Showing works by Cici Wu, Wu Jiaru, Stella Zhang, Zhou Tao, Chantal Akerman, Leigh Bowery, and Li Shuang, among others, Curtain is a collaborative exhibition presented with Rockbund Art Museum across two locations that examines humanity's interactions with and within digital space.
Looking at image production and modes of interconnectivity, the exhibition considers how the Other is differentiated from the self in relation to digital experience, and how informational structures are informing humanity's relationships with the world more broadly.
Wu Chi-Tsung, Wrinkled Texture 079 (2020). Cyanotope photography on Xuan paper. 97 x 212 cm. Courtesy Galerie du Monde.
Wu Chi-Tsung: Exposé
Galerie du Monde, 108 Ruttonjee Centre, 11 Duddell Street, Central
24 March–13 June 2021
Curated by Ying Kwok, Exposé highlights the process behind Wu Chi-Tsung's signature cyanotype works, which reimagine traditional Chinese landscape paintings through the cyan-blue print photographic technique.
The exhibition presents the artist's 'Cyano-Collage' series—an extension of his 'Wrinkled Texture' series, which develop a technique called cun ca, or 'texture method', where wrinkles and ink washes come together as forms in the landscape.
Courtesy the artist and Rossi & Rossi.
Szelit Cheung
Rossi & Rossi, 6 Yip Fat Street, 3/F Yally Industrial Building
8 May–31 July 2021
As part of Szelit Cheung's current residency with Rossi & Rossi, the artist is continuing his interest in light's interaction with the built environment.
His process involves walking around Hong Kong to observe such interactions, which he renders in paintings and drawings. Cheung's approach has long been informed by sunyata, a Sanskrit word that is often translated as 'the void', transferred to his canvases as a space that 'offers a spirituality within'.
June Ho, Sewing Pattern 1, Feminine (2021). Printmaking, Chine-collé. 64.5 x 45.5 cm. Courtesy Karin Weber Gallery.
Second Skin
Karin Weber Gallery, 20 Aberdeen Street, Central
17 April–5 June 2021
Six Hong Kong-based artists—Jonathan Thomson, Mandy Ma, Rosanna Li, Go Hung, IV Chan, and June Ho—are brought together in this investigation of the complexities of fashion. Themes including overconsumption, self-identity, and female experience are among the concerns of works in media ranging from ceramics and latex to textiles. Through diverse materials, Second Skin aims to reflect 'a creative snapshot of a world in transformation'.
Myonghi Kang, Nature Morte (2020). 100 x 89 cm Oil on canvas. Courtesy Villepin.
Myonghi Kang
Villepin, 53–55 Hollywood Road, Central
17 May–October 2021
Joyful harmonies of colour combine in the oil and pastel paintings of Korean artist Myonghi Kang, showing at Villepin. Arriving in Paris from South Korea in 1972, the artist was part of a community of writers, artists, and philosophers including Zao Wou-ki, Dominique de Villepin, Allain Jouffroy, and Piotr Kowalski.
After extensive travels, the artist settled on the island of Jeju in South Korea, where she still lives and works today, creating paintings that explore humanity's relationship with the natural world.
Paulina Olowska, 30 Minutes Before Midnight (2021). Oil on canvas. 65 x 50 cm. Courtesy the artist and Simon Lee Gallery.
Paulina Olowska: 30 Minutes Before Midnight
Simon Lee Gallery, 304, 3/F The Pedder Building, 12 Pedder Street, Central
19 May–19 June 2021
Paulina Olowska presents a new series of paintings at Simon Lee Gallery, which frame female protagonists in cinematic settings. The exhibition draws from John Berendt's novel, Midnight in the Garden of Good and Evil (1994), which imagines the 30 minutes before and 30 minutes after midnight as periods for good and bad magic respectively. With psychological undercurrents, the works subvert traditional representations of women.
Rirkrit Tiravanija, untitled (pad thai) (1990). Exhibition view: Paula Allen Gallery, New York. © Rirkrit Tiravanija. Courtesy David Zwirner.
The Real World
David Zwirner, 5-6/F, H Queen's, 80 Queen's Road Central, Central
18 May–ongoing
Early works by Felix Gonzelez-Torres, Raymond Pettibon, Jason Rhoades, Diana Thater, Rirkrit Tiravanija, and Lisa Yuskavage show six artists on the cusp of becoming some of the most significant names in contemporary art. Dating to the 1990s and early 2000s, the paintings, sculptures, and installations demonstrate a social engagement with art that takes on renewed significance in the context of the Covid-19 pandemic.
Germaine Kruip, 1:1 Resonance, vertical (white) (2021). Wooden panel, painted; polished brass beam; beater. 47 x 50 x 9 cm. Courtesy the artist and Axel Vervoordt Gallery.
Germaine Kruip: Screenplay
Axel Vervoordt Gallery, 21/F, Coda Designer Centre 62, Wong Chuk Hang
15 May–10 July 2021
Germaine Krup's first solo exhibition with Axel Vervoordt Gallery and in Hong Kong fuses music and theatre in sculptures that occupy space through sensorial choreographies.
Light and sound are core components, generating 'new fields of resonance' from two giant rhombuses made from brass, silver, and nickel in the gallery's first room, which function as artworks as well as instruments when played. In the second room, visitors are invited into a darkened space where theatre spotlights render a subtle, ever-evolving landscape.
Felix Gonzalez-Torres, Untitled (North) (1993). Marieluise Hessel Collection, Hessel Museum of Art, Center for Curatorial Studies, Bard College, Annandale-on-Hudson, New York. © Felix Gonzalez-Torres. Exhibition view: trust & confusion, JC Contemporary, Tai Kwun, Hong Kong (2 May–5 December 2021). Courtesy of the Felix Gonzalez-Torres Foundation. Photo: Kwan Sheung Chi.
trust & confusion
JC Contemporary, Tai Kwun, 10 Hollywood Road, Central
2 May–5 December 2021
Newly opened at Tai Kwun's JC Contemporary, trust & confusion reflects 'the conversation of certainty and chance; the transformative power of bodies' with artworks that depend on ephemeral elements such light and sound.
Curated by Xue Tan and Raimundas Malašauskas, the exhibition unfolds both online and on site through a series of episodes. Artists in the exhibition include Tarek Atoui, Felix Gonzalez-Torres, Kazuo Kitai, Yuko Mohri, Liliana Porter, Sriwhana Spong, and Trevor Yeung, among others.
Yan Wai Yin, Localized Blindness (2019). Single-channel Video. 19 min 45 sec. Courtesy the artist.
Yan Wai Yin: Black Bird, Frost Flower and Pink Falling Stars
RNH Space, Rm 13, 23/F, Khora, 128 Bedford Road, Tai Kok Tsui, Kowloon
15 May–6 June 2021
Two films by Yan Wai Yin are on view at RNH Space, an independent art space opened in 2020 in Tai Kok Tsui. The works explore three 'anchors' of ritual, form, and phenomenon, combining literary elements and imagery to construct a stream of 'lingering thoughts and memories'.
Having graduated from the School of Creative Media – City University of Hong Kong in 2016, Yan Wai Yin's animation and moving image works have been exhibited in solo presentations at Duddell's in Hong Kong and de Art Center in Beijing, along with several group exhibitions worldwide. —[O]