Feature | Exhibition
London Gallery Weekend: Shows to See in 2021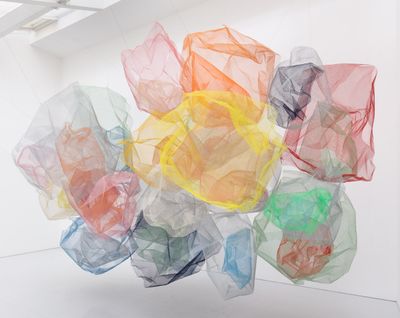 Exhibition view: Rana Begum, Kate MacGarry, London (30 April–6 June 2021). Copyright The Artist. Courtesy the artist and Kate MacGarry, London. Photo: Angus Mill.
The inaugural London Gallery Weekend runs between 4 and 6 June 2021, with over 130 galleries in the city participating. Ocula Magazine presents a selection of highlights on view across the city.
Exhibition view: Rana Begum, Kate MacGarry, London (30 April–6 June 2021). Copyright The Artist. Courtesy the artist and Kate MacGarry, London. Photo: Angus Mill.
Rana Begum
Kate Macgarry, 27 Old Nichol Street, E2 7HR
30 April–6 June 2021
An ethereal cluster of painted, powder-coated mesh grids takes centre stage at Kate Macgarry for Rana Begum's solo exhibition at the gallery, surrounded by drawings and geometric paintings in serene hues on aluminium.
The exhibition is a continuation of Begum's exploration of light, form, and colour. As the artist has explained in Ocula Magazine, 'In life we are in constant motion, seeing things change and shift around us. I felt the need to reflect these transitions and changes within my work. I rely upon both natural light and the interaction of the viewer to achieve this.'
Jill Baroff, Duo (for Anni and Josef) (2018). Painted wood. 66 × 80 cm. Courtesy Bartha Contemporary.
Group Exhibition
Bartha Contemporary, 7 Ledbury Mews North, W11 2AF
4–8 June 2021
Marking their return to West London, Bartha Contemporary occupies a former photographer's studio with installations by Jill Baroff and Julia Mangold that were recently exhibited at the Mies van der Rohe Haus in Berlin, along with a new sculpture by Cologne-based artist Mike Meiré titled IRIS (2021).
The exhibition will precede London-based artist Giulia Ricci's solo show opening 22 June, followed by presentations of work by Lucinda Burgess and Frank Gerritz, works on paper by Marfa-based artist Nick Terry, and paintings by Cologne-based artist Stephan Baumkötter later in the year.
Martine Syms, Eventually, Finally (2021). Oil pastel on paper. Courtesy Sadie Coles HQ, London. Photo: Eva Herzog.
Martine Syms: SOFT / HOMEWORK #8
Sadie Coles HQ, 8 Bury Street, SW1Y25
25 May–3 July 2021
Los Angeles-based artist Martine Syms brings new and recent archival photographic prints and drawings to Sadie Coles HQ. The latter body of work marks an exhibition first for the artist, who is known for her multimedia and performance practice, with drawing used along with journal writing to develop her work.
The result is an intimate exhibition traversing the boundaries between private and public, with photographs capturing everyday yet contextually ambiguous moments. In the past, Syms has expressed interest in online vernacular communication, such as GIFs and Vines, for their ability to convey stories 'with such proficiency and economy', as she has explained in Ocula Magazine. Syms achieves this immediacy in her latest body of work.
Courtesy Karsten Schubert London.
Cathie Pilkington: Estin Thalassa
Karsten Schubert London, 46 Lexington Street, W1F 0LP
1 June–9 July 2021
Following announcement of the gallery's representation of British sculptor Cathie Pilkington, Karsten Schubert presents the artist's 'extravagant and claustrophobic response to the dislocation and disorientation of the current times'.
Objects and imagery, partitioned between and across screens, banners, and velvet wall hangings, come together in an unconstrained 'flow', engulfing viewers in a chaos of textures and different styles—what the exhibition's press release describes as 'a kind of excessive Gothic Vorticism'.
Exhibition view: Kapwani Kiwanga, Cache, Goodman Gallery, London (8 May–12 June 2021). Courtesy Goodman Gallery.
Kapwani Kiwanga: Cache
Goodman Gallery, 26 Cork Street, W1S 3ND
8 May–12 June 2021
Goodman Gallery presents Kapwani Kiwanga's first U.K. solo exhibition since the artist's South London Gallery show in 2015, with a series of uncanny sisal fibre hanging sculptures on steel, along with further works utilising materials such as ceramic, metal, gold leaf, and mirror.
Beguiling textures and surfaces reveal potent historical and socio-political references. Drawn to the mesmerising rows of sisal plants she saw in Tanzania, the artist delved into the material's history, shedding light on its introduction by German plantation owners and subsequent decline in the global market, as post-independence Tanzania grappled with the fall of Ujamaa socialism.
As the artist has explained in Ocula Magazine, 'I look at historical, social, political events or phenomena that come out of the diaspora, or from Africa itself, and then from there it always becomes an entangled web of relationships.'
Bruce Nauman, Hand Pair (1996). Silicon bronze. Hand pair: 11.4 x 39.1 x 14 cm; fingertip: 1.6 x 5.1 x 1.9 cm. Unique trial proof. © Bruce Nauman / Artists Rights Society (ARS), New York.
Meta Visceral
Levy Gorvy, 22 Old Bond Street, W1S 4PY
1 June–31 July 2021
Through works by ten artists, Meta Visceral looks at the body as a site of departure in works by artists including Louise Bourgeois, Giuseppe Penone, Thomas Schütte, among others.
Highlights include Yves Klein's Anthropométrie sans titre (ANT 162) (1960), from the artist's iconic series that brought the body in direct contact with the canvas. This approach influenced David Hammons' 'Body Prints' series (1970), also included in this exhibition, which confront the viewer 'with such physical immediacy, that the images linger with you long after viewing,' as Rory Mitchell recently wrote for Ocula Advisory.
Everlyn Nicodemus, Silent Strength 37 (1990). Oil on canvas. 65 x 75 cm. © the artist. Courtesy Richard Saltoun Gallery, London.
On Hannah Arendt: What is Authority?
Richard Saltoun Gallery, 41 Dover Street, W1S 4NS
26 April–6 June 2021
Between 1 January and 31 December 2021, Richard Saltoun Gallery is running a programme of eight exhibitions departing from political philosopher Hannah Arendt's eight essays in her 1969 publication, Between Past and Future: Eight Exercises in Political Thought.
The programme follows the exhibition's year-long 100% Women programme, which ran between March 2019 and March 2020 with exhibitions and a fair programme dedicated entirely to female artists. Richard Saltoun and guest curator Catherine McCormack discussed the programme in Ocula Magazine, noting that the gallery was one of few galleries in London to represent an equal number of male and female artists.
What is Authority? presents works by Lili Dujourie, Everlyn Nicodemus, and Lerato Shadi that explore modes of resistance to power.
Ellen Gallagher, Watery Ecstatic (2021). Watercolour, varnish, and cut paper on paper. 198 x 140 cm. © Ellen Gallagher. Courtesy the artist and Hauser & Wirth. Photo: Tony Nathan
Ellen Gallagher: Ecstatic Draught of Fishes
Hauser & Wirth, 23 Savile Row, W1S 2ET
21 May–31 July 2021
Large-scale paintings and watercolour works on paper by Ellen Gallagher are on view at Hauser & Wirth. These paintings combine references to natural history and oceanography in surfaces that have been subjected to processes of accumulation and erasure, creating layers that reflect on colonialism and the history of slavery.
Her latest watercolour series are influenced by 17th-century colonial mappings along with electronic duo Drexciya's Afro-futurist underwater utopia developed in the 1990s, resulting in biomorphic forms emerging from new planes of possibility.
Aaajiao, Deep Simulator (2020) (still). Courtesy the artist and Tabula Rasa Gallery.
Aaajiao: Deep Simulator
Tabula Rasa Gallery, Unit 1, 99 East Road, N1 6AQ
6 June–30 July 2021
Beijing-based Tabula Rasa Gallery presents aaajiao's Deep Simulator, following the installation's 2020 showing in the project room of Castello di Rivoli.
Consisting of a gaming station and simulator, aaajiao invites viewers to traverse six levels of 'computational power'—a reference to the Tibetan term 'bardo', which describes an intermediate state where one's grip on reality might slip as a new one is yet to be perceived or understood. In Deep Simulator, aaajiao's 'bardo' imagines the intermediate space between reality and the digital sphere.
Paolo Canevari, Angel (1998). Tyre, 17th-century gilded wood. 70 x 70 x 20 cm. Courtesy Cardi Gallery.
Paolo Canevari: Self-portrait / Autoritratto
Cardi Gallery, 22 Grafton Street, W1S 4EX
21 February–6 June 2021
Influenced by the Arte Povera and American Minimalist movements, Paolo Canevari transitioned away from painting and traditional modes of artmaking to embrace industrial materials in the 1990s, incorporating inner tubes and used tyres into his works, and fusing these with opulent elements such as the antique gilded wing in Angel (1998).
Canevari's disquieting sculptures and installations, which reference ecological decline in the face of industrialisation, take up Cardi Gallery's four storeys, marking the first major U.K. solo exhibition of the artist's work.
John Akomfrah, Time and place (2020) (still). Courtesy Smoking Dogs Films and Lisson Gallery.
John Akomfrah: The Unintended Beauty of Disaster
Lisson Gallery, 67 Lisson Street, NW1 5DA
13 April–31 July 2021
New and recent works by John Akomfrah include a body of work that responds to the Black Lives Matter protests and subsequent toppling of imperialist monuments across Britain. Also showing is the three-screen film Four Nocturnes (2019), marking the film's U.K. premiere since its showing at the inaugural Ghana Pavilion at the 58th Venice Biennale, co-commissioned by the Ministry of Tourism, Arts and Culture of Ghana, Sharjah Art Foundation, and Smoking Dogs Films.
Four Nocturnes is the third in a trilogy of films made up of Vertigo Sea (2015) and Purple (2017), reflecting on humanity's destruction of the natural world. In conversation with Ocula Magazine Editor-in-Chief Stephanie Bailey, Akomfrah discussed his focus on the polyphonic to discuss such themes, 'In other words, the ability to marshal an array of voices or at different registers'.
Vinca Petersen, Riot Boy (1998). Giclée print on Canson Platine paper. 50.8 x 76.2 cm. Edition of 10 + 2 artist's proofs.
Vinca Peterson: Raves and Riots
Edel Assanti, 46 Mortimer Street, W1W 7RL
3 June–9 July 2021
Vinca Peterson's photographs on view at Edel Assanti are an insider's view of the British rave scene between 1990 and 2004. Peterson joined the traveller community after leaving home aged 17, and her images document those close to her in an age of hedonism and resistance to authority. The artist will be signing copies of her book No System at the gallery on Friday 4 June between 3 and 6pm.
Courtesy CFGNY.
Collecting Dissonance
Auto Italia, 44 Bonner Road, Bethnal Green, E2 9JS
21 May–22 August 2021
Established in 2016, CFGNY (Concept Foreign Garments New York / Cute Fucking Gay New York) is a collective founded by Tin Nguyen and Daniel Chew, with Kirsten Kilponen and Ten Izu joining in 2020, looking at the intersections of fashion, race, identity, and sexuality.
At Auto Italia, an installation is derived from a capsule collection of clothes exploring the impact of the ongoing pandemic on relations and intimacies—both personal and collective. With contributions from the likes of Claire Adams, Silas Aelsa, Olin Caprison, and Ouida Eilers, among others, the exhibition reveals CFGNY's expansive collaborative network.
Larry Achiampong, Reliquary 2 (2019). Exhibition view: homeplace, V.O Curations, London (7 May–12 June 2021). Courtesy V.O Curations.
homeplace
V.O Curations, 56 Conduit Street, W1S 2YZ
7 May–12 June 2021
V.O Curations is an exhibition platform dedicated to emerging and underrepresented artists, curators, and researchers. With its newly opened hub on Conduit Street, the space, which was founded in 2018 by Zina Vieille and Nnamdi Obiekwe, offers residency studios alongside exhibition galleries, providing a nexus for different projects.
Homeplace, curated by Kate Wong, features work traversing media including video, ceramics, and painting by artists such as Larry Achiampong, Patty Chang, and Shezad Dawood, that disrupt traditional notions of domesticity. The result is a charged environment that offers new possibilities of community-building and resistance.
Herbert List, Greece, Athens (1936). Courtesy © Herbert List / Magnum Photos.
Herbert List: Metamorphoses
Magnum Photos, 63 Gee Street, EC1V 3RS
4–30 June 2021
Born in Hamburg in 1903, Herbert List settled in Greece in 1937, having escaped Germany due to the rise of Nazism and the outbreak of World War II. In Greece, the artist developed a body of stunning photographs of friends and lovers, carefully framed in the warm embrace of Mediterranean light.
The result is a celebration of the artist's homosexuality, with stunning photographs such as Young man with laurel over the eyes (1936) referencing Greek antiquity. The exhibition at Magnum Photos follows the artist's inclusion in The Body Observed, a group exhibition exploring the body at Sainsbury Centre for Visual Arts in 2019.
Sara Rossi, Untitled (2020). Oil, pigments, and pencils on wood primed with bologna chalk. Courtesy the artist.
Sara Rossi: Florilegium
24 April–6 June 2021
James Collins: Penumbra
19 May–19 June 2021
Claas Reiss, 96 Robert Street, NW1 3QP
Newly opened in October 2020, Claas Reiss holds two floors of gallery space with a focus on painting, with the basement—known as Projektraum—dedicated to new voices in the medium.
For London Gallery Weekend, paintings by James Collins and Sara Rossi are on view. Rossi's poetic paintings—showing in Projektraum—are influenced by the artist's background in anthropology and writing, their delicate surfaces offering themselves to be 'read' as poems. Upstairs, James Collins' heavily impastoed oil paintings are built up in maze-like, dark blue ridges, parting to reveal vibrant hues in their rifts.
Afra Al Suwaidi, Unsheltered 14 (2020). Mixed Media. Courtesy the artist.
Abu Dhabi Art
Cromwell Place, 4 Cromwell Place, SW7 2JE
2–13 June 2021
Abu Dhabi Art is a year-long cultural programme, culminating with an art fair each November with galleries from the Emirates and beyond. As part of this year's programming, Abu Dhabi Art extends to London's membership organisation Cromwell Place—the first fair to do so.
Abu Dhabi Art brings three artists that were involved in the annual Beyond: Emerging Artists programme, curated by Maya El-Khalil for the November 2020 edition of the fair. Exploring the theme of memory, the artworks—by Hind Mezaina, Afra Al Dhaheri, and Afra Al Suwaidi—will occupy Cromwell Place between 2 and 13 June 2021.
Anuar Khalifi, Safi Safari (2021). Acrylic on canvas. 173 x 125 cm. Courtesy The Third Line.
Sophia Al Maria, Anuar Khalifi, Sara Naim
The Third Line, 4 Cromwell Place, SW7 2JE
2–9 June 2021
A group of U.A.E.-based galleries will present works at Cromwell Place alongside Abu Dhabi Art's presentation of work by emerging artists, including The Third Line, Lawrie Shabibi, Tabari Art Space, and Isabelle Van Den Eynde.
The Third Line brings three artists: Sophia Al Maria, Anuar Khalifi, and Sara Naim. Al Maria brings multidisciplinary sci-fi depictions of the future, while Khalifi's paintings traverse themes including colonialism, consumerism, and extremism, and Naim brings sculptural photographs that explore the notion of border.
Mohamed Ahmed Ibrahim, Untitled (2020). Courtesy Lawrie Shabibi.
Mohamed Ahmed Ibrahim
Lawrie Shabibi, 4 Cromwell Place, SW7 2JE
2–13 June 2021
Lawrie Shabibi joins Abu Dhabi Art and The Third Line with a solo exhibition of Mohammed Ahmed Ibhrahim, who will represent the UAE at the Venice Biennale in 2022. Born in Khorfakkan in 1962, Ibhrahim was part of a wave of avantgarde artists coming out of the U.A.E in the late 1980s, alongside Hassan Sharif, Abdullah Al Saadi, Hussein Sharif, and Mohammed Kazem.
On view at Lawrie Shabibi are a selection of black and white paintings and papier-maché sculptures containing meditative lines and abstracted forms and shapes. —[O]