Feature | Exhibitions
Kiaf 2021 Lowdown: Must-See Exhibitions in Seoul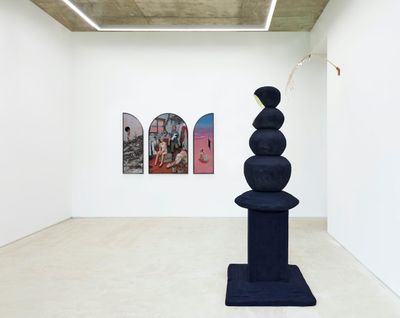 Exhibition view: Gunwoo Shin, ⟨蝕⟩ (Sik), GALLERY2, Seoul (7 October–6 November 2021). Courtesy GALLERY2.
From 15 to 17 October 2021, the 20th edition of Kiaf Seoul returns to COEX Hall with online viewing rooms. Elsewhere in Seoul, galleries and museums present the latest examples of contemporary art from artists both working in Korea and abroad. See below to find out more about a selection of exhibitions coinciding with Kiaf.
Won Seoung Won, Ordinary Network (2021). C-print. 172 x 287 cm. Courtesy Arario Gallery.
Won Seung Won: The Inaudible Audible
Arario Gallery, 84 Bukchon-ro 5-gil, Samcheong-dong, Jongno-gu
5 October–13 November 2021
Currently on view at Arario Gallery are recent photographs and drawings by Won Seung Won, who collages imaginary landscapes on Photoshop.
Trees, a major protagonist in Won's works, serve as a stand-in for people and their relationships with one another. Take the cluster in Cultivated Childhood (2021), for example, in which trees resemble small individuals gathering for a meeting.
In Weighty Chandelier (2021), an assortment of tropical tree leaves, candles, and crystals form an enormous chandelier, becoming a single entity separate from its green surroundings.
Musquiqui Chihying, THE LIGHTING (2021). Exhibition view: Museum of Contemporary Art Taipei (27 July–19 September 2021). Courtesy the artist.
Transposition and Interweaving Poetic Code
Artsonje Center, 87 Yulgok-ro 3-gil, Samcheong-dong, Jongno-gu
14 October–12 December 2021
At Artsonje Center, two concurrent group exhibitions examine the web of ideas and conversations surrounding the human body.
Curated by Haeju Kim, Transposition concentrates on the process of generation, exploring the human body through themes of ethnicity, gender, violence, and technology in the works of artists including COOL Magazine, Eusung Lee, and Wung Kyu Park.
In the same building is Interweaving Poetic Code, initially shown at the Centre for Heritage, Arts and Textile in Hong Kong earlier this year (1 May–18 July 2021). Considering the relationship between textile-making and computer programming, the exhibition is the result of a two-year project led by artist Taeyoon Choi and collaborators including Christine Sun Kim, Rebirth Garments, and Aarati Akkapeddi.
Mark Dion, Blood Coral (2019). Cast resin and assorted items on wooden crate. 207 x 67.3 x 43.2 cm. Courtesy Barakat Contemporary.
Mark Dion: Sea Life of South Korea and Other Curious Tales
Barakat Contemporary, 36 Samcheong-ro 7-gil, Samcheong-dong, Jongno-gu
8 September–7 November 2021
In Sea Life of South Korea and Other Curious Tales, Mark Dion's first solo exhibition in Korea, the amateur ecologist, biologist, and collector of urban and natural specimens is showing both new and existing works with a particular focus on marine life.
Among them is Cabinet of Marine Debris (2021), featuring plastic bottles and pieces that Dion gathered from the south and west seaside of Korea, and Blood Coral (2019), an assortment of discarded objects—from a magnifying glass and a pair of scissors to medals—that hang from the arms of resin coral.
Appealing as it may look, the work confronts the decreasing number of coral reefs due to global warming.
Exhibition view: Liam Gillick, The Knot of Which I Speak Cannot be Knotted, Gallery Baton, Seoul (1 October–5 November 2021). Courtesy Gallery Baton.
Liam Gillick: The Knot of Which I Speak Cannot be Knotted
Gallery Baton, 116 Dokseodang-ro, Hannam-dong, Yongsan-gu
1 October–5 November 2021
Hypothetical institutes of automation are at the centre of The Knot of Which I Speak Cannot be Knotted, the artist's second solo exhibition with Gallery Baton that explores the aesthetics of production.
Presented on opposing walls of the exhibition space are texts, arranged into circles: The Institute of the Regulation of Automation, The Institute of the Automation of Regulation, and The Institute for the Automation of Automation—a linguistic play that alludes to the various organisations that make up society.
Gunwoo Shin, Thousand Hands (2021). Oil painted resin on canvas. 140 x 95 cm. Courtesy GALLERY2.
Gunwoo Shin: ⟨蝕⟩ (Sik)
GALLERY2, 204 Pyeongchang-gil Jongno-gu
7 October–6 November 2021
Working with relief-based sculptures, paintings, and photographs, Seoul-based artist Gunwoo Shin interrogates the intangible facets that guide human life, including ideas, beliefs, and the unconscious.
Shin's current solo exhibition at GALLERY2 focuses on the concept of sik (蝕), a Sino-Korean character that means 'to eat into, erode, encroach upon, or eclipse'. In his works, many of which feature mythological and religious iconography, sik is manifested in figures who have reached or seek enlightenment.
In the relief-sculpture painting Thousand Hands (2021), for example, a seated figure resembles a modern-day Guanyin with multiple arms, representing the compassion of all Buddhas.
Kim Kulim, Yin and Yang 12-S. 28 (2012). Mixed media on canvas. 130.3 x 162.2 x 11.2 cm. Courtesy Gana Art.
Kim Kulim: Yin and Yang
Gana Art, 97 Pyeongchang-dong, Jongno-gu
17 September–17 October 2021
Active since the 1950s, Kim Kulim is credited with pioneering performance, happenings, mail art, land art, and installation art in Korea.
Kim's experimental film The Meaning of 1/24 Second (1969), made with Kim Chae Seop, wheels through 24 image frames in one second without yielding any suggestions for a narrative, emphasising his longstanding concern for concept, process, and time.
Kim's current exhibition at Gana Art revolves around the 'Yin and Yang' series, which he began in the late 1980s in an exploration of the opposing and philosophical concept of Yin and Yang. Often part-painting and part-object, the 'Yin and Yang' works impart the artist's belief that all things in this world are composite of various different materials.
Katharina Grosse, o.T. (2020). Acrylic on paper. 101 x 67 cm. Courtesy König Galerie.
Katharina Grosse: From the Foam's Fudge Edge
König Galerie, 412 Apgujeong-ro. Cheongdam-dong, Gangnam-gu
13 October–21 November 2021
Katharina Grosse uses spray guns to apply paint to various surfaces, including canvas, walls, drapes of fabric, buildings, and land itself, creating terrains of suspended, painted fabrics.
On Mumbling Mud, her 2019 solo exhibition at the chi K11 art space in Guangzhou, she talked to Ocula Magazine about her interest in borders as zones that 'overlap, intertwine, and are compelled within a narrow space to engage in competition'.
At König Seoul, which opened its doors this April, Grosse examines the liminal spaces at a more intimate scale. Mostly untitled, the recent works on paper were painted while the surface was still wet. Something recognisable may begin to emerge in these flurries of colour, but they are equally quick to disappear, perpetually occupying border-spaces.
Exhibition view: Juhae Yang, g.gallery, Seoul (4 September–12 October 2019). Courtesy g.gallery.
Juhae Yang and Suyon Huh: Navigators
g.gallery, B1, 748 Samseong-ro, Cheongdam-dong, Gangnam-gu
12 October–10 November 2021
At g.gallery, the joint exhibition Navigators considers recent works by two artists who navigate the tides and swells of the art world. The older of the two is Juhae Yang, a pioneer of installation art in Korea, and the other Suyon Huh, an emerging artist whose paperpaste-based works challenge our preconceptions of the world.
Yang is showing her coloured spot paintings from 2019, a practice that developed during her studies in France in the 1980s, while Suyon Huh's paintings and sculptures are characterised by their rough textures resulting from her use of paperpaste made with plastic, paper waste, and aluminium.
Using art to navigate their surroundings, Yang's coloured spots were developed as an alphabetic system to aid communication when she was still unfamiliar with the French language, while Suyon Huh uses abstraction to allude to conflicting and contradictory understandings of the world.
Park Seo-Bo, Ecriture (描法) No. 080821 (2008). Mixed media with Korean hanji paper on canvas. 195 x 130 cm. Courtesy the artist and Kukje Gallery. Photo: Park Seo-Bo.
Park Seo-Bo
Kukje Gallery K1, 54 Samcheong-ro, Jongno-gu
15 September–31 November 2021
At Kukje Gallery, Park Seo-Bo presents recent works from his ongoing 'Ecriture' series. Initiated in the 1960s, the 'Ecriture' paintings are famously made by the artist repetitively incising marks into wet hanji or Korean paper and paint using such tools as pens, stylus, rulers, and sticks.
While Park's early 'Ecriture' works emphasise the traces of his hand, recording evidence of his labour and time, the later works at Kukje Gallery show his newfound commitment to colour and texture.
The resulting paintings are contemplative and surprisingly sculptural, in which dried edges of pushed paper and paint cast striking shadows. As the artist told Ocula Magazine in 2018, he believes that 'just looking at a certain kind of painting should stabilise the audience and restore them to peace'.
Julian Opie, Deer 3 (2020). Auto paint on aluminium with metal base. 103 x 132 x 2.5 cm. Courtesy the artist and Kukje Gallery.
Julian Opie
Kukje Gallery K2, 54 Samcheong-ro, Jongno-gu
7 October–28 November 2021
Also on view at Kukje Gallery is Julian Opie's largest solo exhibition with the gallery, spanning K2 and K3 into the garden. Comprising 31 recent paintings and sculptures, it continues his long-term study of the production and perception of images.
Among the artist's common subjects are pedestrians in profile portrayed in a flat, graphic style, as seen in animated LED films and back-lit paintings such as Winter night 2 and Nighttime 1 and aluminium sculptures including Two bags fur hood (all 2021).
Beyond urban dwellers, Opie depicts animals in this show, including the aluminium sculpture Deer 3 (2020) and light painting of Rooster 3 (2021), while K3 and the garden zooms in on urban architectures.
David Salle, Tree of Life #26 (2021). Oil and acrylic on linen. 170.2 x 127 cm. © David Salle/VAGA at Artists Rights Society (ARS), New York. Courtesy Lehmann Maupin.
David Salle: Alchemy in Life
Lehmann Maupin, 74-18, Yulgok-ro 3-gil, Jongno-gu
7 October–13 November 2021
In his first solo exhibition at Lehmann Maupin Seoul, New York-based artist David Salle is showing eight new paintings from his 'Tree of Life' series.
The series continues Salle's penchant for bold and intuitive compositions, generating unlikely associations between disparate subjects by drawing imagery from art history and popular culture.
Rendered in grisaille and monochrome, and a cartoonish style reminiscent of New Yorker cartoonist Peter Arno, Salle's new works suggest incomplete narratives between men and women who appear to be mid-conversation.
Moon Kyungwon and Jeon Joonho, NEWS FROM NOWHERE: Freedom Village (2021). Two-channel HD film installation, colour, sound. 14 min 25 sec. Courtesy the artists.
Moon Kyungwon and Jeon Joonho — NEWS FROM NOWHERE: Freedom Village
National Museum of Modern and Contemporary Art Seoul, 30 Samcheong-ro, Sogyeok-dong, Jongno-gu
3 September 2021–20 February 2022
In 2014, the MMCA and the Hyundai Motor Company initiated a ten-year project to 'expand the boundaries of Korean contemporary art' by providing a platform to an outstanding Korean artist or group. Past artists of the 'MMCA Hyundai Motor' series include some of the leading Korean artists today, among them Lee Bul, Kimsooja, Ahn Kyuchul, and Haegue Yang.
This year's winner is the artist duo Moon Kyungwon and Jeon Joonho, whose video, installation, archival, and interdisciplinary works have addressed the contemporary quandaries of global warming, economic disparity, and historical residues. Central to their philosophy is the fundamental role and purpose of art in today's climate, a desire to 'return to the beginning!' as the artists told Ocula Magazine in 2015.
MMCA Hyundai Motor 2021: Moon Kyungwon and Jeon Joonho — NEWS FROM NOWHERE: Freedom Village is scheduled to travel to the 21st Century Museum of Contemporary Art in Kanazawa, Japan, in April 2022.
Han Jin, Vexations No. 5 (2021). Gouache and pencil on Cotton paper. 37 x 28 cm. Courtesy the artist and One And J. Gallery.
Han Jin: Vexations
ONE AND J. Gallery, 31-14 Bukchon-ro, Jongno-gu, Seoul
8 October–7 November 2021
Often working with limited colour palettes and whirling lines, Seoul-based artist Han Jin is concerned with the impressions of sound. A rhythmic quality can be found across her paintings and drawings, from the seemingly dancing trees in Fantaisie Impromptu (2012–2013) to the delicate web of overlapping and intersecting lines in green and yellow in Sound from a Distant Space #1 (2015).
Vexations, Han's current solo exhibition at ONE AND J. Gallery continues her engagement with sound and derives its title from a single-page composition by French pianist and composer Erik Satie. Dictating a performer to play the music score more than 800 times, Vexations took around 18 hours to complete—including the sounds made by both the performer and the audience—in what could indeed be a vexing exercise.
Han's work is also on view at ONE AND J. Gallery's booth, B47, at the Kiaf, alongside works by Suyoung Kim, Soyoung Chung, and Sunmin Park.
Exhibition view: Hyungkoo Lee, CHEMICAL VOLUME, P21, Seoul (1 October–6 November 2021 ). Courtesy P21.
Hyungkoo Lee: CHEMICAL VOLUME
P21, 74 Hoenamu-ro, Itaewon-dong, Yongsan-gu
1 October–6 November 2021
Hyungkoo Lee's exhibitions often recall a scientific lab or workshop, occupied with anatomical or skeletal models or eccentric equipment.
In his longstanding fascination with the body, whether human or imaginary, Lee has created wearable devices that multiply the number of eyes or compel the wearer to walk backwards. The works on view at P21, by comparison, are more abstracted while suggestive of innards.
These recent sculptures evoke the installation X (2019), which was included in Lee's first solo exhibition with the gallery in 2019, that comprised the deconstructed parts of a faux-skeletal model rearranged on a three-dimensional metal grid. CHEMICAL VOLUME shows the aftermath of the deconstruction, in which bodily matters have been sectioned off into small, often bulbous forms. 'My "scientific" experiments are fake,' the artist told Ocula Magazine in 2019, 'yet they are carried out seriously.'
Danielle Orchard, Night Studio (2021). 152.4 x 121.9 x 2.5 cm. Courtesy the artist and Perrotin.
Danielle Orchard: At the Seams
Perrotin, 1F 5 Palpan-Gil, Jongno-Gu
7 October–26 November 2021
New York-based artist Danielle Orchard has been building a reputation in the past few years for her paintings of women engaged in everyday activities. Rendered with saturated colours and fragmented forms, Orchard's paintings echo their predecessors in Pablo Picasso's Analytic Cubist works or the interiors and female nudes of Henri Matisse.
In her first solo exhibition with Perrotin, Orchard is showing new paintings that continue to centre on women—sleeping, taking a bath, reading—and provoke questions about voyeurism that inevitably surround depictions of the female figure.
A woman in stockings sits upright on her bed in The Red Studio (2021), a nod to Matisse' 1908 Red Room with red wallpapers and furniture. Minute details, such as a sock hanging out of a drawer, add to the possible narratives in the woman's life.
TASTEHOUSE × WORKS, OoH (2021). Exhibition view: One Escape at a Time, 11th Seoul Mediacity Biennale, K-Pop Square, Seoul (8 September 2021–21 November 2021). Courtesy Seoul Mediacity Biennale. Photo: Cheolki Hong, glimworkers.
Seoul Mediacity Biennale: One Escape At A Time
Seoul Museum of Art, 61, Deoksugung-gil, Jung-gu
8 September–21 November 2021
This year's edition of the 11th Seoul Mediacity Biennale, entitled One Escape At A Time, derives its title from the U.S. sitcom One Day at a Time, which originally aired in the 1970s and was later adapted to a Netflix series in 2017.
Drawing from the latter, which revolves around a three-generation Cuban American family, One Escape At A Time embraces escapism and humour as its main strategies to address the difficult terrains of racism, gender, cultural identity, socio-economic disparity, and migration.
A highlight among the 50 artworks by 41 artists and collectives is a characteristically provocative work by Tala Madani, titled Dirty Protests (2015), in which toddlers engage in mischievous activities verging on the repulsive—one urinates on the wall, drawing a smiley face, while others paint-roll suspiciously brown substances near him.
Heejoon Lee, Meringue Cookie (2021). Acrylic and photo-collage on canvas. 100 x 100 cm. Courtesy Space So.
Heejoon Lee: Raw, Polished, Coated
Space So, 37 Donggyo-ro 17gil, Mapo-gu
9 September–17 October 2021
In his collages consisting of typically black-and-white photographic images and stripes of paint, applied with a custom-made squeezee, Heejoon Lee considers the layers of memories embedded in the production of a painting.
Raw, Polished, Coated, Lee's solo exhibition at Space So, comprises new works based on pictures taken during his travels to Jeju Island with a focus on evoking tactility through flat images. Having enlarged the photographs, the artist printed parts of them onto A4-sized paper, pasted them onto the canvas, and applied paint in geometric forms.
In Meringue Cookie (2021), Lee has added lines of black, red, and blue in varied thickness, and placed a vertical stamp of white at the centre of the canvas, whose jagged edges mirror the porous textures of a stone wall in the photograph underneath.
Exhibition view: Jang Jong Won and Glamour Shot, To the Moon, Space Willing N Dealing, Seoul (24 September–14 October 2021). Courtesy Space Willing N Dealing.
Jang Jongwan and Glamour Shot: To the Moon
Space Willing N Dealing, F2, 48-1 Jahamunro (Changseong-dong 98-19), Jongno-gu
24 September–14 October 2021
Closing just a day before Kiaf opens to the public, To the Moon is a joint exhibition of recent works by Jang Jongwan and the artist duo Glamour Shot.
At first, Jang's paintings are idyllic and humorous, merging a refined figurative style with surreal imaginings of nature such as red capped mushrooms greeting one another in History Painting (2019), but they also offer a more critical view of humankind's exploitation of nature.
At Space Willing N Dealing, Jang and Glamour Shot have taken the phrase 'to the moon' as it is used in virtual currency communities—to indicate the highest upper limit—to examine human desires of small and ambitious scale.
Hejum Bä, Way Down Shot (2021). Oil on canvas. 91 x 116.8 x 4 cm. Courtesy Whistle.
Hejum Bä
Whistle, 12 Hoenamu-ro 13-gil, Itaewon 2(i)-dong, Yongsan-gu
15 September–30 November 2021
Whistle presents recent works by Seoul-based artist Hejum Bä, whose vibrantly coloured canvases explore the diverse ways in which abstracted forms expand and construct their own environments.
COMBO, which lends its title to the exhibition, depicts fragmented planes of colour, some divided by sharp lines and others by almost individual strokes of the paintbrush; in Way Down Shot, the overlapping of red and blue creates a three-dimensional roof over an unstable landscape divided at the bottom right corner into black and white (both 2021).
COMBO follows Bä's solo exhibitions in Seoul earlier this year, including Fyka Foretold... at the SeMA Storage (2 February–7 March 2021) and 2021 Kumho Young Artist at Kumho Museum of Art (30 April–6 June 2021), in which she showed her abstract canvases examining the processes of abstraction. —[O]
---